Desperate Mom Facing Eviction Raises Over $230K After Hoping for $2K From GoFundMe Plea
A Las Vegas mother who was facing eviction has raised than $230,000 from a GoFundMe campaign asking for $2,000 after not receiving a single donation for a month.
Dasha Perltrece Kelly created the GoFundMe for her and her three daughters on July 14. In the GoFundMe description, she wrote that they owed $1,900 for rent alone, not including utilities. She said she could pay utilities by pawning items, but that it was too hot to be homeless.
"We were maintaining just fine before this pandemic hit. Now we are suffering," she wrote.
A month after the GoFundMe was published, CNN wrote an article about Kelly, prompting nearly 4,000 people to donate. She wrote in an update to the GoFundMe that she created the campaign out of desperation and that it was an honor to receive so much support.
She tried "almost everything" to earn income while taking care of her family before creating the campaign, she wrote.
"Thank you for all your overwhelming support, and kind words," she wrote. "We did not expect a reaction like this at all. This family is forever blessed."
She said her rent has been paid through the end of the lease, she can furnish her house, and they can afford to purchase a vehicle, allowing her to return to work. She is also opening a bank account for each of her daughters—who are five, six, and eight years old. They will receive new clothes, shoes and a few toys.
"Never would I ever want these girls to struggle and be judged like I did," she wrote.
She also wrote she would "pay it forward" by donating some of the money to charity, as well as supporting another family who is also in need.
"We're forever grateful," she wrote.
CNN reported that Kelly lost her job as a card dealer when the COVID-19 pandemic forced casinos to shut down. She has held temporary jobs since, and had been donating her blood plasma for $100 to help keep her children fed.
"I just want to tell everybody thank you so much," she told CNN host Erin Burnett. "I'm just so thankful. I appreciate every single one of you."
Newsweek reached out to Kelly for further comment but had not heard back by publication.
Donors voiced their support for Kelly in the comment section of the GoFundMe, where many said they were moved by her story.
"Your story on CNN was so inspiring! You did everything in your power to keep life going for you and your beautiful daughters," wrote Rochelle Rice. "How amazing to see this GoFundMe crew share their generosity, lift you up and help you all thrive again!"
The federal eviction moratorium lapsed last Saturday, when more than 15 million Americans were behind on rent.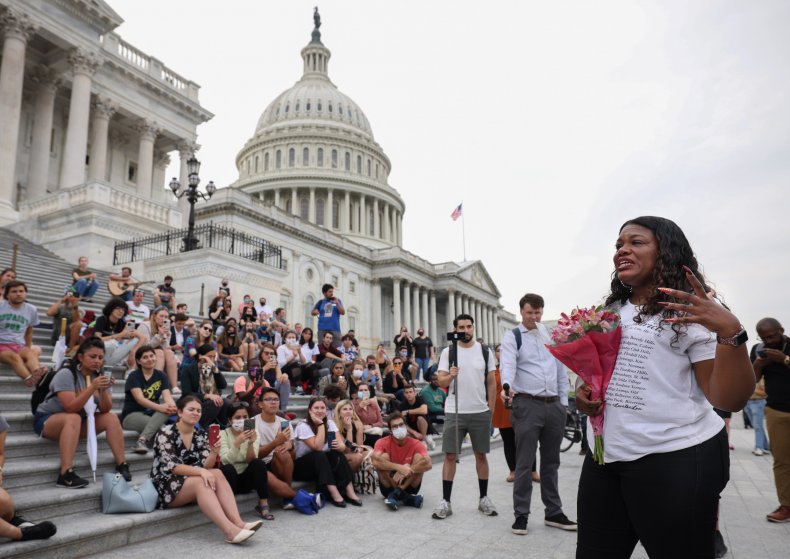 After protests from progressive Democrats, the Biden administration ultimately unveiled a new targeted eviction moratorium on Monday, saying evictions would be detrimental to public health measures aimed at limiting the spread of COVID-19, which has seen a surge in new cases due to the highly-transmissible Delta variant.