Donald Trump Slammed for 'Despicable, Embarrassing Failure,' in Defending Saudi Arabia for Khashoggi Murder
A former top U.S. counterintelligence official has slammed Donald Trump's response to the murder of journalist Jamal Khashoggi, calling the president's remarks a "despicable, embarrassing failure."
David H. Laufman, who served as the chief of the Department of Justice's Counterintelligence and Export Control Section from 2014 until earlier this year, blasted Trump's Tuesday statement voicing continued support for Saudi Arabia. Laufman accused Trump of insulting the intelligence community with his actions.
"A despicable, embarrassing failure to hold the Saudi government fully accountable for one of the most depraved human rights abuses in modern memory," the lawyer wrote. "And yet another insult to the outstanding work of our intelligence community," he tweeted, sharing an article by The Washington Post about Trump's defense of the kingdom.
Earlier on Tuesday, the White House released a statement from president announcing that the U.S. would continue to stand with Saudi Arabia despite the reported CIA conclusion that Crown Prince Mohammed bin Salman (known by his initials MBS) was behind the killing of Khashoggi.
Leading the statement with the words: "America first," Trump argued that the world was "a very dangerous place" and that the relationship with the kingdom remained important amid international condemnation. "It could very well be that the Crown Prince had knowledge of this tragic event—maybe he did and maybe he didn't!" Trump said, while pointing out that the kingdom has "agreed to spend and invest $450 billion in the United States." He also called Saudi Arabia "a great ally."
Khashoggi, who was a columnist for The Washington Post and a U.S. resident, was killed when he entered the Saudi Consulate in Istanbul on October 2. More than a dozen Saudi agents reportedly killed him shortly after he entered and then dismembered his body with a bone saw. The journalist's corpse has not been recovered, and Saudi officials initially denied any knowledge of his disappearance.
After mounting pressure, the kingdom admitted weeks later that Khashoggi had been killed and announced that his death was believed to have been "premeditated." But Riyadh has attempted to distance the crown prince and his father, King Salman, from any connection to the killing, while many analysts and intelligence sources have argued that MBS almost certainly ordered or at least was aware of the operation.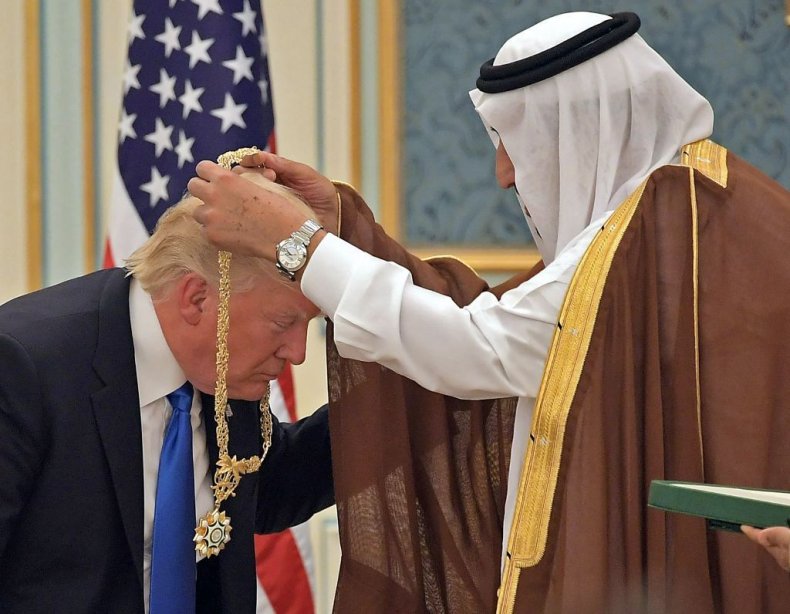 Despite Trump's continued support of the Saudi prince, leading Republican and Democratic lawmakers have taken a markedly different position. Republican Senator Lindsey Graham from South Carolina, who is normally seen as a staunch supporter of the president, told NBC's Meet the Press on Sunday that MBS was "irrational" and "unhinged." He said that he was certain the prince was behind Khashoggi's murder.
"I think he's done a lot of damage to the relationship between the United States and Saudi Arabia," the senator said. "And I have no intention of working with him ever again," he added.
Democratic Senator Dianne Feinstein of California said she was "shocked" after Trump's Tuesday statement, Reuters reported. She also vowed to vote against any future weapons sales or appropriations to the kingdom, while urging further sanctions.