UPDATED | It was mid-autumn last year, and the presidential campaign was coming to an end. That's usually the time when major party nominees hone their message as they try to rally their core voters and sway the few undecided. But on October 22, Donald Trump devoted one of his precious remaining speech opportunities to a topic he'd hit on before but never to such a degree: big media companies and why they need to be broken up through antitrust laws. Sure, attacking the media is regular shtick for Trump, a former TV star who recently tweeted a doctored video of him pummeling a pro wrestling executive with the CNN logo affixed to his head. But generally his tantrums and tirades are about how the media is full of "losers" or is "unfair" or "failing"—in short, not incredibly powerful.
"As an example of the power structure I'm fighting, AT&T is buying Time Warner and thus CNN, a deal we will not approve in my administration because it's too much concentration of power in the hands of too few," Trump said in October 2016 of the proposed $85 billion merger that had just been announced. That union, which is still pending, would combine the grandchild of Ma Bell with the parent company of such marquee brands as CNN, HBO and Warner Bros. studios. It's the biggest media merger of the moment but hardly unique as telecom companies try to get more content, whether it's an hour of Wolf Blitzer or Game of Thrones . Similarly, this spring telephone giant Verizon completed its $4.8 billion purchase of Yahoo after grabbing AOL for $4.5 billion in 2015.
Also in October, candidate Trump not only vowed to block new media mergers but pondered undoing some, such as Comcast's 2011 acquisition of NBCUniversal, which had been his home for The Apprentice. Trump ripped the merger, saying it "concentrates far too much power in one massive entity that is trying to tell the voters what to think and what to do." To applause, Trump said, "Deals like this destroy democracy, and we'll look at breaking that deal up and other deals like that up."
But since taking office, Trump seems cool with all that "concentration of power." The pending AT&T–Time Warner deal is not being contested by the Federal Communications Commission, which put up no obstacles to the sale. The Justice Department is still considering the merger but is widely expected to approve it. And there's no sign Trump will try to undo the Comcast deal, or any other mega media mergers, although there are reports that it's getting some discussion in the White House. Instead of staffing his administration with trustbusters out to break up monopolies, or media haters out to stymie these content providers, he's governing like most Republicans and keeping his hands off such deals.
So what changed? Trump's switch on media properties is part of a larger conversion born of delegation as opposed to campaign contributions. When it came time to staff his administration, the president-elect surrounded himself with a lot of traditional Republicans who had no interest in the populist lobe of his brain. Just as the president has abandoned his campaign promise to oppose any cuts to entitlement programs like Social Security, Medicare and Medicaid and is now championing Republican health plans that slash billions from health benefits, Trump now sounds a lot less like trust-busting crusader Teddy Roosevelt and more like that trusty pal of big business, House Speaker Paul Ryan.
Conservative ideology is winning the day, and media companies are cheering. Not only are AT&T and Time Warner optimistic about their deal—although they're taking no chances, hiring almost every Beltway lobbyist they can—but other media companies are salivating over other merger prospects. Comcast or another telecom giant is expected to make a bid for Sprint, the smallest of the major phone companies and the only one without a news or entertainment division.
A major problem with these mergers isn't just that they underscore Trump's broken promises; it's that they're bad for consumers. Have your TV bills gone down since the Comcast merger or since AT&T picked up DirecTV, the satellite provider? Have your phone bills shrunk since Verizon picked up Yahoo? The answer is generally no. Phone and cable bills are higher in the U.S. than they are for people in countries that don't have big telecom-media monopolies.
Traditional Conservatives in Charge
Trump's election put him in charge of a federal government that has a big say in media mergers and acquisitions. Agencies like the FCC can scuttle mammoth deals. So can the Federal Trade Commission, founded at the beginning of the 20th century to thwart anti-competitive practices. But the most influential player is the Department of Justice, which has been in charge of enforcement since the passage of the Sherman Antitrust Act of 1890—a landmark law designed to fight unfair competition in the railroads and other industries. It was used to break up Standard Oil at the turn of the 20th century.
Different administrations have taken different approaches to deciding what is a monopoly and how hard to break one up. Under Barack Obama, the Justice Department's unit in charge of overseeing merger mania, the Antitrust Division, had a mixed record when it came to media consolidation—more aggressive than media and telecom industries would have liked, but less interventionist than what consumer activists had sought. While the Obama administration approved Comcast's purchase of NBCUniversal, it thwarted AT&T's efforts to purchase Time Warner Cable and a proposed union of AT&T and T-Mobile, and it took on Apple and book publishers for price-fixing.
When Trump was elected, there were some fears that he was serious about implementing his populist rhetoric. But those fears quickly evaporated. One of D.C.'s most influential law firms, Skadden Arps, told clients that Trump's words should be discounted: "Notwithstanding these widely publicized declarations, early indicators…point to a more conservative approach to antitrust policy under President Trump."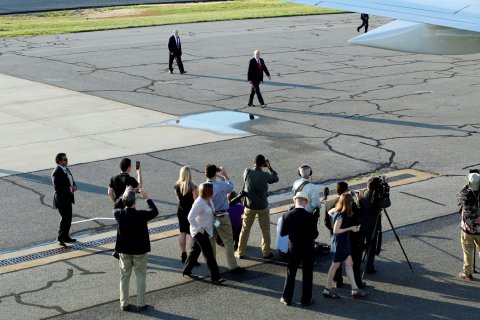 No kidding. Trump put conservatives in charge of his transition teams for the FCC and the Justice Department's Antitrust Division, including Joshua Wright, an expert who holds a chair at the Antonin Scalia Law School in Virginia. And when it came time to offer up nominations, Trump tapped veteran conservatives, including Ajit Pai to chair the FCC and Makan Delrahim to run the Antitrust Division. Under Pai, the FCC has declined to impede AT&T's gobbling up of Time Warner.
Delrahim has yet to be confirmed as the Justice Department's point man on antitrust and won't comment on the pending AT&T–Time Warner merger until he takes office. But in October—before the election and before Trump named him to this pivotal position—Delrahim said he did not think the AT&T deal raised major antitrust issues. "The sheer size of it, and the fact that it's media, I think will get a lot of attention," Delrahim said during an interview on the BNN television network in Canada. "However, I don't see this as a major antitrust problem."
If you're thinking big campaign contributions changed Trump's mind, that's a bit of a stretch. While Trump received donations from AT&T and Time Warner, it was only a modest sum, and there were plenty of donations from their rivals, such as Verizon or Disney.
But sometimes when it comes to the media and mergers, Trump's brain is simply scrambled, a jumble of impulses that make little sense. Consider his tirades against Amazon and its founder and CEO, Jeff Bezos, who has owned The Washington Post since 2013, when he dug $250 million out of his coin dish to snag it from the Graham family, which had guided the legendary paper through Watergate, Woodward and Bernstein, and decades of covering Washington. The paper has been a constant source of irritation for Trump and his administration. This spring, it won a Pulitzer Prize for its reporting about how Trump stiffs charities.
In October 2016, Trump criticized Amazon, fulminating that "its ownership controls The Washington Post [and] should be paying massive taxes which it's not paying." Trump did not seem to understand that Amazon does not actually own or control The Washington Post, and he also seemed to be fighting the last battle when it comes to taxes. The company, which once benefited from a Supreme Court ruling that said only bricks-and-mortar retailers had to collect sales tax, now collects them from every state where there's a sales tax.
Putting aside Trump's confusion here, if he was really determined to thwart Bezos, he could encourage close scrutiny of Amazon's announced purchase of Whole Foods, the kale-heavy grocery chain, for $13.4 billion. Many players in the grocery and retail industries would love to see Amazon bloodied on this front. But there's little chance Trump's Republican, free market–leaning Justice Department will dive in.
Sometimes Trump's laissez-faire approach to mergers helps what is often disparaged as the MSM, or "mainstream media," but it also helps some conservatives too. For instance, in April the FCC under Chairman Pai changed a key rule to allow media companies to expand the numbers of broadcast stations they own.
This change opened the door for Sinclair Media to offer $6.6 billion to buy Tribune Media TV stations. A federal court has temporarily stymied the FCC rule, but if it's allowed to go into effect, it will be a huge boon to Sinclair, which makes Fox News look like MSNBC when it comes to a political slant. It recently hired a former Trump campaign official, Boris Epshteyn, to be its chief political commentator. As comedian John Oliver recently noted, Sinclair has forced its affiliates to carry all kinds of curmudgeonly conservative stories, like a dubious one that suggested the FBI has a personal vendetta against Trump. One of its stations refused to run a pro-Democratic ad while airing a completely false one charging that Obama campaign contributions ended up in the hands of Hamas. Sinclair would be available to 72 percent of U.S. homes if the merger is completed.
A few politicians have been particularly aggressive when it comes to trying to break up media companies, most notably Senator Al Franken who, like Trump, is a former NBC TV star. But unlike Trump, he has actually been fighting these mergers. He's noted the many studies that show Americans pay more for slower broadband and other services than in other countries because of the lack of competition. But then again, under Trump, Americans are about to pay a lot more for health care too. We're getting used to a president who promised to take on big interests and then laid down with them as soon as he got to the swamp.
This article was updated with additional information on the Trump administration's approach to potential media mergers.