Despite The Dangers Of Life In Honduras, Meet The Children Determined To Stay: 'We Know How Beautiful This Country Is'
Growing up in Choloma, Honduras, one of the country's most deadly cities to live in, 14-year-old Sandra Jennifer Salinas Martinez understands why so many families want to leave.
"We live in a very dangerous city," Martinez says simply, sitting at a picnic bench with her friends in the playground of Choloma's Presentación Centeno school. "We can't leave our houses... It's dangerous to walk alone... Many deaths happen here," she explains.
The city is controlled by some of the world's most notorious gangs, including "Mara Salvatrucha" (MS-13) and "Barrio 18," or the 18th Street Gang, and Martinez says that in her short lifetime, she's seen a lot—and she's not the only one.
"Yeah, we've seen murders...burglaries...muggings...drugs," 15-year-old Edin Javier Alvarez Vazquez chimes in. "It stays in your mind."
Vazquez adds that in some neighborhoods across the city, children face pressure to join gangs. Some kids are being forced to enlist, while others simply feel they have no other choice.
"Families, and especially young people, will join gangs because there isn't a lot of other work," the teenager says. "When they enter a gang, they at least know there is money to be made."
Even at school, Vazquez says, he and his friends never feel entirely safe. The walk to and from school can be scary and, for a long time, students felt afraid just spending time outside during recess. At least, that is, until the school decided to build a big wall separating the playground from the outside world.
"We built that this year," Vazquez says. Before that, "I would feel scared because you never knew who was going to come in," he says.
'I was born here. It's our country'
The fears that Vazquez and Martinez share might provide some insight into why more than 171,200 Honduran families were apprehended at the U.S. border between the nine months that passed between October 2018 and July of this year.
"The majority of people who leave, leave because they feel fear," Martinez says.
Yet, despite having fears of her own, asked if she would want to leave Honduras if given the chance, the 14-year-old is quick to respond: "No."
While Martinez understands that for "many people" life in Honduras is simply "too difficult," for her, the solution is "not to flee, but to stay here and work hard for what we want."
Vazquez says he shares that sentiment, telling Newsweek: "I was born here. It's our country. I would stay."
People leave Honduras, he says, for many valid reasons: thousands flee violence every year, while others are trying to break free of poverty. Many are trying to escape both.
But when he grows up, Vazquez says, he wants to be able to tell his children that he was one of the young people who stayed and sought to create change in his country.
Otherwise, "when we grow up, what would I tell my kids if I were to flee?"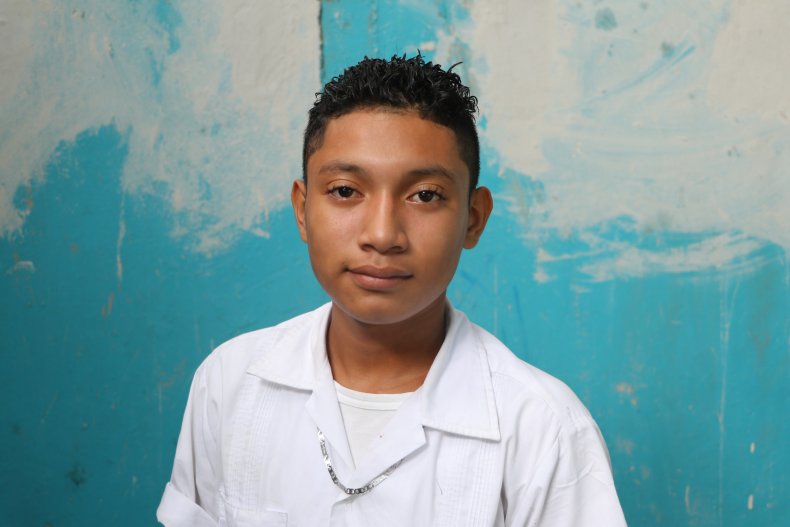 In Focus
Edin Javier Alvarez Vazquez, a 15-year-old student at Escuela Presentación Centeno, says he is determined to build a life in Honduras, despite growing up in one of the country's most dangerous cities.
Launch Slideshow

6 PHOTOS
'This year, 12 students have left'
Maria Beatriz Urbina, the principal at Escuela Presentación Centeno, says she believes that much of the positivity her students are demonstrating has been fostered by a change in approach from the school, with administrators running a UNICEF-supported pilot program aimed at building a "culture of peace, peaceful coexistence and citizenship."
"The atmosphere in the school has changed positively," she says.
Rather than teaching through discipline, Urbina says teachers are trained to help children build "respect and love towards the school" as well as to each other.
They know that "Honduras is a nice, beautiful country," she says. "There are a lot of good people and natural resources here...Unfortunately, however, the resources here are misused and the youth here see their opportunities limited."
Meanwhile, she says "there's a lot of economic insecurity, a lot of violence, a lot of poverty and we just don't have a justice system that's in favor of the people," she says.
Civil unrest is widespread across Honduras, particularly following President Juan Orlando Hernández's controversial 2017 re-election victory.
Hernández was able to stand for office after the Supreme Court lifted a constitutional ban on re-election in a move that sparked outrage across the nation.
His narrow win brought accusations of electoral fraud from opponents, while thousands took to the streets in mass protests calling for his resignation. The protests soon turned deadly: according to the United Nations High Commissioner's Office, at least 22 civilians were killed so far, with at least 16 of them shot by security forces. More than 1,300 people said to have been detained, with many of them held in military detention centers.
"The people don't really trust the authorities," Urbina says.
With much of her community living in poverty, as well as in fear of violence and with little faith in the government's interest in or ability to protect them, Urbina says she has seen many students leave school to try to make it to the U.S. border, either with their families or on their own.
In a school of 518 students, Urbina says, 12 have left since February. "And all of the children that have left have not come back," she says.
Joel Escarlet Bardales Gavarret, a 13-year-old student at the school, says she is not particularly surprised.
After all, "this is a country where more money is spent on the military and security budgets than on education," she says.
Still, the 13-year-old says, despite the difficulties of life in Honduras, she shares her peers' belief that "we can make it."
"We know how beautiful this country is and we know that if we set objectives, we can reach them," she says.
'People leave because of the crisis that's happening in our country'
Meanwhile, less than 20 miles away from Choloma, in Chamelecón, a suburb of San Pedro Sula, students at the Centro de Educacion Basica Chamelecón (Chamelecón Basic Education Center) say that while they have not benefited from the pilot program being run at Escuela Presentación Centeno, they too share a desire to create positive change in their community.
Busily weeding a garden with their peers for their school community service hours, 14-year-old Emily Meca and 15-year-old Nelson Castro are already working to do just that.
For her part, Meca says she wants to help strengthen her community in the future by becoming a pediatrician and helping the country's most vulnerable children.
"I'm most interested in medicine and working with kids," she says.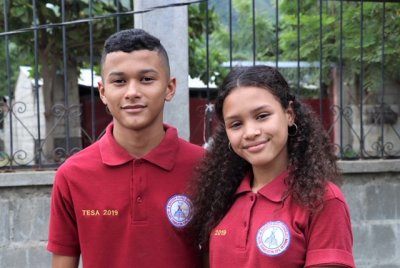 Castro says that he would like to become a lawyer, helping deliver justice in a country where corruption is rife.
"I like the idea of being just... and advocating for others," he says.
Like their peers in Choloma, however, both students believe countries like the U.S. should do more to help those who do feel like they have no other choice to leave Honduras.
"People leave because of the crisis that's happening here," Castro says. "They need a way to be able to support themselves and so, some people need to migrate to the U.S."
At their school, Meca says students are being taught that "everyone has a right to asylum in another country."
The U.S. government, she says, should respect that and should "consider the folks who have really difficult situations here and who don't have a way to support their families."
"They should be able to be well-received there so they can help their families and their kids," she says. "It's not their fault, the problems that are going on here in this country."