Despite His Objections, Democrats Want Robert Mueller to Testify—Even if it Means Just Reading His Report
Former special counsel Robert Mueller made his stance on testifying before Congress crystal clear last week.
"The report is my testimony. I would not provide information beyond that which is already public in any appearance before Congress," he said during a rare, on-camera statement to the press.
Still, House Democrats want to hear directly from the man himself—even if Mueller simply appears to read portions of his own report aloud for the public to see and hear. Or, as Democratic Caucus Chairman Hakeem Jeffries put it: "even if that simply means sticking to the script."
"We haven't heard it in his words—he can restate the report for us if that's what he wants to do," Democrat Pramila Jayapal, a Judiciary Committee member, told Newsweek. "What percent of the American public do you think has actually read the report? What percent of Congress has actually read the report? I've read it three times."
Although simply reiterating the main points of his findings, Mueller's short speech last week was the tipping point for many Democrats in calling for an impeachment inquiry into President Donald Trump. A public testimony before the House Judiciary Committee, Democrats argue, would better educate the American people about the cases of potential obstruction that may have gotten lost in the 448-page report and in which Mueller said he could neither exonerate nor charge the president over.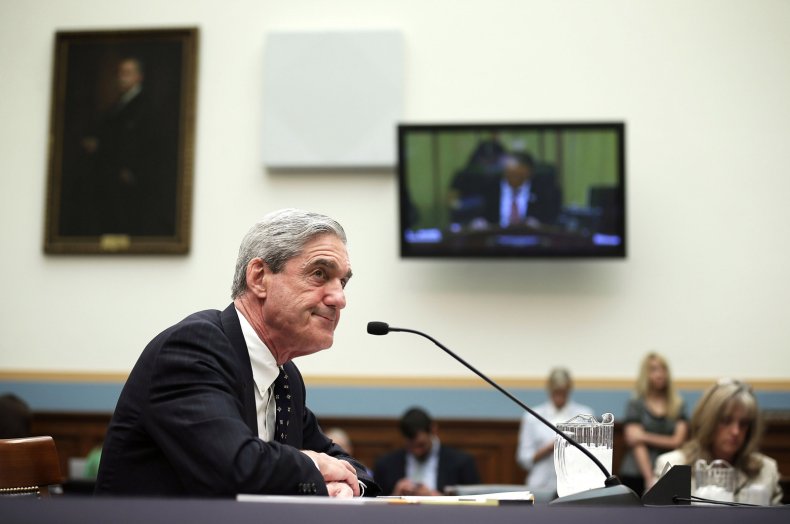 Jayapal, one of several dozen House Democrats who support opening an impeachment inquiry and who is co-chair of the House Progressive Caucus, continued: "The country does believe in Robert Mueller, for the most part, and I think having him go through his logic... it will allow people to hear him say it, and then maybe they will know that when [Attorney General] William Barr intercepted the report halfway down the field, he turned it into something totally different."
Judiciary Chairman Jerrold Nadler declined to answer reporters' questions about a variety of topics Tuesday morning, including on matters involving Mueller's testimony and issuing a subpoena. But other key Democrats made their opinions loud and clear.
"He may want a subpoena, for all I know," House Majority Leader Steny Hoyer told reporters. "Questioning is an important fact-finding pursuit. He may want a subpoena; in which case I think we ought to issue a subpoena. And if he won't testify, I think we ought to issue a subpoena."
Hoyer made it clear that he does not have contact with Mueller and is leaving the matter up to Nadler.
Representative David Cicilline, a Democrat on the Judiciary Committee who supports an impeachment inquiry, also supported issuing a subpoena—despite Mueller's opposition to testifying.
"I don't think it's one of those things where he's going to have a choice," Cicilline told Newsweek. "He has said, clearly, that he's not going to say anything more than is in the report. We get that. But I think it's still important to come before the committee."
Immediately following Mueller's remarks last week, Nadler backed off his previous threats to subpoena Mueller's testimony. "Mr. Mueller told us a lot of what we need to hear today... He reaffirmed what was in the investigation," Nadler said at the time.
But House Democrats view Mueller's testimony as an integral factor of whether the party moves forward with an impeachment inquiry, something that members support more with each passing day the Trump administration refuses to comply with their various congressional investigations.
"It is certainly one aspect of our decision-making process, yes," Hoyer said.