Registered Republican voters are split—47 percent in support and 45 percent in opposition—on Congress passing stricter gun control measures, which means there is currently less support than there was in the aftermath of the February 2018 Parkland, Florida, massacre that left 17 high school students and staff members dead, according to a new Morning Consult/Politico survey.
This despite the issue of gun violence prevention returning to the spotlight in the wake of two mass shootings—one in Dayton, Ohio, and another in El Paso, Texas—earlier this month, where two separate gunmen with assault-style weapons gunned down 31 people.
In the weeks following the Parkland shooting at Marjory Stoneman Douglas High School in South Florida, a Morning Consult/Politico survey showed 53 percent of Republicans wanted stricter gun control laws while just 42 percent opposed. In March 2018, about a month after the shooting and amid the start of Marjory Stoneman Douglas students mobilizing peers nationwide to pressure action from lawmakers, another Morning Consult/Politico survey showed GOP support had swelled to 57 percent and opposition declined to only 37 percent.
In response to Parkland, Congress did not pass any major new legislation, leaving it up to states across the country—including Florida—to implement new measures. Although Trump originally told GOP lawmakers that some of them "are petrified of the [National Rifle Association]. You can't be petrified," his tone changed after a meeting with the NRA. Ultimately, a bill that required federal agencies to more frequently update the nationwide background check system.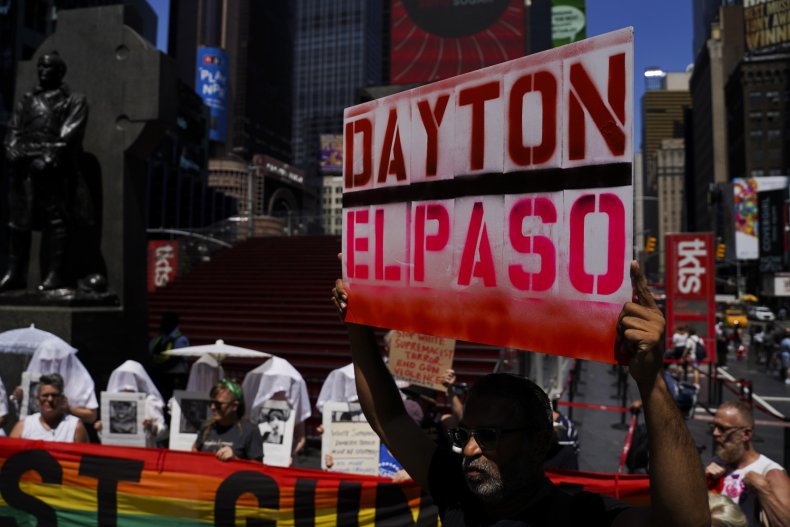 The survey also found that Republicans are, generally, less opposed to stricter gun control under President Donald Trump than they were under President Barack Obama. Roughly two-thirds of all respondents—including 89 percent of Democrats and 60 percent of independents—indicated they support stronger gun measures.
This time around, however, Congress appears to be on the path to passing some degree of new gun control legislation. But the details of any new measures and when they'll be passed is still yet to be seen, and the lack of support among GOP voters will likely be in the back of Republican lawmakers' minds as they grapple with their stances on future proposals.
With Senate Majority Leader Mitch McConnell, a Kentucky Republican, and President Donald Trump stating their opposition to recalling the Senate from August recess to immediately address the issue, lawmakers will not return to Washington until the second week in September. The Democratic-led House passed two universal background check bills in February, proposals that House Democrats continue to demand McConnell allow his chamber to vote on.
A congressional aide familiar with the talks told Newsweek on Tuesday that the House Judiciary Committee was considering returning one week early during the week of Labor Day to consider several gun control measures, but said plans were fluid. Majority Leader Steny Hoyer told reporters the same day that they would consider, among other things, restrictions on magazine capacities and so-called "red flag" laws, which would allow law enforcement to temporarily confiscate firearms from people believed to be an imminent threat to themselves or others.
Congressional Republicans have primarily touted the "red flag" laws as a potential fix, while Democrats have floated the idea of an assault weapons bans, in addition to the Senate passing the House's universal background check bills.
Trump has thrown his support behind "common sense background checks," and he has claimed McConnell "wants to do background checks... and I think a lot of Republicans do."
But publicly, McConnell has made no such statements, and senior GOP aides have repeatedly pointed to a February veto threat from the White House in the immediate aftermath of the House passing its universal background check legislation. McConnell's remarks on gun control measures have been vague, leaving the door wide open for what a bipartisan group of senators may come up with once Congress returns from recess.
"I've tasked three of my committee chairmen with talking not only to their own members, but the Democrats as well," McConnell said last week during an interview with Kentucky radio station WHAS. "We're going to have these bipartisan discussions. And when we get back, hopefully, be able to come together and actually pass something. I want to make a law, not just see this kind of political sparring going on endlessly which never produces a result."
The Morning Consult/Politico survey was conducted online from August 9-11 among 1,993 registered voters nationwide. Results were then weighted, according to the survey, to estimate a "target sample of registered voters based on age, race/ethnicity, gender, educational attainment and region." The survey's margin of error plus or minus 2 percent.