Despite One of Worst Coronavirus Outbreaks in Europe, Belarus Refuses to Cancel Military Parade
Belarus will continue to hold its annual military parade this week, despite experiencing one of the worst coronavirus outbreaks in Europe.
The annual military parade marks the country's defeat of Nazi Germany, and during a recent press conference, Belarus President Alexander Lukashenko stated that they couldn't cancel the parade because doing so would create fear of the virus among the country's population.
"I must say that we cannot cancel the parade. We simply cannot. I thought about it for a long time. Of course, this is an emotional, profoundly ideological thing," Lukashenko said, according to The Guardian. "We should remember that some of those people [who fought in the Second World War] might have died of viruses or other diseases, but didn't always feel that, and they died for us, no matter how pompous this might sound. And just think what people would say. Perhaps they would say it, not immediately, but a day or two days later—but they would say we were scared."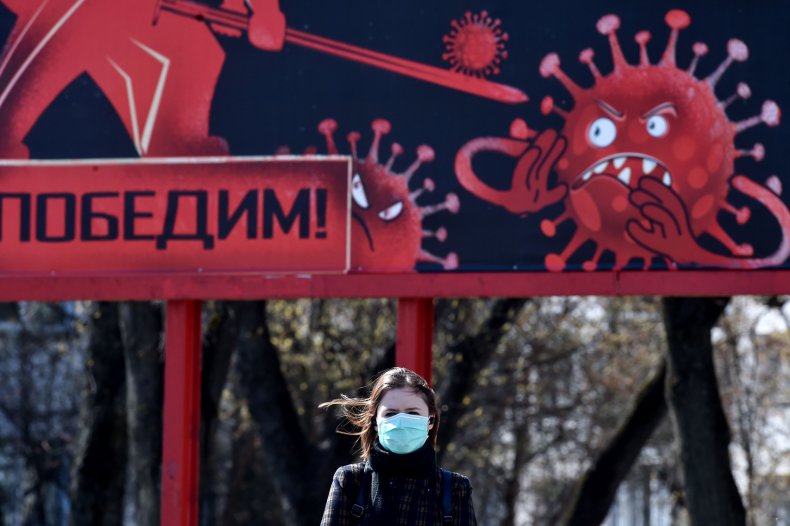 Lukashenko's decision to not cancel the parade comes as the country continues to see an increase in coronavirus cases. According to a tracker provided by Johns Hopkins University, as of Tuesday, Belarus had 7,000 confirmed cases of the virus and at least 103 deaths.
Throughout the coronavirus pandemic that has impacted countries across the world, Belarus has remained one of the only European nations to not impose a lockdown, to fight the spread of the virus.
In Belarus, restaurants, coffee shops and movie theatres have remained open. In late April, churches across the country were filled with residents as they celebrated Orthodox Easter. Professional soccer has also continued, with no postponement or cancellation of any matches.
According to the New York Times, Lukashenko recently told reporters after playing in an amateur ice hockey game, that "there are no viruses here."
"Do you see them flying around?" Lukashenko asked. "I don't see them either."
The country's decision to not impose a lockdown has not gone unnoticed, and on April 21, the World Health Organization (WHO) released a statement urging Belarus to implement some type of social distancing measure to slow the spread of the virus.
"As the COVID-19 outbreak in Belarus enters the community transmission phase, the country needs to introduce community-wide steps to increase physical distancing, according to the recommendations of a team of WHO experts at the end of its assessment of the country's response to the pandemic," WHO wrote in its statement.
"The government has already implemented containment measures—testing suspect cases, tracing their contacts and isolating the sick. It has also placed emphasis on increasing capacity to manage the surge in COVID-19 patients, while continuing with essential health services for chronic diseases, maternal health and mental health. With community transmission established, it is important to complement these interventions with physical distancing measures."