Despite Reports of a Setback, BP Says 'Top Kill' Proceeding According to Plan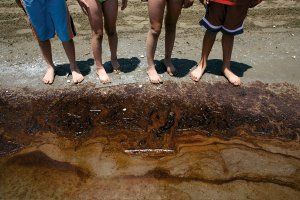 Due to stalled progress and mixed messages, the results of BP's ongoing efforts to carry out a "top kill" to stop the oil spill in the Gulf of Mexico are increasingly unclear.
The New York Times reports that BP had twice suspended pumping operations since it began the top kill—a procedure in which drilling mud (and eventually concrete) is pumped into the leaking well—on Wednesday afternoon. The process was first halted late Wednesday night, when engineers felt that too much of the drilling mud was escaping into the seawater, but began again late Thursday. After trying two "junk shots," which involve injecting materials of various sizes like golf balls and shredded tires into the blowout preventer to clog it and force more of the mud down into the well, BP again shut down the operation early Friday morning.
At a press briefing Friday afternoon, BP chief operating officer Doug Suttles claimed that the operation is going "basically according to plan," and that there was nothing too unusual about how the top kill was progressing. Periods of pumping, monitoring, and junk shots are considered normal, he said. Yet a technician told The New York Times that less than 10 percent of the mud being pumped was actually remaining in the well, suggesting that little progress was being made.
As the top kill continues, more and more questions are being raised about BP's transparency. No announcements were made until hours after each pumping period ended, and even then, updates from BP were vague. Yet Suttles asserts that his company is trying to provide as much information as it can, and that any lack of details is because the company is prioritizing efforts to stop the flow above all else, and has all hands on deck doing that. "There's a tremendous amount of transparency here," he argued.
Should the top kill fail, next up will be another containment dome—dubbed the Lower Marine Riser Package (LMRP) Cap. This would involve cutting off the piping that emerges from the top of the blowout preventer and covering the gusher of oil and gas with a dome that should channel much of it through a pipe to a vessel on the surface. But BP officials indicated at a briefing earlier this week that removing the riser pipe could increase the flow rate up to 15 percent, meaning that even more oil would be entering the gulf each day should the LMRP cap also fail.
Meanwhile, Suttles says that top-kill operations will probably continue for another 48 hours, although pumping would not be continuous throughout that time. "We will continue until we are successful or until we believe that [top kill] won't be successful," Suttles said.