Despite Rise in Smash-and-Grabs, These Major Cities Saw Robberies Drop in 2021
Some of the U.S. cities that have been impacted by the recent spike in smash-and-grab retail robberies have reported an overall decline in robberies citywide compared with those reported last year.
The retail theft surge has shaken store owners across the country as security footage shared by police showed groups of thieves entering department stores and boutiques alike to steal products. While these kinds of incidents have been reported in several U.S. cities, the problem has been particularly prevalent in California's Los Angeles and Bay Area communities. In one case, about 80 people were estimated to have targeted a Nordstrom store in what police said was "clearly a planned event" in the Walnut Creek area.
Further south, there was an estimated 3.9 percent increase in robberies reported in Los Angeles this year, according to Los Angeles Police Department data last updated in late November. The increase marks an uptick in robberies that have been reported this year to date, compared with those reported through the end of November 2020.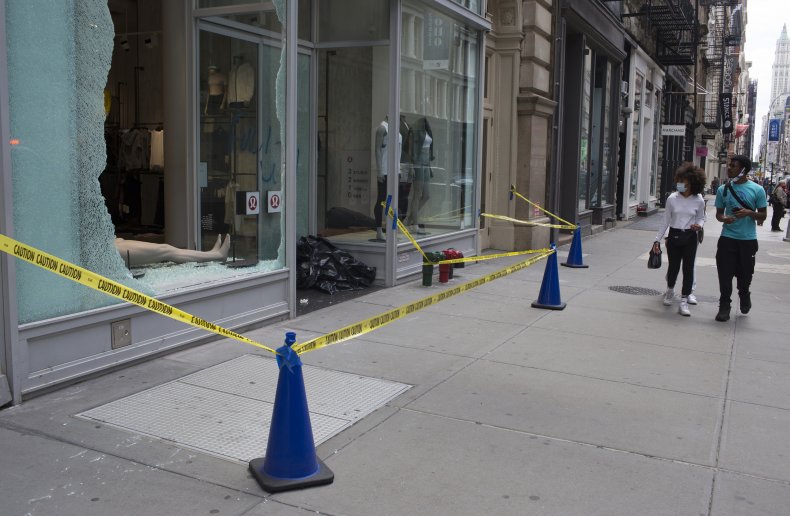 Los Angeles placed first on a list from the National Retail Federation (NRF) of cities most impacted by organized retail crime. The list was included in the NRF's 2021 Retail Security Survey published in August.
Also on the NRF's list was New York City, which saw a 4.5 percent increase in reported robberies this year compared with those reported through early December.
But Chicago, which ranked third on the list, saw a 2 percent decline in reported robberies this year, according to police data last updated December 5. The police departments in Baltimore and Atlanta have also reported 6 percent and 8 percent declines, respectively, in the total number of robberies reported from the start of January through the end of November.
In California, Sacramento and San Francisco are two of the cities that have been hit hardest by the smash-and-grab robbery trend. Both cities reported a decline between 4 and 5 percent in robberies for 2021.
Even with some cities experiencing a decline in reported robberies, the smash-and-grab spree that has captured the public's attention in recent weeks prompted some officials to take action. In California, Governor Gavin Newsom recently instructed the California Highway Patrol to boost officers' presence near retail outlets in support of the state's Organized Retail Crime Task Force, and Florida's attorney general announced earlier this month the creation of the Florida Organized Retail Crime Exchange.
A handful of major U.S. cities have dominated the conversation about smash-and-grab incidents in recent weeks, but industry leaders say it's a nationwide problem.
"These incidents unfortunately have been increasing for some time now for several years," said Jason Straczewski, the vice president of government relations and political relations at the NRF.
Straczewski told Newsweek there are "a number" of factors that contribute to the rise in retail theft and said the NRF wants policymakers to pursue "national-level solutions."
"You can't just look at this as something that's a local problem or a problem in a particular state," he said.
According to a retail theft study the Retail Industry Leaders Association (RILA) released last month, retailers estimate nearly $70 billion worth of products was stolen in 2019. Jason Brewer, the senior executive vice president of communications and marketing at RILA, told Newsweek thefts were already "getting more brazen and violent" before the coronavirus pandemic, but the pandemic introduced elements that "put the problem on steroids."
"The coverage of late has obviously focused a lot on California and Southern Chicago, but what our retailers tell us is that this is not just a big-city problem, and this is not something that is confined to one or two areas of the country," Brewer said. "Organized retail crime is not something that discriminates or wears a particular party hat or is more or less susceptible in a certain community. It really is everywhere."