While thousands of schools shuttered last week in response to the latest Omicron wave, California saw relatively few closures in the same time period despite having stricter restrictions than other states.
In a weekly update from one of the co-founders of Burbio, which is tracking K-12 school openings this academic year, Dennis Roche noted that California had very few closures over the last few weeks.
Roche told Newsweek that the state has actually kept schools open at one of the highest rates in the country so far this academic year.
Last week, school closures on a national level reached their highest total—a trend driven by rising COVID-19 cases, staffing shortages and the Chicago Public Schools work action.
Although last week began with 1,591 closures, Burbio's tracker identified 5,409 school disruptions by Friday. Closures were particularly concentrated in the Northeast, Mid-Atlantic and Midwest.
One of the reason why schools in California have remained largely unaffected by the mass closures could be a new law passed by the State Legislature in June—a time when the state was seeing a decline in infections.
Under the law, superintendents are required to consult with both the California Department of Education and their local county office of education before closing their districts. They would also need to file a plan for how schools would provide instruction for students missing time on campus.
Districts that want to be funded during a closure must show that the disruptions are driven by teacher shortages and not student absences.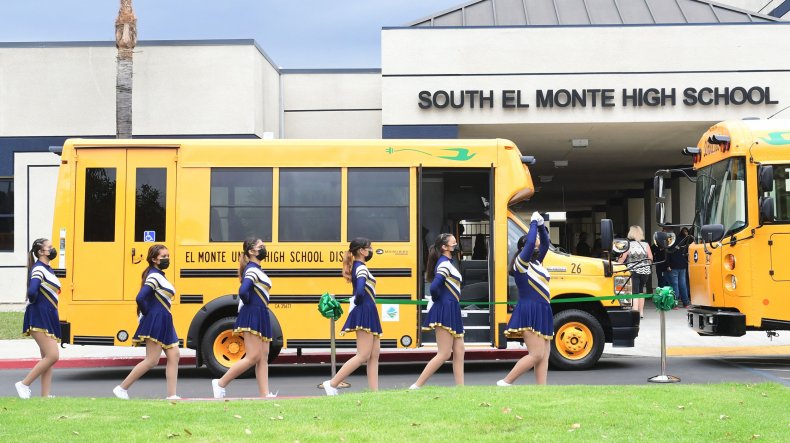 While Governor Gavin Newsom has been known to implement tight COVID-19 restrictions—including universal face masking for indoor settings and vaccine mandates for health care workers and students—he has also pushed to keep classrooms across the state open.
Ahead of the winter break, Newsom said, "California schools have been open because of, not despite of, our priority on safety. As we approach the new year, we reaffirm our shared commitment to one another, to our parents and to our students: to keep each other safe and to keep our classrooms open."
But even efforts from the state's top officials have failed to keep every student in California on school campuses.
With the rise in infections, some districts have had to make the decision to close schools.
Last week, the West Contra Costa School District announced it would close its 54 schools last Friday and this Monday "to relieve a little pressure and allow more time for those in our community who are sick to recover."
The district called it a "very challenging week" for their school communities and officials noted "we're seeing a lot more staff absences than usual due to the virus, and we also have an increased number of students testing positive for COVID-19 as we return from winter break."
Beginning Monday, school staff will be required to wear KN-95 masks.
The district will also open three new testing sites for the school communities and distribute 15,000 in-home testing kits to students before they return on Tuesday.
Update 10/01/21 12:07 p.m. ET This story was updated with comments from Roche.