Despite Stumbles, Hickenlooper Seen as Favorite to Oust GOP Senator Gardner
John Hickenlooper won Tuesday's Democratic primary in Colorado—a victory that allows him to challenge Republican incumbent Cory Gardner, one of the most vulnerable senators up for re-election this fall.
Hickenlooper was ahead of his progressive opponent Andrew Romanoff by nearly 20 points—59.8 percent to 40.2 percent—when the race was called on Tuesday night. The landslide victory came despite several stumbles in the final weeks leading up to the June 30 election.
The first was an ethics violation he incurred for allowing corporations to cover the costs of a private jet, expensive dinners and limousine rides during his time as governor. Hickenlooper also raised eyebrows for stating that "every life matters" during a racial justice forum in late May, a remark for which he later apologized. He also came under fire for recently resurfaced comments he made in 2014 comparing elected officials to slaves being whipped on an "ancient slave ship."
Despite the missteps, Hickenlooper is now largely seen as the front-runner in his race against Gardner. The Colorado election is crucial in terms of which party will control the Senate in 2021.
Larry Sabato, a prominent election forecaster from the University of Virginia Center for Politics, tweeted Tuesday night that "few question he's the favorite to win against freshman Sen. Cory Gardner (R)."
David Flaherty, who runs the Colorado-based Republican polling company Magellan Strategies, agreed that Hickenlooper's got the upper hand in the contest.
"The ethics charges and the gaffes didn't have a fatal effect on his ability to win the Democratic primary. Going into the general election, there are bigger forces in play that most people agree gives John Hickenlooper an advantage," Flaherty said.
Those forces include deep opposition to President Donald Trump in the Centennial State. A survey from the Global Strategy Group in late May found that 58 percent of registered voters had an unfavorable view of the president. Polls also show presumptive Democratic nominee Joe Biden ahead of Trump in general election matchups.
GOP candidates already got a preview of the state's referendum on Trump during the 2018 midterm elections, when young, independent and female voters came out in droves to support the election of Jared Polis to the governorship and Jason Crow to Congress, while helping Democrats win both the state House and Senate. The victories turned Colorado bluer than it has been in decades.
"They're going to come out and vote against this president. That is simply the math problem for every Republican in the state of Colorado, from Cory Gardner on down," Flaherty said.
In fact, no Republican has won a statewide election in Colorado since 2014, when Gardner won by less than 2 percentage points. That same year, Hickenlooper won his second term as governor by a much wider margin.
On Monday, Trump endorsed Gardner, tweeting that he is a "GREAT Senator who always fights for the people of his state" and that "Cory has my Complete and Total Endorsement!"
Michael Berry, an associate professor in political science at the University of Colorado-Denver, told Newsweek before the primary that he expected "the Democratic nominee to be a strong favorite against Gardner" and that it's difficult to see the senator being able to "overcome the unpopularity of Donald Trump in Colorado to win re-election."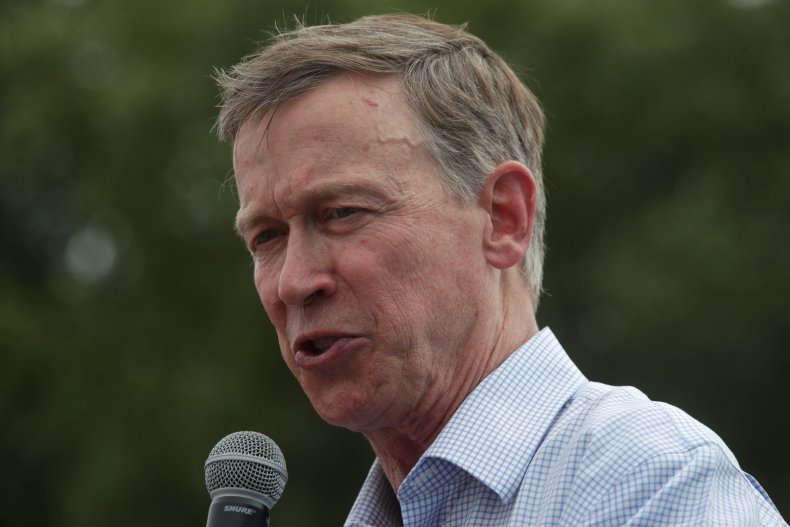 Polling has consistently shown Hickenlooper leading Gardner in head-to-head matchups since he entered the race in August 2019. Two surveys released in early May showed the Democrat up by double digits.
But Gardner has a cash advantage, according to the latest campaign finance filings. The Republican incumbent has more than $9.3 million in the bank, compared with Hickenlooper's $5.9 million.
Both parties are already planning to pour millions of dollars into Colorado. The National Republican Senatorial Committee said in April it reserved $6.4 million in television and radio advertising set to start airing shortly after the June primary. Similarly, the Democrat's Senate Majority PAC committed to $5.2 million for fall advertising back in March.
In a video posted to Facebook following his primary win, Hickenlooper leaned into his past electoral successes but noted this race will be difficult.
"I've never lost an election in this state, and I don't intend to lose this one. There's far too much at stake," Hickenlooper said. "But this fight isn't going to be easy. Donald Trump, the Republicans and their dark-money groups are going to keep throwing everything they've got. Everything they've got they're going to throw at us because they can't defend Cory Gardner's record."