Despite Subzero Temperatures, Michigan Pharmacist Makes Home Delivery Via Snowmobile To Snowed-In Customers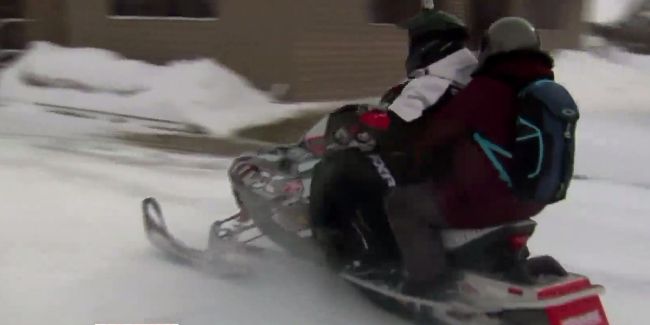 A Michigan pharmacist didn't let subzero temperatures prevent her from helping others.
Despite a polar vortex bringing windchills as low as minus-65 to parts of the Midwest, pharmacist Andrea Cusack braved the weather to make deliveries to snowed-in customers, WILX TV reports.
On Tuesday night, in order to reach the customer with a long driveway covered in snow, Cusack enlisted the help of her 15-year-old son and the family's snowmobile.
Cusack's husband, Mark, posted a photo of Andrea and her son as they made the delivery and shared it on Facebook, where it got some attention.
"I can't believe it. I truly care about people. I want to help them and to see the response around the community is overwhelming," Cusack said.
The Lake Odessa Pharmacy, where Cusack works, offers a free delivery service to customers each day. Given how important some medications are, Cusack didn't want anyone to go without potentially life-sustaining medicine, even with subzero temperatures and snow.
"Blood pressure, diabetes meds... you do not want to stop those. It's important to take them continuously," Cusack said. "We're here to serve our community, and if somebody needs our help getting something we're going to help 'em."
On Wednesday, another customer thought he might have to do without medication. Usually, Wayne and Margaret Musbach said, they make the drive to pick up their prescriptions, but the snow kept them from doing so.
"[We're] kind of snowed in right now and I need them Friday morning for sure," Wayne said.
"I had simply asked ... 'Is your driveway plowed?' and they said, 'No.' So I said, 'Oh, so I might have to bring the snowmobile?' and they said, 'We would recommend that,'" Cusack said to WILX.
Cusack's nephew and another pharmacist bundled up and took the snowmobile out to deliver to the Musbach's.
"It just was convenient for us today, especially with us and getting out. We're so grateful that we live in a small community and that they will do things like that," Margaret Musbach said.
Cusack said that the pharmacy will continue using the snowmobile as for deliveries long as the weather requires them to.