Despite Trump Pardon, Navy Still Reportedly Intends to Oust SEAL Officer Edward Gallagher Accused of War Crimes
Chief Petty Officer Edward Gallagher, who was pardoned of war crimes by President Donald Trump on Friday, is expected to be removed from the Navy SEALs.
Anonymous sources within the U.S. Navy said Gallagher is expected to be notified by Navy officials that he is to be removed from the elite Navy SEALs. Gallagher's superiors are also allegedly expected to be taken off the team, according to The New York Times.
Plans to take away Gallagher's Trident pin, signifying his SEALs membership, began earlier this month. However, the White House never provided clearance for the action to take place. SEAL commander Rear Admiral Collin Green now reportedly has the go-ahead from the Navy to take away Gallagher's Trident.
"To have a commander remove that pin after a guy has gone through so much to earn it, it is pretty much the worst thing you could do," said retired senior chief Eric Deming. "You are having your whole identity taken away."
Gallagher's case is expected to go before a review board which will determine if the soldiers are suitable to remain as members of the SEALs. At that time, the board will review the violations the SEALs are accused of and be given a chance to answer the charges.
Gallagher was acquitted of the murder of a teenage Iraqi prisoner of war but was found guilty of posing for photos with the dead body. Not only did Trump pardon Gallagher, but he also restored the sailor to his rank and pay grade.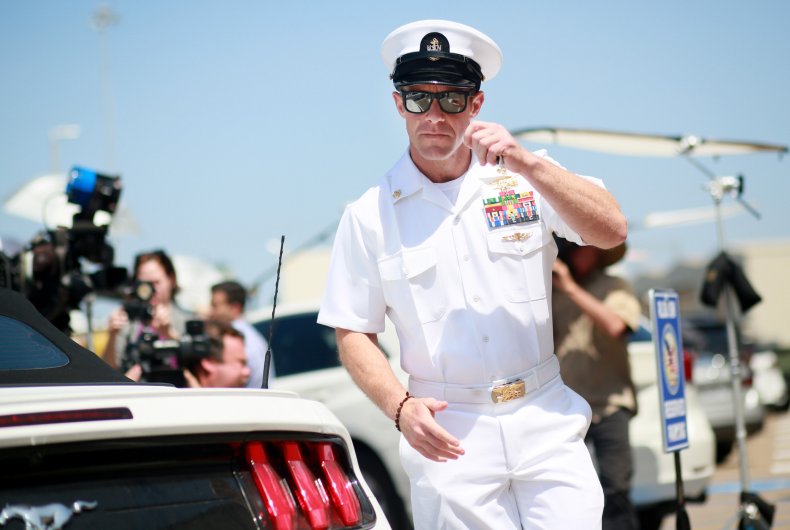 "Before the prosecution of Special Warfare Operator First Class Edward Gallagher, he had been selected for promotion to Senior Chief, awarded a Bronze Star with a 'V' for valor, and assigned to an important position in the Navy as an instructor," the White House said last Friday. "Though ultimately acquitted on all of the most serious charges, he was stripped of these honors as he awaited his trial and its outcome. Given his service to our Nation, a promotion back to the rank and pay grade of Chief Petty Officer is justified."
Some members of the armed forces looked unfavorably upon Trump's actions.
"Absent evidence of innocence or injustice the wholesale pardon of US servicemembers accused of war crimes signals our troops and allies that we don't take the Law of Armed Conflict seriously," tweeted retired General Martin Dempsey, the 18th chairman of the Joint Chiefs of Staff. "Bad message. Bad precedent. Abdication of moral responsibility. Risk to us."
Gallagher's attorney Tim Parlatore said that should the Navy carry through with its reported intended actions, it would be a slap in the face to President Trump.
"Even having this proceeding is a direct affront, an insult, to the president by Adm. Green," Parlatore said. "I don't want to speak for the president, but if I were sitting in the White House, not only would I restore [the trident], but I'd have Admiral Green arrested and court-martialed for insubordination."