Top congressional appropriators Tuesday emerged optimistic from a private meeting with House Speaker Nancy Pelosi (D-Calif.) and Treasury Secretary Steven Mnuchin, expressing confidence that despite the House's fast-moving efforts to impeach the president, Congress will be able to avert a looming government shutdown.
Unless a new budget or temporary funding measure is passed and signed into law by the end of the day December 20, the government will shut down. Congress has yet to pass any of the 12 appropriations bills.
"We can finish our work with a couple of loose ends by the end of the week," Rep. Nita Lowey (D-NY), chairwoman of the Appropriations Committee, told reporters outside the speaker's office.
At another meeting scheduled for Thursday, Lowey said it was her hope the "decisions that have to be made will be really limited" and only the task of tying up the "loose ends" will remain. She added that the "several hundred" outstanding items the various parties disagree over were normal for the appropriations process.
Lowey was flanked by Sen. Richard Shelby (R-AL), chairman of the Senate Appropriations Committee, who expressed an equal amount of confidence that a budget would be able to pass roughly 2.5 months into the current fiscal year.
Lowey said that Mnuchin was "totally on board speaking for the administration" and that he "understands the importance, the urgency of getting our work done."
This comes despite the House Democrats' pace to impeach Trump for allegedly abusing his power and obstructing Congress by the end of next week, setting up a potential collision course for passing the budget and a landmark trade agreement with Canada and Mexico before Congress leaves town for Christmas recess.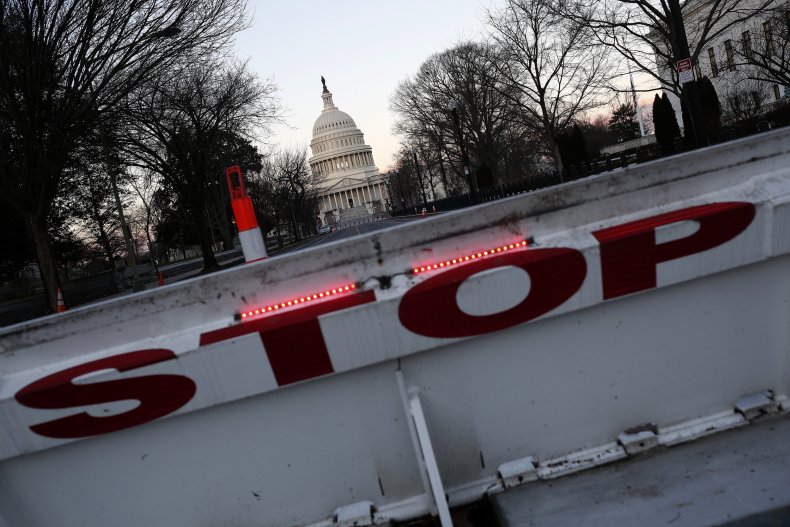 "We can walk, chew gum, run—at the same time," Lowey told Newsweek. "That's why we're Democrats."
However, there was one contentious point of funding not discussed during the less than 30-minute meeting, according to Lowey and Shelby: Trump's southern border wall.
The yet-to-be-built structure caused the longest government shutdown in history, which ended earlier this year in January. The president then declared a national emergency to unilaterally divert billions of dollars from the Pentagon, a move which a federal judge in Texas blocked on Tuesday.
The White House has demanded additional wall funds for this year's budget, something Congress must address if they hope to avoid another shutdown over the matter. Disagreements within the budget have also included funding for the Department of Homeland Security involving the administration's immigration policies.
"Soon, at some point," Lowey said with a laugh, referring to the timetable for when they'd discuss the wall. She declined to provide further detail.
This story was updated to include a federal judge's ruling in Texas that Trump cannot unilaterally divert congressionally appropriated funds from the Pentagon for his border wall.