'Destiny 2' Almighty Live Event Recap - What Happened & Explosion Video
Destiny 2 just hosted its first major live event, and it was a doozy. Rasputin finally took down the Almighty, and it predictably caused huge destruction in and around the Tower. Key locations in the Destiny universe have forever changed, which could mean big things for the upcoming Season 11 Battle Pass.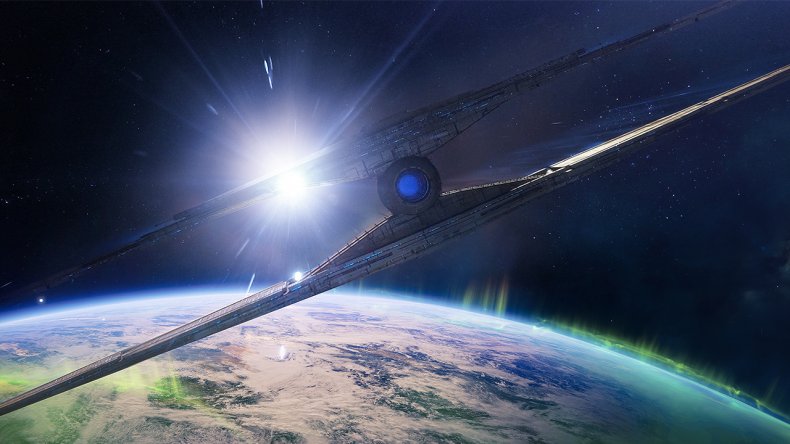 When Guardians gathered in the Tower at 1 p.m EDT, evidence of the event was not immediately visible, as the Almighty began its slow approach. About a half hour later, Guardians saw red tracers and fireworks appear around the craft.
At around 1:50 p.m. EDT the lasers started to make impact with the Almighty, while NPCs and players alike gazed on.
The real explosions, however, began at 2:25 p.m. EDT, when the center of the Almighty caught fire. At around 2:30 p.m. EDT, that fire gave way to a blinding flash of light, as a huge piece of debris fell to the right of the Tower. This caused a massive blast that took out a large chunk of the spot around Zavala. At the end of the event Zavla thanked Guardians for their participation, and players who explored the new rubble area got a free Emblem for their time and effort.
While the Almighty spent most of Season of the Worthy hovering in the background, its presence became known again about two weeks ago. Since then, the Cabal ship had been progressively eclipsing the Tower skybox until its shadow covered most of the social hub. For those who don't know, the Almighty is in many ways the Destiny version of the Star Wars Death Star. Crafted by Cabal leader Dominus Ghaul, the massive ship harnesses the power of nearby celestial bodies and uses it to destroy star systems.
Now that such a terrible weapon has been forced out of commission, it's assumed the aftermath of the event will be a major focus of Destiny 2 Season 11, which is set to begin June 9 at 1 p.m. EDT. The upcoming Battle Pass still doesn't have a name, but that name and other finer details are expected to be revealed during a livestream just one hour before the servers come back online.
Destiny 2 is available now on PS4, Xbox One, PC and Stadia.
What did you think of the Destiny 2 Almighty live event? Are you more excited for Season 11 now that the dust has settled? Tell us in the comments section!