'Destiny 2' Crimson Days 2020 - Rewards, the Vow & How to Get Confectionery Hearts
Destiny 2's Crimson Days event returns from February 11 through February 18, and we're here to recap the key details you should know to make the most of its key rewards, including the Vow. Want to get lots of Confectionery Hearts quickly? These tips should help.
How to start Crimson Days in Destiny 2
To get started, visit Tess Everis in the Tower to get a Crimson Days Engram. This essentially allows players to get one free Crimson Days cosmetic just for logging in.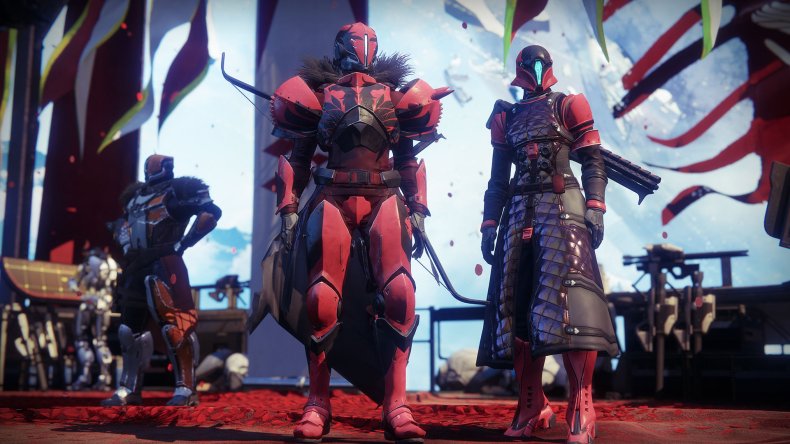 Get your unlimited Newsweek trial >
The bulk of the Crimson Days action, though, will be handled by Shaxx. He'll offer you Confectionery Hearts for competing in Crimson Doubles PvP matches and also has duo-centric PvE Bounties available for those who don't feel comfortable battling against human opponents. Complete enough of these Bounties, and you'll earn Confectionery Hearts, Bright Dust and even Double XP.
How to get Confectionery Hearts in Crimson Days 2020
While the Crimson Days formula appears mostly the same, it looks like the systems have changed slightly with the introduction of these new Bounties from Shaxx. There are essentially two ways to get Confectionery Hearts during Crimson Days 2020.
Crimson Doubles: Seven hearts per win, five per loss
Shaxx Daily Bounty: About 15 Confectionery Hearts each
Shaxx Weekly Bounty: Complete enough Daily Bounties to get about 75 Hearts from the Weekly Bounty.
You may also have spare Confectionery Hearts from previous years. Those can also be used in 2020.
Get your unlimited Newsweek trial >
What is Crimson Doubles?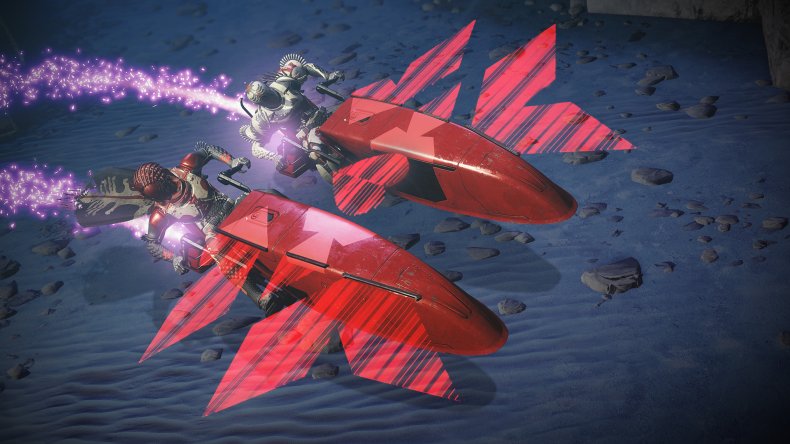 If you're new to Destiny 2, you might not have heard about the majesty of Crimson Doubles before. With that in mind, here's a recap of the rules.
2v2 lobbies
Abilities recharge faster if teammates stay close to one another.
Splitting up will reveal a waypoint of your location to your opponents.
Valor Bonuses in play for Doubles and regular Crucible.
Destiny 2 Crimson Days 2020 Rewards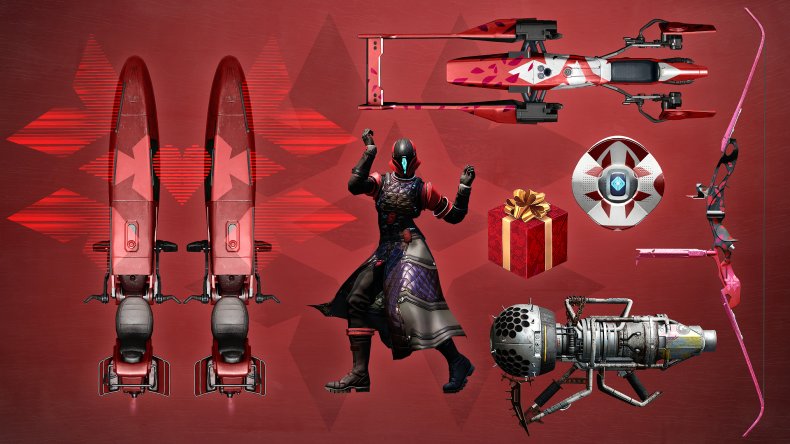 Bungie has been a bit coy about the rewards on offer for Crimson Days 2020, which suggests the cosmetics and featured weapon will likely be similar to those of previous years. The developer has, however, made a point to highlight the new SVC-12 and IVC-10 Exotic Sparrows. Get both Sparrows, and you'll earn a unique Emblem. If that's not enough, Warmhearted Gift packages return and can be bought with Confectionery Hearts for a chance at yielding Legendary loot.
The Eververse will offer premium rewards too. Here's what we know about them so far.
Heartfelt Union emote - 500 silver
Crimson Shell - 2,850 dust / 600 silver
Two of Hearts Projection - 1,500 dust / 200 silver
Crimson Passion Shader - 40 dust
Crimson Valor Shader - 40 dust
Heart Sign emote - 3,250 dust / 1,000 silver
Here are the rewards for 2019's Crimson Days in case you missed them:
Tirastrella Legendary Ghost Shell – 25 Confectionery Hearts
Undeterred Exotic Sparrow – 50 Confectionery Hearts
The Vow Legendary Bow – 100 Confectionery Hearts - Fully masterworkerked and available to all Destiny 2 players.
Wardcliff Coil Ornament - 125 Confectionery Hearts
Flaunting Dance Legendary Emote – 150 Confectionery Hearts
Warmhearted Gift Package – 15 Confectionery Hearts
Sugary Ghost Shell - Complete All Crimson Days Triumphs
We'll be updating this guide with more info as it becomes available, but this should get you started with Crimson Days 2020 in Destiny 2.
What are your thoughts on this year's Crimson Days in Destiny 2? Have you collected enough Confectionery Hearts to get something nice? Tell us in the comments section!
'Destiny 2' Crimson Days 2020 - Rewards, the Vow & How to Get Confectionery Hearts | Newsgeek