'Destiny 2' Devs Talk 9-Player Escalation Protocol & Exotic Armor Changes
Destiny 2 's developers used another This Week at Bungie blog post to discuss the community's burning questions about Escalation Protocol and future changes to Exotic Armor in update 1.2.1. Read our recap of the news below.
ESCALATION PROTOCOL WITH NINE PLAYERS?
Escalation Protocol is one of the highlight features of Destiny 2's new Warmind expansion, but there's no denying how brutally difficult it can be. To combat the challenge, some players leverage tricks to bring together nine unified players across three Striketeams with three players each. While some members of the community feel matchmaking should be added to facilitate larger groups, Bungie doesn't agree.
"Escalation Protocol was designed to be a high-difficulty endgame activity for a max-level, three-player fireteam," Lead Designer Jacob Brenton said. "We have received a lot of feedback since the original launch of Destiny 2 that players felt like reaching max Power was not satisfying. There weren't enough activities that required and rewarded that level of commitment. Escalation Protocol was designed to fill that gap."
In that case, Brenton says his team will "continue to monitor" the situation to see what kind of action, if any, should take place. While nine-player Protocol may never be a thing, Brenton says his team will take that desire for large-team events into consideration for the future.
EXOTIC ARMOR CHANGES
Here's a quick recap of the changes due to arrive in update 1.2.1 on May 29. It's the first of three Exotic Armor adjustment waves, with the next two slated to go live in July.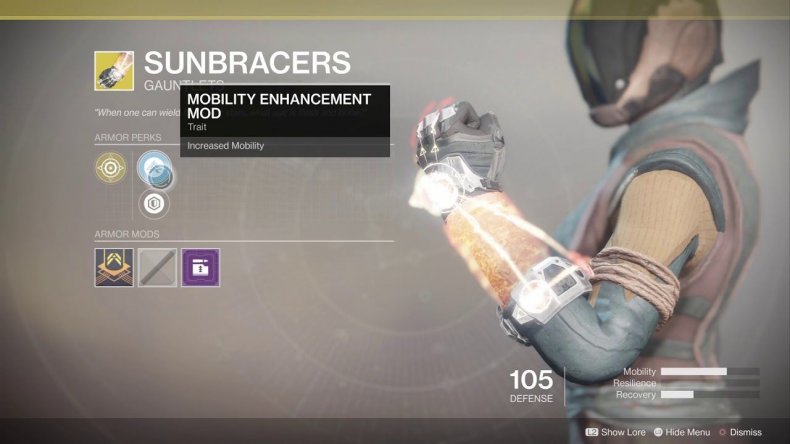 Synthoceps
Instead of adjusting melee damage based on the number of enemies in the area, there's a flat bonus applied when surrounded by at least three enemies. The effect stays active for a short period after foes dissipate.
The outgoing damage buff will be more noticable.
Lion Rampant
You can now hipfire while Lift is active. Aerial hipfire has no penalty.
The impact of the Lift ability has increased.
Dragon's Shadow
Dodging now reloads all weapons at once. Wraithmetal Mail gets a mobility bonus too.
It will be more useful overall.
Mechaneer's Tricksleeves
Swapping to a sidearm while wounded increases damage.
Emphasis placed on making the Tricksleeves a better "final resort" weapon.
Lunarfaction Boots
Rift reloads automatically for greater ranged effect.
Changes made to make Empowering Rift more helpful and easy to use.
Sunbracers
Now increases the duration of Solar Grenades. Solar melee kills also offer unlimited Solar Energy for a short time too.
Made the weapon benefits stronger.
These changes will go live at 12 p.m. EDT May 29 with update 1.2.1. Server maintenance begins at that time and concludes at 4 p.m. EDT, but no downtime is expected. Once 4 p.m. hits, everyone in Destiny 2 will have the newly-balanced Armor. Much like the Exotic Weapon reworks bundled with Warmind, the changes listed here are very much about making all Exotic gear feel more exotic. Because Exotics are fairly hard to come by, the end goal is to ensure that no single weapon or armor piece feels too weak compared to the rest.
Destiny 2 is available now on PS4, Xbox One and PC. We'll post the patch notes for update 1.2.1 as soon as they become available.
What are your thoughts on Escalation Protocol and the Exotic Armor rework? Will these changes and decisions make Destiny 2 better? Tell us in the comments section!