'Destiny 2' Empyrean Foundation Guide - How to Get & Farm Polarized Fractaline Fast
Destiny 2's Empyrean Foundation event has begun, and we want all Guardians to make the most of the rewards from this limited-time event. For the rest of the Season of Dawn, which is scheduled to end March 10, players will need to farm Polarized Fractaline to help the community unlock cool rewards and new game modes. Below, we'll explain how it all works and outline the fastest ways to get lots of Fractaline.
What's the Empyrean Foundation?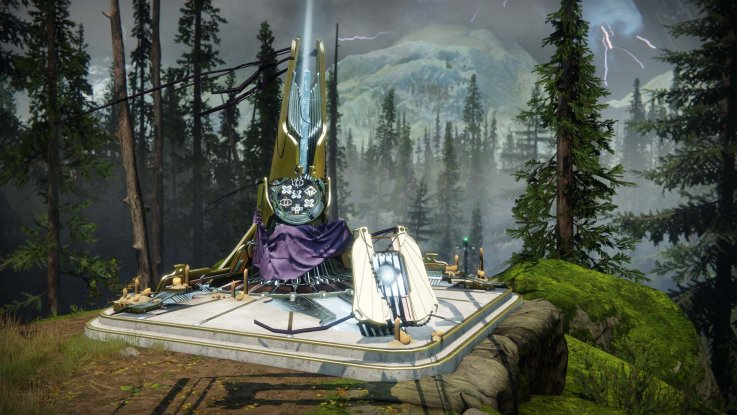 As outlined in a recent This Week at Bungie blog post, the Empyrean Foundation is a community-wide Destiny 2 event where all Guardians work together to farm large amounts of Polarized Fractaline to unlock cool rewards for everyone. While all seven rewards have yet to be revealed, here's what we know so far.
Donate 5,000 or more Fractaline as an individual: Unique Triumph and Emblem unlocked
Reward for 400,000,000 Fractaline
Reward for 700,000,000 Fractaline
Reward for 1,200,000,000 Fractaline
Complete all seven tiers: Everyone gets a Shader and Emblem
In order to take part in collecting and donating Polarized Fractaline, players must first complete the "Cornerstone" quest from Saint-14 that kicked off the season. Doing so unlocks the Tower Obelisk. That's where all donations take place during this event. This event is open to all Guardians regardless if they own the latest Annual Pass or not.
Some other facts worth knowing:
A minimum of 100 Polarized Fractaline can be donated at one time.
Each individual contribution generates 25 percent progression toward all active Timelost bounties.
The Tower Obelisk generates weekly Polarized Fractaline equivalent to its Resource Power. This Power is increased by upgrading Obelisks.
These ground rules will be explained in greater detail below.
How to Get Lots of Polarized Fractaline Fast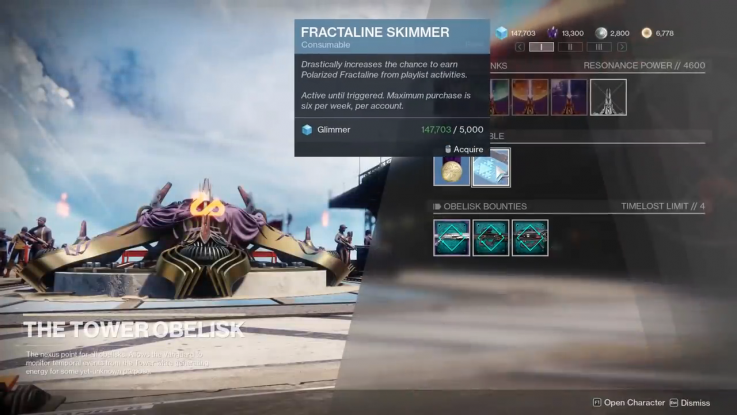 Now that you understand the basics of the Empyrean Foundation, it's time to farm it for everything it's worth. Here are some tips.
Deposit Stored Polarized Fractaline from the start: While this may sound counterintuitive, Bungie recommends depositing your saved up Polarized Fractaline at other Obelisks, before, or as soon as, the event begins. This is because of that last bullet on the list above. If you upgrade your Obelisks now, you'll make more back from that investment each week because your Obelisks will have higher Resource Power from that initial large deposit. It costs 200 Fractaline for each upgrade, and you'll get 100 back in the coming weeks for each one. To start there are two free upgrades at the Tower.
Upgrade the Obelisk with the event you like: If you want to get the most Polarized Fractaline, you should upgrade the Obelisk with the event you like most. You'll have a higher chance of getting bonus Fractaline by completing said activity in upgraded Obelisks.

Tangled Shore: Gambit
Mars: Crucible
EDZ: Strike [This may be fastest with a good team].
Nessus: The Sundial [You're guaranteed to get Polarized Fractaline each time, so this may be worth upgrading].

Buy Fractaline Skimmer: Fractaline Skimmer is sold at the Tower Obelisk, and it drastically increases the chance to earn Fractaline from activities. Buy as much of this as you can per character to increase your drop chance.
Bounties: While doing the above things, don't forget bounties as well, such as Obelisk Bounties and Saint-14 Bounties. Try to complete bounties in ways where you're working toward multiple objectives at the same time.
Triumphs: Accept and complete Triumphs to get Fractaline each time.
That's all there is to know about getting Polarized Fractaline in Destiny 2.
Destiny 2 is available now on PS4, Xbox One, PC and Stadia.
What are your thoughts on the Empyrean Foundation? What are your tips for farming Polarized Fractaline? Tell us in the comments section!
'Destiny 2' Empyrean Foundation Guide - How to Get & Farm Polarized Fractaline Fast | Newsgeek