Destiny 2 Festival of the Lost 2022 Start Date
Every year, Destiny 2 players get to take part in multiple events inspired by real-world holidays and events. The latest season of Bungie's shooter looter has added in tons of pirate-themed goodies, but that hasn't stopped players from looking forward to one of Destiny's biggest events—the Festival of the Lost.
If you're looking forward to Destiny 2's Festival of the Lost this year, there's much to be excited about. The Halloween-inspired event will bring new themed items and activities for players to participate in. Here's everything you need to know about the Festival of the Lost 2022, including its start date and the rewards we know about so far.
Destiny 2's Festival of the Lost 2022 will begin on October 18 after the weekly reset. Right now, Destiny 2 resets each week at 6 p.m. BST (1 p.m. ET). Each reset brings a slew of changes to the game, like new Nightfall challenges and Legendary Lost Sectors. On October 18, the weekly reset will also usher in 2022's Festival of the Lost Halloween event.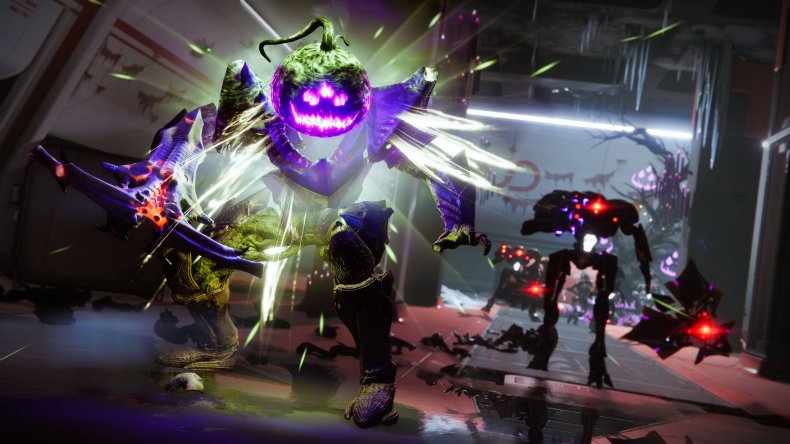 A new Event Card will be added to the game for this year's Festival of the Lost. This special card will allow players to unlock various rewards like Ghost Shells, emotes, and even armor shaders. There will also be a new event title, which you'll need to complete various Triumphs to unlock.
Bungie hasn't revealed what the new Festival of the Lost activities will include. Last year the developer added Haunted Lost Sectors. These activities took some of the game's most iconic Lost Sectors, like K1: Crew Quarters and Scavenger's Den and added spooky enemies and other surprises to them.
These Haunted Lost Sectors might make a return. However, we'll need to wait for Bungie to announce more details closer to the Festival of the Lost kicking off.
It's also possible that Bungie might add a new Exotic to the game. These top-quality items already include weapons like the Osteo Striga and Dead Messenger. Some rumors have already circulated that Destiny 2 players will get a new sniper rifle. But Bungie hasn't revealed whether it will be a regular Legendary or an Exotic.
Bungie hasn't revealed when Festival of the Lost 2022 will end. However, last year's event ran for 20 days. Players expect this year's event to run for a similar amount of time, though Bungie has yet to reveal an exact run time.
The Festival of the Lost will be available on all consoles that Destiny 2 currently supports, so players will have plenty of opportunities to jump in and enjoy the event.