'Destiny 2' Guardian Games 2021 Guide: Medals, Laurels and Contender Cards, Explained
Destiny 2 hosts its second-annual Guardian Games from April 20 through May 11, so we're here to break down everything you should know about the upcoming event. Wondering how to earn the most Medals and Laurels for your team? Curious about how points will be scored during the event? We'll answer all those questions and more with help from Bungie's official information.
What are the Guardian Games and how to start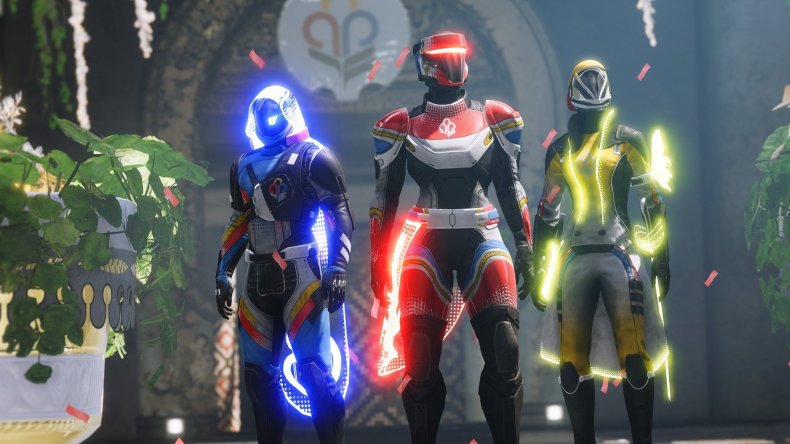 The Guardian Games are a free, class-focused competition where all Hunters, Titans and Warlocks work together with their respective classmates to earn the most points over the event's duration. While there will only be one true winner that keeps the trophy for a full year once the dust has settled, the 2021 Guardian Games also features weekly Podium Ceremonies as well. During that ceremony, your Guardian will feature a glow based on your team's performance in a given week.
Third: Bronze Glow
Second: Silver Glow
First: Gold Glow
All-Stars: Platinum Glow
The closing ceremonies run from May 7 through May 11, and that's when the final point tallies will be revealed.
To get started on the hunt for Medals and Laurels, you must first pick up the new Class Item from Zavala and the Medal Case from Eva. The Medal Case stores a large amount of medals without impacting your inventory space. Make sure you periodically turn in Medals to Eva to get credit for all your hard work!
How to earn points by getting Medals and Laurels
The Guardian Games uses two currencies called Medals and Laurels. These are earned the following ways:
Medals are earned by completing Activities, Triumphs and Contender Cards. Contender Cards are a new addition for 2021, which we will explain in greater detail below.
Laurels are dropped by other players, and can be used to purchase Bounties, Contender Cards and other rewards from Eva. Laurels drop in most modes, but are awarded at the end of rounds in Crucible and Gambit. Getting Laurels means leveraging ability kills. Players get bonus Laurels by picking them up from members of their respective class.
Medals award the following points based on their color:
Bronze: One Point
Silver: Two Points
Gold: Five Points
Platinum: 15 Points
To compensate for Destiny 2's lopsided class sizes, Bungie has introduced a system where the last place class for each week of Guardian Games receives a permanent 10 percent bonus to their medal count. With this buff, the losing class should have a chance to stay competitive through the duration of the event.
Farm Laurels with the Guardian Games Strikes Playlist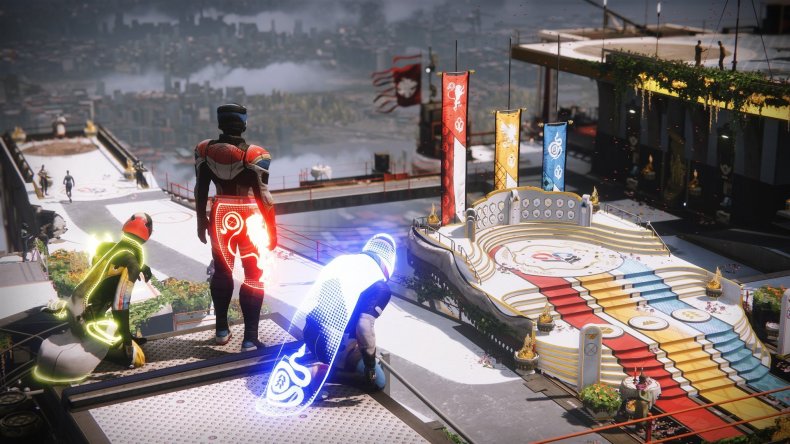 Class members will be able to use this playlist to join Vanguard Strikes specifically with members of their class. Because more Laurels drop from your class members, this is perhaps the best way to farm them.
In a unique twist, however, there are also positive and negative modifiers to these Strikes, based on your team's past week of performance.
Positive Modifiers
Gold: Health, shields, and recovery are increased. Kinetic weapons deal more damage.
Silver: Melee abilities recharge faster. Elemental damage increased from Guardian sources. More Heavy ammo available.
Bronze: Grenade abilities deal more damage and recharge much faster. Elemental damage increased from Guardian sources.
Negative modifiers
Titan: Combatant melee attacks deal more damage. [Bronze] / Combatant melee attacks deal significantly more damage. [Silver]
Warlock: Incoming damage increased while airborne. [Bronze] / Incoming damage significantly increased while airborne. [Silver]
Hunter: Radar is disabled. [Bronze] / Radar is disabled and combatants don't flinch when damaged. [Silver]
Silver classes get just the bronze negative modifier of the class below them, while gold-placed classes get the silver and bronze negative modifiers of the two classes below them.
Use Laurels to buy Contender Cards
Contender Cards can be purchased from Eva using Laurels. These have challenges tied to Strikes, Crucible and Gambit, and they offer one Gold Medal per completion. Platinum Contender Cards focus on objectives in Nightfalls, Survival and Trials of Osiris. Finishing one of these is the only way to earn a Platinum Medal, All-Star status for the weekend and a special reward. All-Star status is determined every Friday.
Rewards from Laurels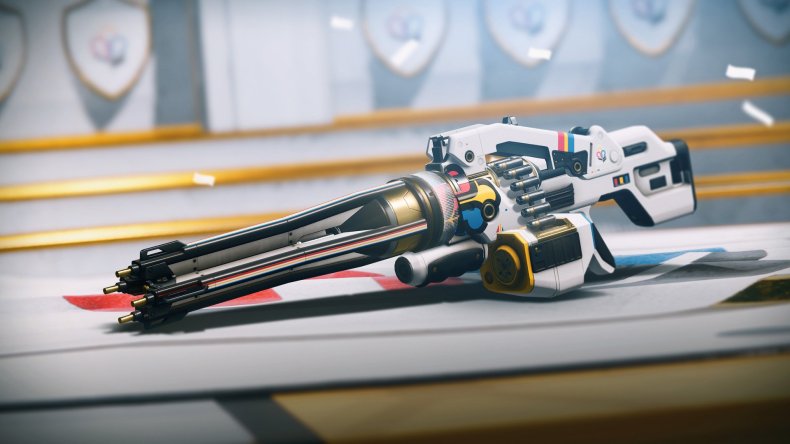 Laurels can also be used to buy rewards like an Exotic Sparrow, the Heir Apparent Exotic Machine Gun and the new Heir Apparent Catalyst. Leaks suggest the Catalyst improves the Arc Shield that spawns, while the Heir Apparent spins up and fires. You can also get one Legendary class item per class, two Shaders and two Emblems.
Destiny 2 is available now on PS5, PS4, Xbox Series X|S, Xbox One, PC and Stadia.
Which class will you be representing in the 2021 Guardian Games? What are your best tips for farming Laurels and Medals? Tell us in the comments section!