Destiny 2: How to Get No Time to Explain
In Destiny 2, the No Time to Explain exotic weapon is an intriguing pulse rifle. It's actually an upgraded version of The Stranger's Rifle from the original Destiny. Given to your Guardian by Elsie Bray, who previously used it as a personal weapon, it's got some exciting attributes.
Not only does it have a series of time-bending powers, but it has the unique ability to exist during periods of time that it shouldn't. And for that reason and more, you probably want to add it to your collection.
This is a gun that's been available throughout multiple points on the Destiny 2's timeline. It's got a formidable set of stats. In the original Destiny, it could refund its own precision shots, which made it almost like you weren't shooting anything at all.
If you're looking for a unique gun that's not really like anything else out there in the world of Destiny 2, we've got you covered. Here's how to get the No Time to Explain weapon.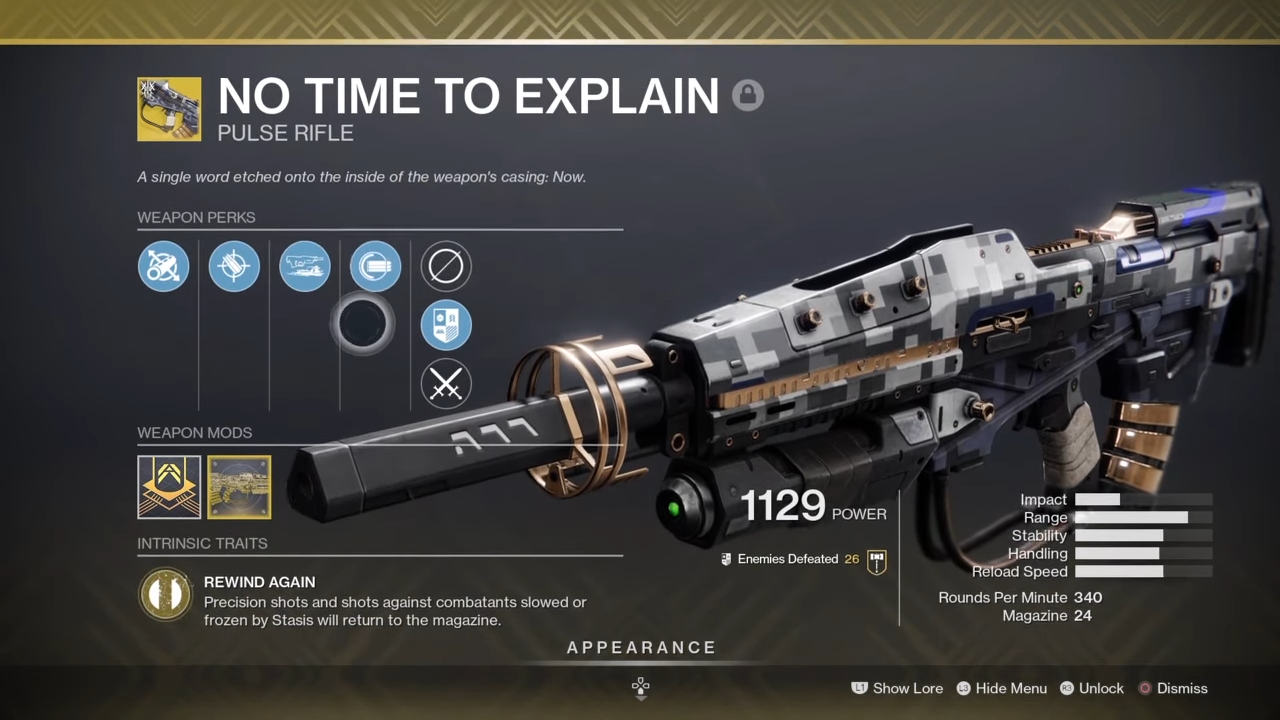 Destiny 2: How to Get No Time to Explain
First, make sure you have purchased or have access to the Destiny 2 Beyond Light campaign. Then, you need to complete the Destiny 2 Beyond Light campaign. Obviously, this is a feat that will take you some time to finish, but you have to do so if you want to proceed.
When you've done so, be sure to visit the Exo Stranger, or Elsie/Elizabeth Bray. She will just offer the No Time to Explain gun to you. She'll also reward you with the "Soon" quest, which will take you to get the No Time to Explain catalyst.
Destiny 2: How to Get the No Time to Explain Catalyst
After you've gotten the "Soon" quest, you'll need to head to Cadmus Ridge and move westward toward BrayTech. Kill off a variety of Vex as the mission instructs, and then go back to Elsie to trigger the next step.
Once you've done that, you'll have to defeat Vex in Nexus, Well of Infinitude, and the Glassway Strike, all with No Time to Explain equipped.
First, head to the Asterion Abyss to find Nexus and the Well of Infinitude in the easternmost area. You'll also finish your Glassway Strike here. Once all of these tasks have been completed, head back to Elsie. You'll then receive your catalyst. That's all you have to do to begin using this rarer Exotic weapon.
It sounds like a quick, one-and-done situation to be sure, but all of this might take a bit to complete. Once you're done, however, you'll be left with a shiny new weapon, and one you won't want to stop using.
Destiny 2 is free to play now on PlayStation 4, PlayStation 5, Xbox One and PC.