'Destiny 2' Iron Banner Season 11 Guide - Old Reliables Quest, Rewards & More
Destiny 2 Season 11 Iron Banner begins following the June 30 Weekly Reset, and we've got all the big details you should know about its quest, associated rewards and more. Still trying to figure out Old Reliables? We've got you covered.
The Old Reliables Iron Banner Quest
Just like the last few seasons, Season 11 of Destiny 2 features a bespoke quest from Lord Saladin that guides players toward the latest crop of weapon-based rewards. This time Guardians will be asked to run through Old Reliables, and it's actually pretty simple.
Defeat opponents using Sidearms and Auto Rifles. Precision kills grant the most efficient progress.
Iron Banner Season 11 Rewards

In addition to two new rewards, there will be two reprised weapons and a loot pool of eight possible guns.
The Forward Path
The Fool's Remedy
Shining Sphere
Swarm of the Raven
Talons of the Eagle
Bite of the Fox
Orewing's Maul
Crimil's Dagger
The Forward Path and Fool's Remedy are your premier rewards, and what makes them special are the perks specific to these Iron Banner weapons.
Iron Grip - Improves weapon stability at the cost of reload speed.
Iron Gaze - Improves weapon target acquisition at the cost of range.
In our opinion only the Iron Grip perk truly plays to the strengths of each gun, but we'll go into more detail on that subject below. As for this season's Iron Banner armor, Guardians can earn a reprise of the Iron Fellowship set that made its debut in January of last year. It does feature a new Shader and Emblem, though.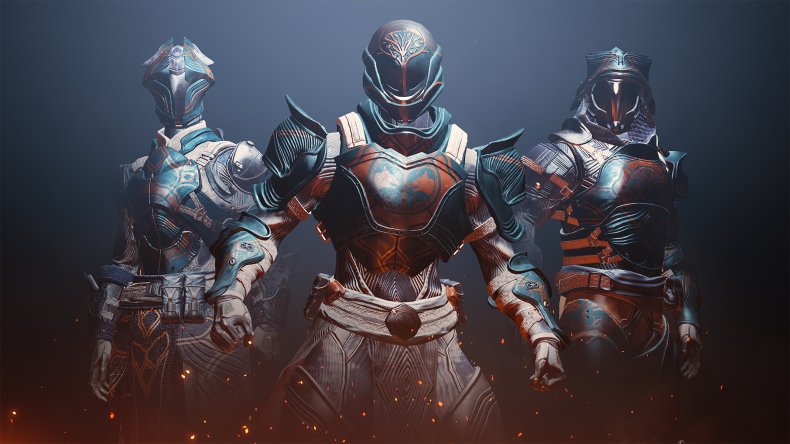 What to know about the Forward Path and Fool's Remedy

The most exciting items in the Iron Banner loot pool are, of course, the Forward Path and Fool's Remedy. As you work toward the very best version of these powerful guns, here's what you should be looking for in a possible God roll. Base stats arrive courtesy of Light.gg.
Forward Path
Impact: 21
Range: 50
Stability: 48
Handling: 72
Reload Speed: 64
Aim Assistance: 71
Inventory Size: 60
Zoom: 16
Recoil: 60
Bounce Intensity: 40
When it comes to working toward a God Roll for the Forward Path Auto-Rifle, we'd advise looking for perks that accentuate this gun's already-stellar Handling and Stability attributes. Those digits alone make it a potential tour de force in PvP if paired with the right enhancements. Steady Rounds and Dynamic Sway Reduction are a really good start, but you also couldn't go wrong with Feeding Frenzy or Fourth Times a Charm if PvE is more your style. With this in mind, the new Iron Grip perk sounds like a decent compliment. We think this gun could really find a strong place in the current meta.
Fool's Remedy
Impact: 35
Range: 34
Stability: 64
Handling: 63
Reload Speed: 44
Aim Assistance: 58
Inventory Size: 69
Zoom: 12
Recoil: 94
Bounce Intensity: Six
This sidearm is certainly the least desirable of the two Iron Banner highlights for Season 11, but it's not bad with the right roll. In order to make it a little better, we'd advise looking for any perks that augment range as the best setup for a God Roll. As for the new perks, once again, Iron Grip seems to make the most sense. Sidearms aren't super effective in PvE or PvP at the moment, but the Fool's Remedy can still be a worthy addition to your inventory nonetheless. That's all we know about Season 11 of Iron Banner in Destiny 2.
Destiny 2 is available now on PS4, Xbox One, PC and Stadia.
What do you think of the latest Iron Banner quest for Destiny 2? Will you be vying for Forward Path or Fool's Remedy? Tell us in the comments section!