Destiny 2 update 2.1.4 added a new Exotic quest called The Draw to the Black Armory. In this quick guide, we'll walk you through the quest steps for the Cleansing, the Temptation and more. At the end of it all, you'll hopefully get the Last Word Hand Cannon. The only requirement is that your Power Level is 500 or above to start.
Tainted Artifact
Go visit the Drifter at his typical marked spot in the Tower. He gives you a Hive Artifact, and now it's your job to clean it.
How to finish the Cleansing in Destiny 2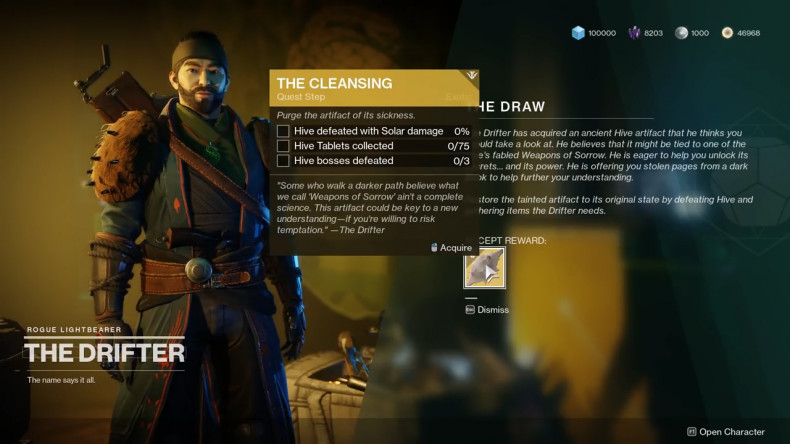 The Cleansing requires you to kill Hive with Solar weapons, as well as kill three Hive Bosses and collect 75 Hive Tablets. If you're looking for Hive, the best place to find them is, of course, in Escalation Protocol on Mars. Put your favorite Solar in each of your three slots and get to work. The Hive Tablets accumulate as you get Hive Solar and Hive Boss kills.
The Temptation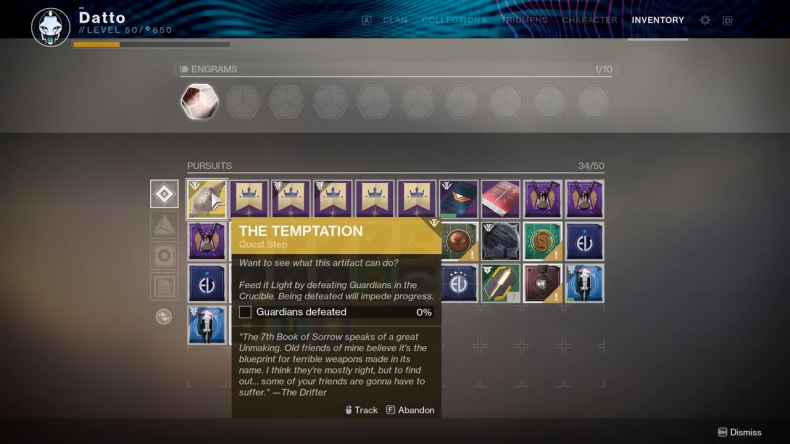 You're not going to like this next step, because it mandates specific requirements in Crucible PvP. All you have to do here is earn more kills than deaths till the quest's completion percentage reaches 100 percent. Leverage Supers and play cautiously to avoid getting killed. Considering you've passed the 500 Power threshold, this step should be little more than a moderate annoyance. If you're not good at PvP, play with someone who is and leach off their assists.
The Damnation
This step takes you to Titan, where you must "uncover a dark ritual and stop the twisted ceremony." This essentially boils down to going through a souped-up version of the Cargo Bay 3 Lost Sector. Your main strategy is to shoot Wizards in the area to break the shields of the Hive Acolyte boss. Go to the Drifter once you're done to complete a substep called A New Jagged Purpose.
Sullied Light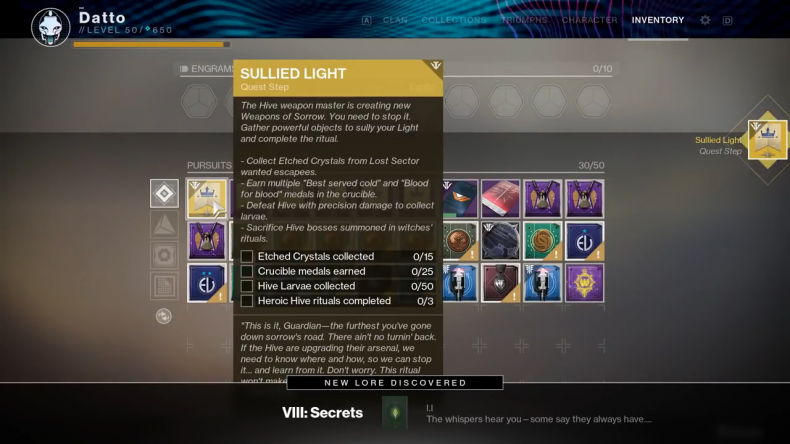 This is where the grind of the quest really takes off.
Etched Crystals (from Lost Sector Wanted escapees). Note that not all Lost Sectors have Wanted targets, but it is possible to rinse and repeat the same one to get all 15 crystals. We have a massive list of Spider Bounties that may help you out.
"Best Served Cold" and "Blood for Blood" medals in Crucible. This requires slaying the killers of allied Guardians and killing opponents who recently killed you. These conditions must be met 25 times. Some suggest playing Mayhem, but going through PvP with a group and stalking your teammates is also effective.
Defeat Hive with precision damage to collect 50 larvae. Core Terminus on Mars is probably your best bet.
Sacrifice Hive Bosses summoned in three witches' ritual Heroics. These are Public Events that take place on Titan and Mars. Stay on those planets to do everything, and hop into the events when they appear.
The Conversation
With those objectives complete, go back to the Drifter again to finish a substep called Sorrow's Road. He'll send you to the Tangled Shore to track down Enkaar for one final showdown. This part of the quest is entirely solo and suggests about 650 Power. When you get in the area, remember to play cautiously as the Suppressed Light debuff is active. That means the only way to get health is to loot foes.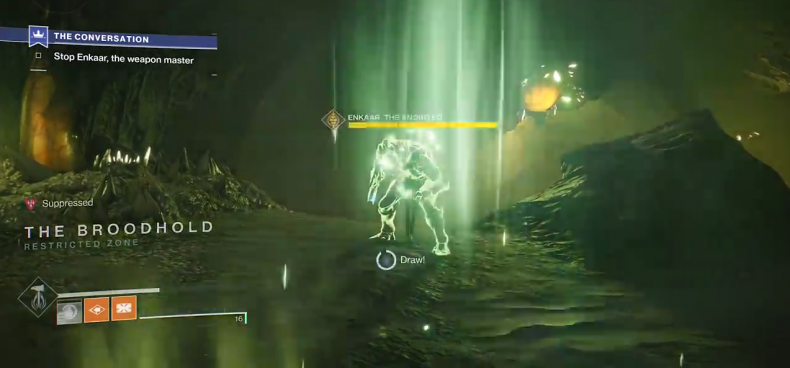 The main idea of the mission is to stand on Hive platforms to charge them and fight the boss. Once the platforms fully charge, press the displayed button quickly to draw. This gives you the Last Word. When Enkaar's weapon turns blue, shoot the gun out of his hand using Last Word.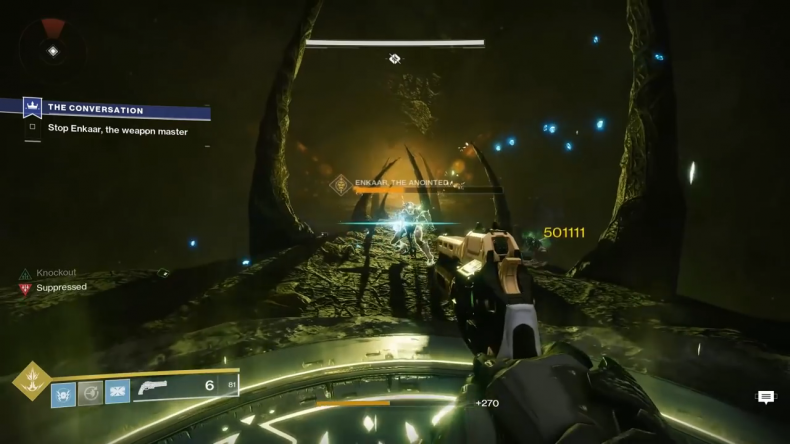 After you do that, a swarm of enemies will spawn. Kill everything and repeat the previous draw steps with both Enkaars that appear. If you fail, you'll wipe and be forced to try again. Another wave of enemies will spawn. Dispatch these, and now you'll have to kill three bosses using the draw steps. Finish this and the Last Word will be yours. You can close out the quest by going back to the Drifter.
That's all you need to know about the Last Word Exotic quest in Destiny 2.
Destiny 2 is available now on PS4, Xbox One and PC. The Last Word quest is live on all platforms.
What are your thoughts on this new Exotic quest? Did any of the steps give you trouble? Tell us in the comments section!