'Destiny 2' Season of the Chosen Release Time: When Does the Update Start?
Destiny 2 Season of the Chosen is set to release February 9, so we're here to clue you in on all the big details you should know heading into launch. Want to know what time the Battle Pass update is expected to go live? Curious about the main features and Activities you'll be able to experience on day one? We've got the full rundown designed to keep Guardians informed.
What time does Destiny 2 Season of the Chosen release?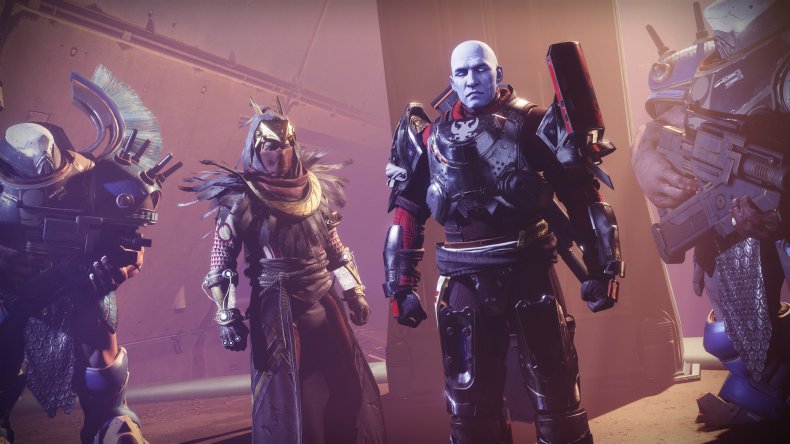 Destiny 2 Season of the Chosen is expected to go live February 9 at 12 p.m. EST. Here's a full recap of how server maintenance and downtime will work, courtesy of the latest This Week at Bungie blog post.
11 a.m. EST: Maintenance begins.
11:45 a.m. EST: Players will be removed from Activities and brought offline.
12 p.m. EST: The 3.1.0 update goes live on all platforms, and players will be allowed to log back into the game.
1 p.m. EST: All maintenance ends.
Bungie typically runs its seasonal updates like a well-oiled machine, so we wouldn't expect too much deviation from this standard procedure. If there are any unexpected alterations to the schedule, we'll report them here.
What's in Destiny 2 Season of the Chosen?
As with all seasonal updates for Destiny 2, the Season of the Chosen update for Season 13 is expected to add a bunch of new content to the game. Below, we detail the highlight features players can expect to enjoy from February 9 through May 11. You can see it all in this official roadmap.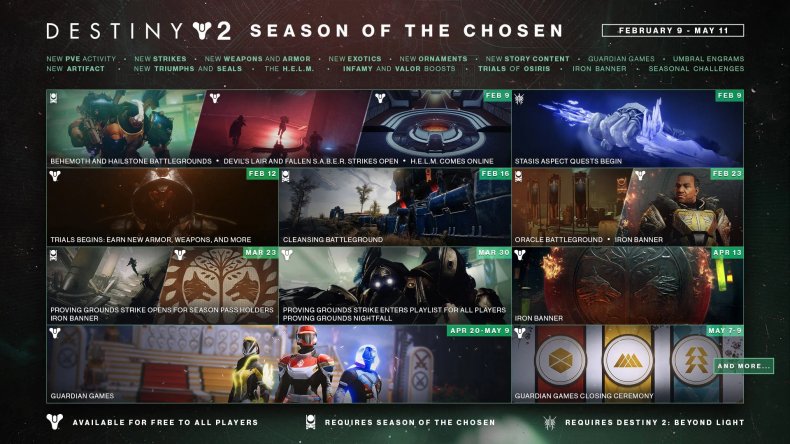 Behemoth and Hailstone Battlegrounds [February 9]: These are maps in the three-player matchmade activity where trios fight against AI Cabal forces. It's likely similar to the other PvE seasonal Activities Bungie has introduced over the years.
Devil's Lair and Fallen S.A.B.E.R. Strikes Open [February 9]: These Cosmodrome Strikes from the original Destiny return in Destiny 2.
H.E.L.M. Comes Online [February 9]: A new area of the Tower tied to the Season of the Chosen story and likely the Battlegrounds Activity. It also appears to be where players will find the Prismatic Recaster to use the permanently introduced Umbral Engrams.
Stasis Aspect quests begin [February 9]: More ways for Stasis players to change their builds. But you still have limited Aspect slots.
Cleansing Battleground [February 16]
Oracle Battleground [February 23]
Proving Grounds Strike [March 23/March 30]: A totally new Strike. The champions of humanity face the champions of the Cabal to determine the fate of the Last City.
Guardian Games [April 20-May 9]: Classes compete in challenges to find out which one is best.
Ticuu's Divination Exotic [Season Pass]: This ancient recurve bow charges multiple Solar arrows that can track several targets at once.
Other updates: Balance changes and other adjustments are expected as well. We'll offer more details on that front when the official patch notes go live.
Destiny 2 is available now on PS5, PS4, Xbox Series X|S, Xbox One, PC and Stadia.
What are your thoughts on Destiny 2 Season of the Chosen based on the roadmap? What else do you expect to see in the next update? Tell us in the comments section!