'Destiny 2' Season of the Worthy Release Time: When Does the Update Start?
Destiny 2 Season of the Worthy begins March 10, so we're here to recap all the big release details you want to know. Find out what time the update is going live, and get a recap of its major contents below. This is the kind of news any serious Guardian shouldn't be without.
What time does Destiny 2 Season of the Worthy release?
Like most other seasons of Destiny 2,Season of the Worthy is expected to begin alongside the Weekly Reset on Tuesday. Given the recent switch to Daylight Savings Time, that means the 2.8.0 update should be fully live and playable around 1 p.m. EDT March 10. Here's a more detailed recap of the maintenance schedule in case you need it.
11 a.m. EDT: Server maintenance begins
11:45 a.m. EDT: Destiny 2 is taken offline
12: p.m. EDT: The 2.8.0 update starts going live
1:01 p.m. EDT Destiny 2 is back online, Season of the Worthy starts
What's in Destiny 2 Season of the Worthy?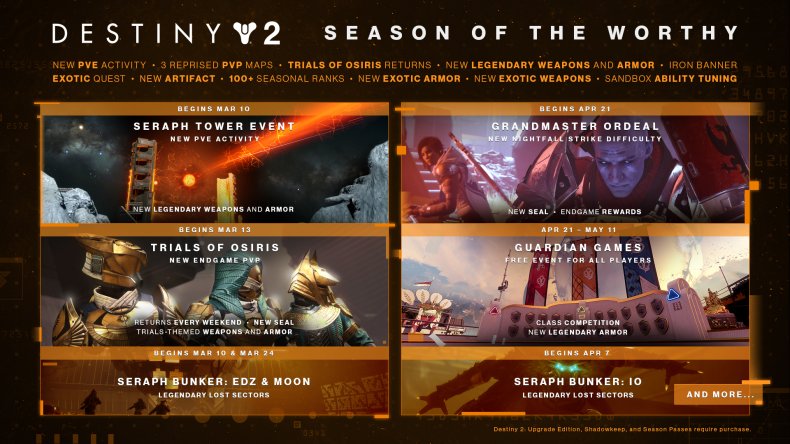 Seraph Tower Event [March 10]: A new PvE activity that offers new Legendary weapons and armor.
Trials Returns: Described as endgame PvP with a new seal and Trials-themed. weapons and armor. Just like in the original Destiny, the Destiny 2 version returns every weekend.
Seraph Bunker EDZ & Moon [March 10 & March 24]: New Legendary Lost Sectors.
Seraph Bunker Io [April 7]: New Lost Sectors.
Grandmaster Ordeal [April 21]: Highly challenging Strike difficulty level. Offers a new Seal and endgame rewards.
Guardian Games [April 21-May 11]: Free class-based competition for all players with new Legendary armor.
New Level Cap: Powerful Gear drops up to 1,000 with Pinnacle drops going as high as 1,010. The soft cap is raised by 50 points. All gear will be upgrades through 950.
Eververse Changes

Bright Engrams no longer available from the Eververse Store. They'll only be available in the free tier of the Season Pass.
Daily Rotations: Everyday returning ships, Sparrows and Finishers will be available for direct purchase.

Balance Changes: There are lots of tweaks in update 2.8.0 such as buffs and nerfs to Exotic Armor, performance enhancements and more. You can read more about these in the latest This Week at Bungie blog post, but we'll also post the full patch notes once they're available. The update will likely be version 1.47 on PS4.
That's all we know about Season of the Worthy for now.
Destiny 2 is available now on PS4, Xbox One, PC and Stadia.
What are your thoughts on Season of the Worthy based on this summary? Is there enough here to bring you back to Destiny 2? Tell us in the comments section!