'Destiny 2' Spicy Ramen Quest Needs No Guide, It's a Big Troll from Cayde
Destiny 2 fans have awaited the start of the Spicy Ramen quest since it was first uncovered by dataminers earlier this month, but it appears the highly anticipated mission amounts to a massive troll. In the wake of Cayde-6's shocking death, Bungie has honored the character with a silly joke.
The Spicy Ramen quest appeared as a milestone after Destiny 2's Weekly Reset on Tuesday, and Guardians immediately rushed to unpack its mysteries. Its directive simply asked players to travel to the ramen shop at the Tower. Those who talk to the vendor there receive an expired Spicy Ramen Coupon that can be purchased an unlimited amount of times.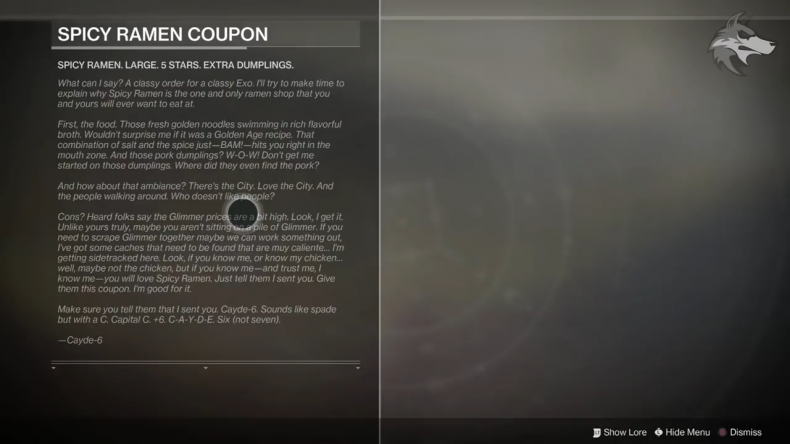 After sleuths in the Destiny 2 community failed to unpack the meaning behind the suspicious item, they vented their frustrations to Bungie Community Manager Dylan "dmg04" Gafner. In response to all questions about a second part of the quest, Gafner tweeted "no," adding "leave it to Cayde to gift an expired coupon." At least for now, it would appear the weeks of hype for Spicy Ramen were totally unwarranted.
Even so, a few hopeful Guardians still wonder if Bungie might have a second surprise closer to the launch of the Forsaken expansion next month. Alongside the original Spicy Ramen Coupon, miners also found a legendary version of the item that's not yet available in game. Maybe the legendary variant provides access to a larger quest? It's equally possible, however, that this item was unfinished and completely discarded.
Until further updates occur, the only thing fans have left to go on is the textual lore from the Spicy Ramen Coupon's item page. While it's unlikely given the impeccable puzzle-solving skill of the Destiny 2 community, its words may harbor a secret clue that has yet to be discovered. You can read the lore in its entirety below.
Spicy Ramen. Large. 5 stars. Extra dumplings.
What can I say? A classy order for a classy Exo. I'll try to make time to explain why Spicy Ramen is the one and only ramen shop that you and yours will ever want to eat at. First, the food. Those fresh golden noodles swimming in rich flavorful broth. Wouldn't surprise me if it was a Golden Age recipe. That combination of salt and the spice just—BAM!—hits you right in the mouth zone. And those pork dumplings? W-O-W! Don't get me started on those dumplings. Where did they even find the pork? And how about that ambiance? There's the City. Love the City. And the people walking around. Who doesn't like people? Cons? Heard folks say the Glimmer prices are a bit high. Look, I get it. Unlike yours truly, maybe you aren't sitting on a pile of Glimmer. If you need to scrape Glimmer together maybe we can work something out, I've got some caches that need to be found that are muy caliente… I'm getting sidetracked here. Look, if you know me, or know my chicken… well, maybe not the chicken, but if you know me—and trust me, I know me—you will love Spicy Ramen. Just tell them I sent you. Give them this coupon. I'm good for it. Make sure you tell them that I sent you. Cayde-6. Sounds like spade but with a C. Capital C. +6. C-A-Y-D-E. Six (not seven). —Cayde-6
Those fluent with Destiny lore may look at the Spicy Ramen Coupon as Destiny 2's version of the Piece of Celery and Tiny Box of Raisins from the first game. Both items have no use beyond trading for the Superblack shader during an event that ended in 2016.
Destiny 2 is available now on PS4, Xbox One and PC. The Spicy Ramen milestone is available to all players.
What are your thoughts on Destiny 2's Spicy Ramen troll? Is there another secret that hasn't been discovered? Tell us in the comments section!