'Destiny 2' Spire of Stars - Power Level & How to Access the New Raid
Destiny 2 's Warmind expansion includes a brand-new Raid Lair called Spire of Stars. We've compiled some basic details to help get you started before you get to our full walkthrough. Let's recap all we know about Power Levels, how to access the raid and more.
WHAT'S THE RECOMMENDED POWER LEVEL FOR SPIRE OF STARS?
Bungie recommends teams be at Power Level 370 or higher to have the best chance of finishing Spire of Stars. That's just 10 levels below the new Warmind level cap of 380. In other words, you'll have to experience lots of Warmind's new activities before you're considered raid ready.
With that in mind, here are a few tips to level up fast in Warmind: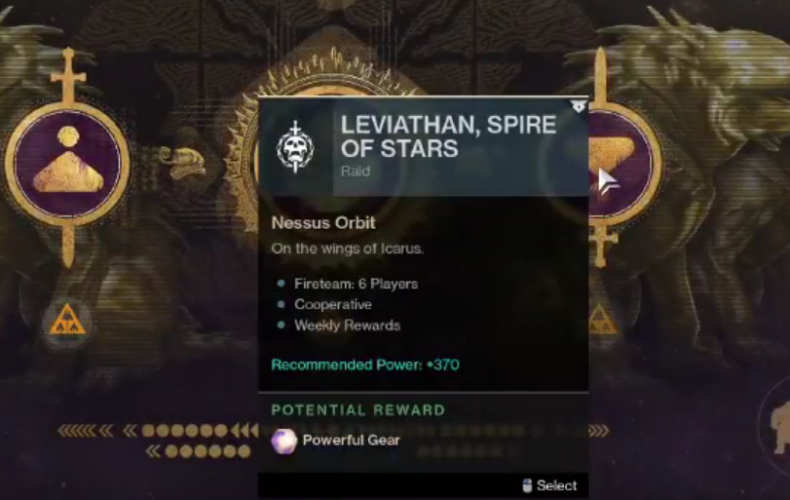 Add mods to gear: Mods increase the Power Level of your gear by five, so don't forget to equip them if you're just below the soft level cap of 340. That being said, it's best to use all mods or none at all if you want to determine what your true soft level cap is.
Do the existing Leviathan Raid: If you're leveled high enough to reach the previous Leviathan Raid, run through that as many times as you need to level up. It can be quite the grind, but you'll gain access to better gear and infusable Exotics that increase your Power Level. Start with Normal and progress to Prestige to maximize your gear output.
Complete Milestones: Milestones aren't very exciting, but they're yet another avenue to access powerful gear. If you've followed some of the previous tips already, you should be closer to Power Level 350 by now. If not, keep blasting through Milestones till you get there. If you're not pushing too hard, three Milestones a day mixed with casual play should do the trick.
You can finish the raid below the recommended Power Level, but you'll need some really experienced friends to sherpa you through it.
HOW DO I ACCESS THE SPIRE OF STARS RAID LAIR?
Once you've leveled up, get to the raid by opening your map, selecting Destinations > Leviathan > Spire of Stars. As long as your Striketeam is in orbit with you, you'll get a quick cutscene and the raid will begin. Note that all players must have the Warmind DLC to access the raid.
Destiny 2 is available now on PS4, Xbox One and PC. Check out our our full list of Node locations and Lost Memory Fragment locations.
What are your thoughts on Spire of Stars so far? Will you endure the grind to reach the necessary Power Level? Tell us in the comments section!