'Destiny 2' Stream Recap - Random Rolls, Mods & Sandbox Tweaks Detailed
Destiny 2 Forsaken is set to release Sept. 4, and it ushers in a new breed of combat changes like random weapon rolls and a reworked Mod system. Bungie detailed how these features work in a Combat livestream Tuesday afternoon. Here's a recap of everything we learned.
Reworked Slots & Ammo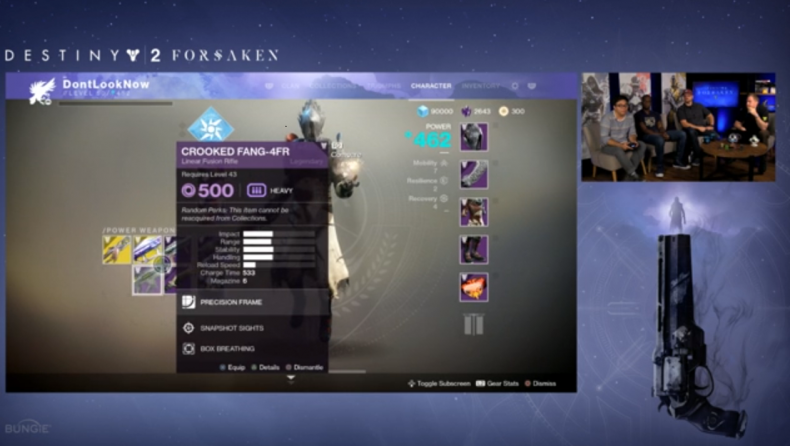 The three-slot system still exists, but it's more customizable. The first two slots can use Special or Kinetic ammo, while the third is entirely reserved for Heavy.
This technically means you can run three Shotguns if you choose.
Players drop special ammo whether they run a special weapon or not, but ammo will still be scarce while running two specials as opposed to two primaries.
Trace Rifles and single-shot Grenade Launchers are special-ammo weapons in Forsaken.
Changes with slots will go live in an update on Aug. 28, but players won't be able to make true use of the system till Forsaken launches Sept. 4.
Random Rolls
Random weapon rolls return, which means it may pay to have multiples of the same gun.
500 Vault Slots make duplicates more manageable.
Random rolls can be augmented with Masterworks. Masterworks will now progress to level 10, which means a 10 percent buff in specific stats.
Armor has random rolls too, with different regen speeds, etc.
Mods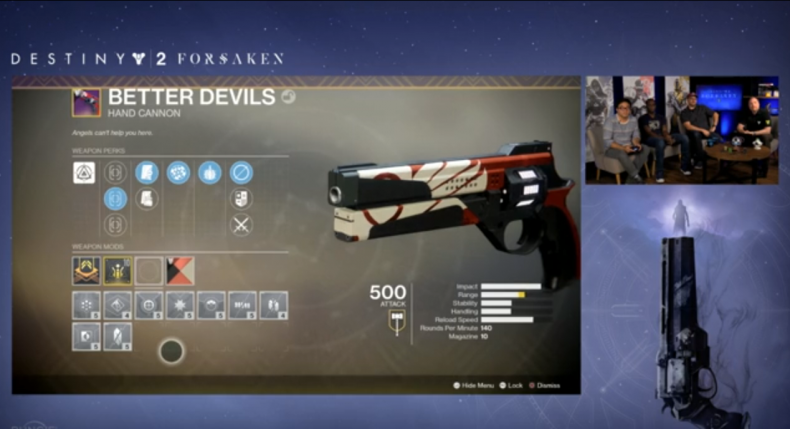 The goal is to make a Mod system that provides a tactical advantage to players. They're not damaged-based anymore.
You can get different Mods in your random rolls. If you like a Mod but not the gun, you can dismantle the gun and leave the Mod behind.
No rules or restrictions with Armor Mods
Mods for Exotics are fixed. Exotics are carefully crafted, super-powerful weapons with less variation.
The Feel of Combat & Supers
Time to kill is decreased across the board, making precision play more important.
Two-hit melee kills and three-hit headshot kills return. Shoulder Charge is a one-hit kill too.
Tether is more reliable with faster search frequency.
Stormtrance is more lethal.
Golden Gun lasts for a few more seconds.
Throwing Knife gets a damage buff.
Flawless Execution grants brief invisibility and Truesight when health is full.
Wish-Ender Exotic Bow lets players shoot through walls.
Throwing Hammer: Hunters have about six seconds to pick it up before losing it.
Blade Barrage is a Solar Hunter Super where you flip with explosive knives.
Other Buffs
Dawnblade healing is good, and it also buffs damage.
Healing Rift is more effective and can also be leveraged to make Healing Grenades.
Empowering Rift buffs precision damage.
Incendiary, fusion and sticky grenades get buffed.
Destiny 2 Forsaken promises to be the expansion players hoped for, and Tuesday's Combat stream went a long way toward proving that point. The idea of randomized rolls and Mods makes the meta more exciting, and greater fluidity with weapons means it can rapidly evolve. While it would've been nice to see more Snipers in play considering they'll be a lot more common when Forsaken launches, the point of a more chaotic Destiny 2 Sandbox was driven home quite clearly.
It should also be known that even those who don't engage with PvP will be privy to these changes as well. Everything listed above, including the new melee thresholds, Supers and Exotics, will be perfectly effective against CPU enemies. Destiny 2's new Combat meta will be put to the test next month, but this stream did a solid job showing it off beforehand.
Destiny 2 is available now on PS4, Xbox One and PC. The Forsaken expansion releases Sept. 4 on all platforms.
What are your thoughts on Destiny 2's new randomized weapon rolls and Mods systems? Will Forsaken transform Destiny 2 into the game fans have been asking for? Tell us in the comments section!