'Destiny 2' Teaser Trailer Leak Shows New Location for Year 4 or Season 11
Destiny 2 fans are in a fervor over the leak of what appears to be an official teaser for Season 11 or Year 4 content. This time, the evidence arrived from the official Destiny Instagram account before being deleted shortly thereafter. Internet sleeths were quick to capture the 15-second clip, however, which can be watched below courtesy of CaptainMitch 24 on YouTube.
The brief video shows Shadowkeep's Eris Morn trudging through a snowy landscape near what looks like Jupiter. Around the three-second mark, it's possible to see the large planet hovering in the background. Morn then uses some kind of ability to possibly help her see through the snow and ice. After that, the date June 9, 2020, and 9 a.m. PDT are displayed on screen.
While there isn't too much one can glean from such a small amount of footage, the general assumption among fans is that Morn may be making her way through one of the moons of Jupiter, either Europa or Enceladus. Europa is perhaps garnering the most attention, though, as the location has been referenced by Bungie before and was seen in concept art for the original Destiny. Seen below, the image certainly has some similarities to the icy snowscape featured in the leak.
Because it's Eris Morn who's there, one would have to imagine that her quest, and the future of Destiny 2, will delve deeper into the mysteries of the Darkness and the Deep Stone Crypt. The character has been focused almost entirely on the Pyramids and their associated race, so that theme seems pretty locked in.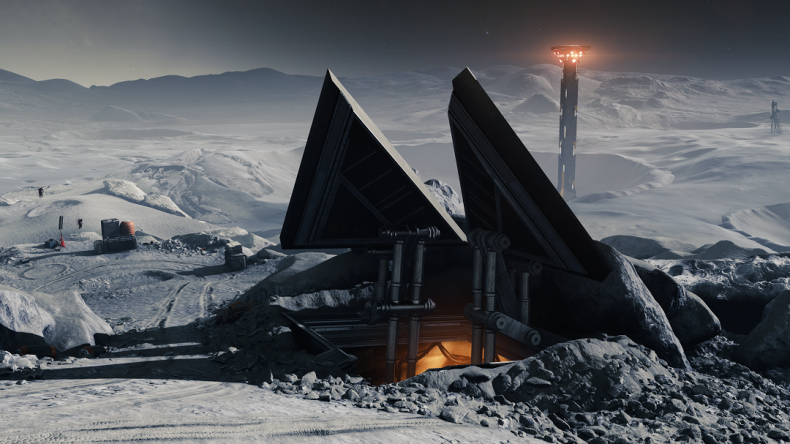 It's worth noting that both Europa and the Darkness were major facets of leaks that made their way to 4chan in April. This new clip doesn't confirm any other details from that possibly dubious post, but the unproven evidence suggests Guardians will encounter a dark race called the Veil. It's believed we may also be able to experiment with an entirely new Darkness-themed subclass as well.
As for that June 9 at 9 a.m. PDT time shown at the end of the video, it's not quite clear what the footage is designed to tease. Season 11 is expected to begin that same day, but we think it'd be odd for Bungie to reveal info about the next season just one hour before it's expected to start. With that in mind, it's possible this might be when Bungie plans to offer details about Year 4 instead. Year 3 and Shadowkeep were first discussed during a stream on June 6 last year, so this date is just close enough for a possible Year 4 blowout to make sense. Without much context behind the source leak, it's difficult to know just how far into the future the clip intends to tease.
This leak arrives at a curious time for Bungie, as the developer has been quite cryptic lately. Last Friday, the official Destiny Twitter account posted a minute-long clip of suspicious sounds that many feel could be tied to a new race. With that in mind, this leak may have been an intentional move designed to further stir up interest. It's assumed we'll have more concrete details once the video is posted permanently.
Destiny 2 is available now on PS4, Xbox One, PC and Stadia.
What do you think of this Destiny 2 teaser leak? Is this video designed to hype Season 11 or Year 4? Tell us in the comments section!