'Destiny 2' Update 1.20 (1.2.1) Adds Armor Rework, Crucible Labs - Patch Notes
Destiny 2 update 1.20 has landed on PS4, and it offers the first of three phases in a full Exotic Armor rework. The Crucible Labs also let players test new Crucible content before it goes live. The patch notes were revealed Tuesday via a Bungie blog post.
'DESTINY 2' 1.20 PATCH NOTES
EVENTS
Faction Rallies
Information concerning Faction Rallies will be made available on May 31 in the "This Week at Bungie" blog article.
SANDBOX
EXOTIC ARMOR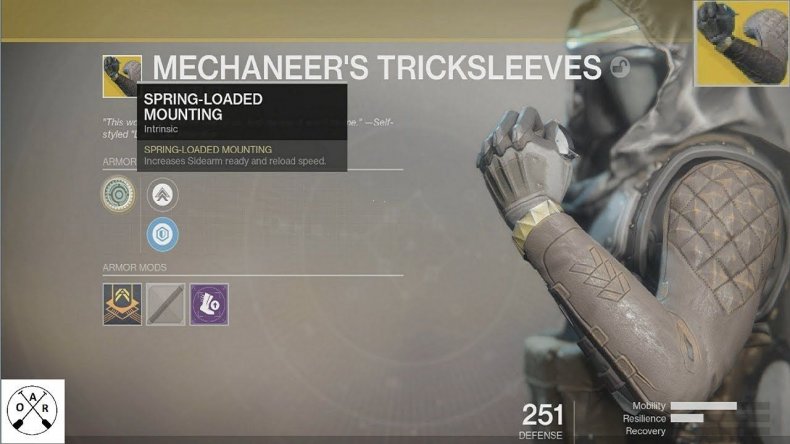 Hunter
Mechaneer's Tricksleeves

While you are critically wounded, swapping to a Sidearm increases its damage (two times in PvE, 1.33x in PvP).
The Dragon's Shadow

Dodge reloads all weapons simultaneously.
Dodging now also grants +five mobility for the duration of Wraithmetal Mail, in addition to its previous benefits.
Added a UI indicator for the Wraithmetal Mail buff.
Titan
Lion Rampant

Hipfiring no longer interrupts Lift. Increased hipfire accuracy while airborne.
Synthoceps

Now grants a flat melee damage bonus for eight seconds when you are surrounded by three or more enemies (three times in PvE, two times in PvP).
This buff also increases Super damage while active (+50 percent).
Warlock
Lunafaction Boots

Now allows your Rift to continuously reload weapons while you or allies stand in it.
Empowering Rift grants a boost to weapon range and aim assist.
Sunbracers

Solar melee kills now grant unlimited Solar grenade energy for a short duration.
Weapons
Legendary

Shining Sphere

Replaced Pulse Monitor perk with Quickdraw.
Exotic

Skyburner's Oath

Fixed an issue that caused this weapon's sound effects to play too quietly while you are aiming down sights.

SUROS Regime

Fixed an issue where players could not reload while ADS.
Perks
Trench Barrel

Fixed a bug that allowed this perk to activate after making melee attacks on friendly targets.
Exotic Masterworks
MIDA Multi-Tool

The Masterwork catalyst can now be obtained by the most determined competitors in the Crucible.
ACTIVITIES
Crucible Labs
Crucible Labs will allow Guardians to play experimental Crucible content.

Crucible Labs will become available at a later date. Stay tuned to @Bungie on Twitter for announcements.

The Crucible Labs playlist will be active periodically for feedback.
General

Fixed an issue where players would lose Rank Points for leaving a match too soon after the match ends.
Fixed a memory issue that was causing PC players running at low texture quality to frequently hit BEET or KALE errors while loading into 6v6 Iron Banner.
Fixed the space flights of three+ minutes players experienced while loading into 6v6 Iron Banner that were caused when they hit BEET and KALE errors.
Public Events
Fixed an issue that prevented players from triggering the Heroic "Warsat Down" public event when Shriekers would close too quickly.
Strikes
Removed "Exodus Crash" from Heroic Strike Matchmaking.
Fixed an issue where players could join in-progress and become stuck behind a door in the strike "Exodus Crash."
Fixed an issue where Heroic strike milestones and quests was not progressing due to Vanguard Boons.
Fixed an issue where players could get stuck joining allies repeatedly in the strike "Lake of Shadows."
Added a score modifier display on the item detail screen for Nightfall Challenge Cards.
Heroic strikes will now award Escalation Protocol Key Fragments.
Heroic strikes now have a chance (~25 percent) to award powerful engrams of up to 360 Power.
Raid
Fixed an issue where launching a one-use Super just as you catch the "Spire of Stars" relic would not consume Super energy.
Changed the "Spire of Stars" relic's time-out splash damage to allow damage to targets.
The raid vendor will now have a unique performance after you have completed "Spire of Stars."
Fixed an issue where Calus's shield had greater health than intended.
Updated the Guided Game tooltip to correctly reflect the required Power level to launch.
Robes of Sekris (Warlock raid chest armor) will now display hanging cloth correctly.
The cost of "Spire of Stars" rewards from Benedict 99-40 has been increased to 50 tokens.
Benedict 99-40's reputation engram will no longer grant weapons.
Warmind Campaign
Fixed an issue where some enemies were granting higher-than-intended XP from the mission "Pilgrimage."
EVERVERSE
Prismatic Matrix
Fixed an issue where players would see a permanent waypoint over Tess when they had a Prismatic Facet in their character inventory.
Fixed an issue where the Prismatic Matrix icon did not have an indicator when new items were available.
Fixed an issue where the Prismatic Matrix icon was not highlighted when players had a Prismatic Facet in their character inventory.
CLANS
Rewards
The Clan XP Milestone now properly grants powerful rewards when it is turned in.
A few players would receive a Clan Banner very frequently. This should be fixed, and now players can discard any Clan Banners at the Postmaster.
EMOTES
Resolved an issue where some players who owned the "Salute" emote were unable to equip it.
The "Awaken the Warmind" emote no longer displays after the emote has been interrupted.
Flavortext now appears on the emote preview.
The main feature of Destiny 2 version 1.2.1 are its buffs to Exotic Armor. To make quick sense of these fairly lengthy patch notes, the main goal of the rework is to ensure that underused Exotic Armor actually feels true to its name. Much like the Exotic weapons rework that arrived alongside the Warmind DLC earlier this month, this one essentially buffs all major categories. The changes try to play to the intended strengths of each item. With Armor like Lion Rampant that has perks to emphasize lift, for example, those abilities have been made stronger. The same can be said for the focus on Solar Energy designed for the Sunbracers.
Crucible Labs is very much a developing feature, but we can't wait to see how Bungie makes use of it. Considering most modern multiplayer shooters have some kind of Test Server, it's nice to see Destiny join the party. Bungie seems a bit tone deaf to fan concerns these days, so we welcome any additional channel of feedback that has the potential to make Destiny 2 a better game.
Destiny 2 is available now on PS4, Xbox One and PC. The 1.20 update will be fully deployed by 4 p.m. EDT.
What are your thoughts on Destiny 2's 1.2.1 update? Which Exotic Armor rework is your favorite? Tell us in the comments section!