'Destiny 2' Update 1.2.3 Adds Bounties & Removes Prismatic Matrix
Destiny 2 update 1.2.3 is set to arrive alongside the Weekly Reset July 17. In the most recent This Week at Bungie blog post, developers discussed the addition of Bounties and the removal of the Prismatic Matrix in the new patch.
Starting with Bounties, they'll essentially work much like they did in Taken King. They're a set of daily objectives that allows players to earn faction reputation or XP in return for accomplishing short-term goals. You can activate them by talking to vendors, and can claim rewards without ever having to return to the central shop. When the Forsaken DLC releases in September, Bounties will also be available to collect in the open world.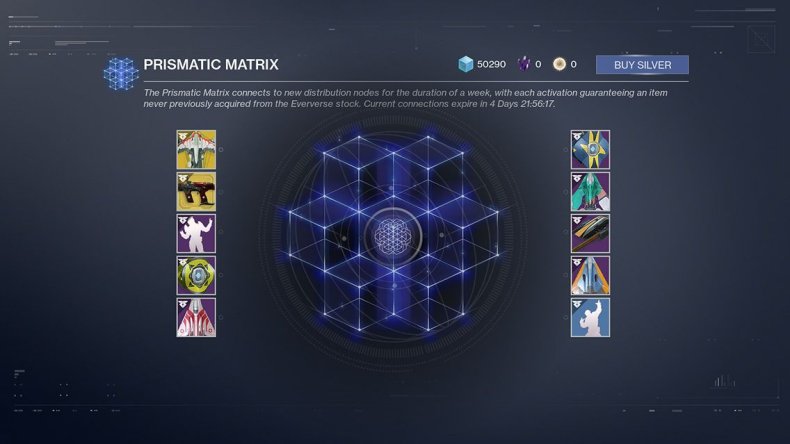 However, while Bounties will be making their debut, other gear-focused perks will be exiting temporarily. The Prismatic Matrix was first introduced in May alongside Warmind, and it offers players a direct path toward unlocking a rotation of 10 different Eververse items using Prismatic Facets that can be earned in-game. When update 1.2.3 goes live next week, the feature will be temporarily removed to adjust its interface. Fans of the Matrix shouldn't worry, though, because it's planned to be back in time for Forsaken's launch.
Bungie also reiterated many of the previewed 1.2.3 patch notes revealed during GuardianCon earlier this week. In addition to Momentum being removed from Heroic Adventures, players can also expect Exotic Armor bug fixes applied to Sanguine Alchemy and Starfighter Protocol. As has been suggested many times, Exotic Armor remains a huge focus of the upcoming patch.
Destiny 2 is available now on PS4, Xbox One and PC. The Bounty and Prismatic Matrix features apply to all platforms.
What's your take on the Prismatic Matrix being removed from Destiny 2? Are you glad that old-school Bounties are coming back? Tell us in the comments section!