'Destiny 2' Update 1.2.3 Fixes Bugs With Momentum & Hand Cannon Recoil
Destiny 2 update 1.2.3 won't be live until July 17, but Bungie Community Manager Dylan "dmg04" Gafner took to Twitter Monday night to reveal a few early patch notes to his devoted followers and GuardianCon supporters. Here's everything we know about the patch so far.
With Update 1.2.3, we'll be adjusting Escalation Protocol Weapon Reward chances to be more deterministic. What does this mean? Players improve chances each time they defeat the EP boss.
In Update 1.2.3, we're adding the ability to preview Sparrow contrails and Spawn FX from inventory.
Commas will be added to large numbers as separators on the IGCR and PGCR.
Fixing the recoil for West of Sunfall 7 and the Trials hand cannon, A Cold Sweat
Once Destiny Update 1.2.3 is live, the Exotic Catalyst for Sturm may be earned by defeating enemies on Nessus.
Momentum will be removed from Heroic Adventures in Update 1.2.3.
Once all Mercury Forge weapons have been obtained, they become available for direct purchase from Brother Vance in the Lighthouse after Update 1.2.3.
After Destiny Update 1.2.3 ships, Iron Banner events will use Iron Temple fire pits as capture zones, instead of Control Flags. (Not this week's event, but those taking place after.)
Most of these changes are fairly small, but the most substantial tweaks deal with Momentum and recoil issues for two weapons. Players have been frustrated by the Momentum modifier's start and end times, finding its health regen benefits often start too late and end too early. It's created situations where players have to constantly bounce around to earn the perk, and that makes the modifier a hard sell for certain play styles.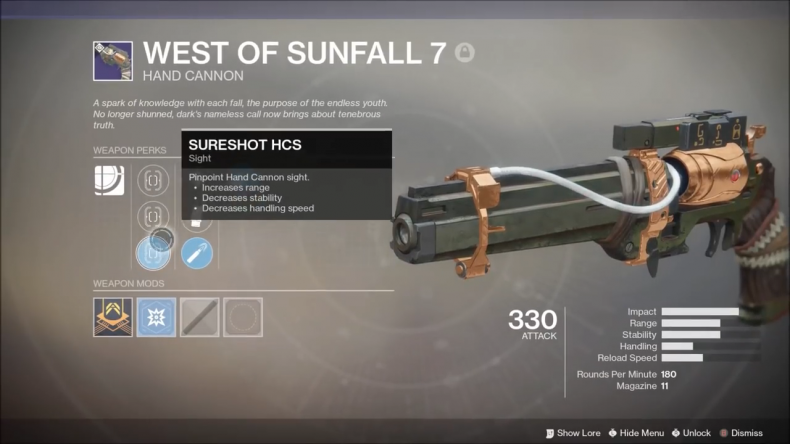 The Sunfall 7 and Cold Sweat recoil issues have been active for some time now, and presumably relate to incorrect weapon class animations being applied to each gun. Fans of either form of defense will likely approve of the changes being made.
In addition to the notes listed above, Bungie has also revealed that Destiny 2 update 1.2.3 features major changes to Crucible, including the return of 6v6 play and a slight softening of the PvP ranking system. The Spire of Stars and Eater of Worlds Raid Lairs will be getting Prestige versions too. As has been the case with the past few updates, Exotic Armor continues to be reworked. Update 1.2.3 won't drastically change what players know about the current Destiny 2 meta, but it offers several nice tweaks in preparation for Forsaken's release in September.
Destiny 2 is available now on PS4, Xbox One and PC. Update 1.2.3 will launch simultaneously on all platforms alongside the Weekly Reset.
How do you feel about update 1.2.3 based on this list of changes? Are the Momentum adjustments warranted? Tell us in the comments section!