'Destiny 2' Update 2.0.3.1 Makes Ace of Spades Quest Easier - Patch Notes
Destiny 2 update 2.0.3.1 has just been pushed to the game's live servers, and it features a few critical fixes Guardians should know about. It removes the silly reward for redeeming the Oracle Bounty, but makes up for that by changing the rules required to earn the Ace of Spades Exotic Hand Cannon. The patch notes arrive via an official Bungie blog post.
'Destiny 2' Update 2.0.3.1 Patch Notes
Heroic Adventures
Fixed an issue where Barons were providing Legendary rewards outside of Heroic adventures

Barons in Heroic adventures now reward one guaranteed Legendary per day
Subsequent kills grant Legendary rewards at a reduced rate
Weapons/Items
Fixed an issue where players can get stuck with the Origin Story or the Last Dance weapons if they use the character level boost after obtaining them in Homecoming
Fixed an issue where BrayTech Legendary Scout Rifle dismantled into Mod Components
Dreaming City
The Offering to the Oracle now sorts to the Pursuits bucket, rather than Consumables

Removed the weekly bounty that required players to redeem an Offering for the Oracle

The Dreaming City weekly challenge now requires only two weekly bounty completions
Fixed an issue where some enemies would improperly spawn chests after being killed
Players can no longer obtain Dreaming City rewards when repeating the mission "Awakening"
Fixed an issue where Telesto could be used to accelerate progression of objectives in the Blind Well
Gambit
Players may now progress the Cayde's Will quest step by defeating either invaders or general enemies with Hand Cannons
Turned off rejoin functionality in Gambit
Overall, the changes in today's Destiny 2 update are very much a trade off between simplicity and challenge. Forsaken's central Exotic is easier to get and the Dreaming City challenge requires fewer Bounties. Meanwhile, Baron rewards have been nerfed, mod components are as rare as they should be and there are no simple Legendary drops for redeeming the Oracle offering.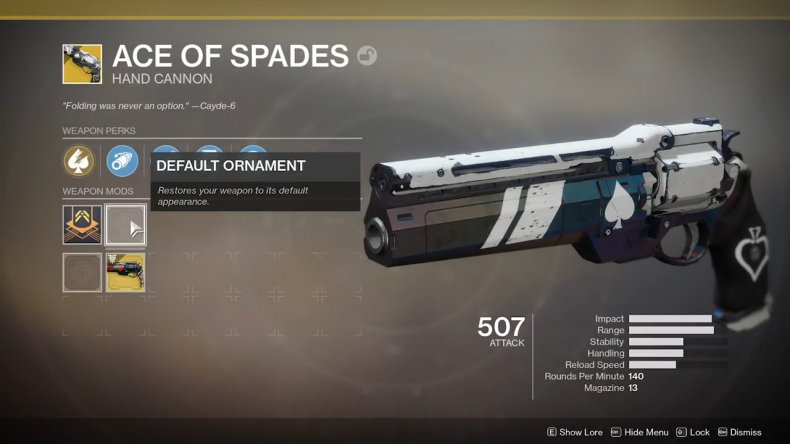 This small server-side fix does little more than patch a few exploits, but it's still an interesting update. Especially if you haven't completed the Cayde's Will quest yet, it's cool to see one of its more obscure steps become slightly more reasonable. It seems like an Ace of Spades nerf may be necessary in the near future, but, at least for today, Destiny 2 hotfix 2.0.3.1 lets Guardians have more fun.
Destiny 2 is available on PS4, Xbox One and PC. Players will be prompted to download and install update 2.0.3.1 after launching the game.
What do you think of Destiny 2's Ace of Spades change? Has your favorite exploit been nerfed? Tell us in the comments section