'Destiny 2' Whisper & Orpheus Nerf Due in Sandbox Update, Bungie Responds
Destiny 2 fans don't always pay super close attention to This Week At Bungie blog posts, but Thursday evening's update has prompted quite a bit of controversy. When the game's upcoming season of content debuts in June, go-to guns like the Whisper of the Worm and Sleeper Simulant will reportedly get significant nerfs.
Here's how the changes break down: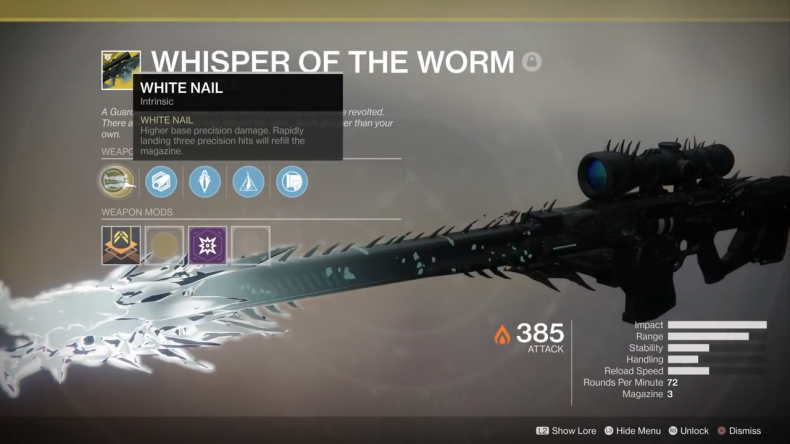 Whisper of the Worm
White Nail pulls ammo from reserves rather than creating it
Reserve ammunition increased to 18 (without ammo reserve perks)
Sleeper Simulant
Reduced ricochet/bounce damage on boss combatants
Modified precision behavior—total damage is unchanged, but non-precision shots are significantly more forgiving
Lord of Wolves
PvE damage reduced by 20 percent
Release the Wolves perk has been reworked:

No longer triggers automatically on kill
This effect is now triggered by holding reload, similar to "The Fundamentals" on Hard Light and Borealis
PvE damage and range bonuses on this effect has been removed and replaced with a universal damage bonus instead
Ace of Spades
Memento Mori now ends if the weapon is stowed
The PvP damage bonus of Memento Mori was slightly reduced to prevent two-tapping Guardians while Vengeance (One-Eyed Mask) was active.

Specifically, you need four resilience to survive this

Memento Mori is active for six shots again (up from five)
Super-Generating Exotic Armor
Skull of Dire Ahamkara, Orpheus Rigs and Phoenix Protocol now receive Super energy back with diminishing returns, making it rarer to get a full Super back
Shards of Galanor and Ursa Furiosa had their Super gain caps reduced to be in parity with other Super Exotic changes
Gwisin Vest had its energy reduced from 15 percent to eight percent for killing one to two Guardians.

Still scales up similar to before when killing three or more Guardians
PvE energy return remains similar to before
While it's pretty standard fare for developers to nerf one or two favored items in a major patch, the sweeping changes made here to almost all of Destiny 2 's mainstay weapons is something else entirely. As expected, the game's community hasn't taken too kindly to the suggestions. The source reddit post features well over 4,000 comments, with another secondary grieving thread amassing another 1,000. "Stop nerfing things and start buffing bad Exotics," writes reddit user, alexoleszewski, while others have joked that the Season of Opulence update should be called the "go slow update."
In its defense, Bungie outlined a series of reasons for the changes and has since doubled down on its stance despite nearly unanimous fan backlash. With regard to the Whisper, for example, developers felt the gun's ability to generate Heavy Ammo made the rest of the Sniper class obsolete. For Sleeper, they just felt angled ricochet shots were too powerful. And, for those who thought a swarm of negative feedback might sway Bungie's position before the update drops, don't count on it. Responding to the flood of comments, studio Community Manager Chris "Cozmo" Shannon said "to be clear, these changes are definitely going into the next update. I'll be taking feedback from players who are responding to the changes on paper, and will continue to take feedback after players get the weapon/armor in their hands and are able to test it out for themselves."
So, at the very least, Guardians will need to spend a few weeks with the rebalanced Exotics before Bungie considers making any changes. The Season of Opulence update is expected to debut June 2, so any possible revisions may come a few weeks after that date. For the sake of positivity, Guardians should remember that new favorites may emerge as these current ones phase out. Multiplayer metas a constantly evolving. The changes in the Season of Opulence update just mean players may have to master a new one.
Destiny 2 is available now on PS4, Xbox One and PC.
What are your thoughts on Destiny 2 's Whisper nerf and upcoming Sandbox update? Will these changes be reversed? Tell us in the comments section!