'Destiny 2' Xur Inventory & Location February 1 - Huckleberry & Insurmountable Skullfort
Destiny 2 has a new Xur inventory featuring the Huckleberry, Insurmountable Skullfort St0mp-EE5 and more. Below, we'll recap the vendor's location, his rolls and the best gear to buy.
Where is Xur in Destiny 2 today?
You'll find Xur in the Winding Cove area of the EDZ. For those who don't know where that is, we've included a map below.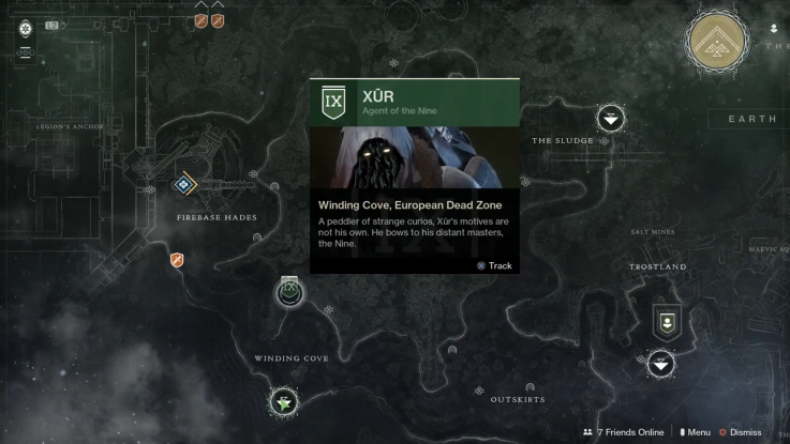 Destiny 2 Xur Location February 1
Once you've located Xur, here's a quick recap of the wares he's selling and their respective rolls.
The Huckleberry [Primary SMG - 29 Legendary Shards]: With its Ride the Bull perk, rate of fire and recoil increase while pulling the trigger. Perhaps most critically, the magazine reloads after kills. In other words, if you're a good shot, you never have to reload. In the current meta this is favored as a PvE gun with an exceptionally worthwhile Catalyst. If you're looking to raid or finish up some of the Black Armory Forges, this is a nice gun to have at your side.
St0mp-EE5 [Hunter Leg Armor - 23 Legendary Shards]: Its Hydraulic Boosters increase sprint speed and slide distance. It also improves your High Jump, Strafe Jump and Triple Jump. In the recent Hunter meta, this is a solid choice for Guardians who don't have much in the way of mobility gear already. The St0mp-EE5 won't be super-useful against AI in PvE, but it sure helps make a quick getaway against human foes.

Fusion Rifle Dexterity / Hand Cannon Dexterity / Bomber
Scout Rifle Reserves / Special Ammo Finder

An Insurmountable Skullfort [Titan Helmet - 23 Legendary Shards]: This helmet is probably one of the best Xur drops in a long time. Its Transfusion Matrix perk grants health regen and melee regen for all Arc melee kills. If used right, players have the opportunity to cycle through an infinite one-hit shoulder charge. Combine that with a Hands-On roll, which grants Super energy for melee kills, and you can become an unstoppable force up close.

Bow Targeting / Hand Cannon Targeting / Hands-on/ Shotgun Reserves / Heavy Ammo Finder

Claws of Ahamkara [Warlock Gauntlets - 23 Legendary Shards]: The Claws of Ahamkara exist for the Warlock who also lives in close range. Its Whispers perk allows you to gain additional melee charge. When paired with Attunement of Grace or the Voidwalker subclass, pushing out melee has never been so fun. It's not necessarily the best for PvP, but it has several advantages outside of Crucible.

Fusion Loader / Hand Cannon Loader / Impact Induction /Shotgun Scavenger / Heavy Ammo Finder

Five of Swords: This is a Nightfall Challenge Card that can raise or lower the Power handicap to fit your needs. Raising the handicap increases your score multiplier.
This week's Xur inventory isn't exactly mind-blowing, but it does have some fairly strong items. The Huckleberry, for example, isn't sold as much as other items on this list, making it a valuable pickup. Also, if you're a Titan without this particular role of the Insurmountable Skullfort, you're really missing out. Melee fans and PvE players will find a lot to like in today's offering. Hardcore Guardians might find this setup a little stale, but it's a powerful rotation nonetheless.
Destiny 2 is available on PS4, Xbox One and PC. Xur is available until Tuesday Weekly Reset.
What are your thoughts on today's Xur inventory? Is there enough here to keep you busy? Tell us in the comments section!