'Destiny 2' Xur Inventory & Location July 24: Liar's Handshake & Sunshot
Destiny 2 has a new Xur inventory for the week of July 24 that includes Sunshot, Skull of Dire Ahamkara, Eternal Warrior and more. Want to know the vendor's latest location and the best way to spend those limited Legendary Shards? We've got you covered with the latest tips worth knowing.
Destiny 2 Xur location July 24
This week you'll find Xur at the Rig on Titan. Those who can't find his exact spot are free to use the map below.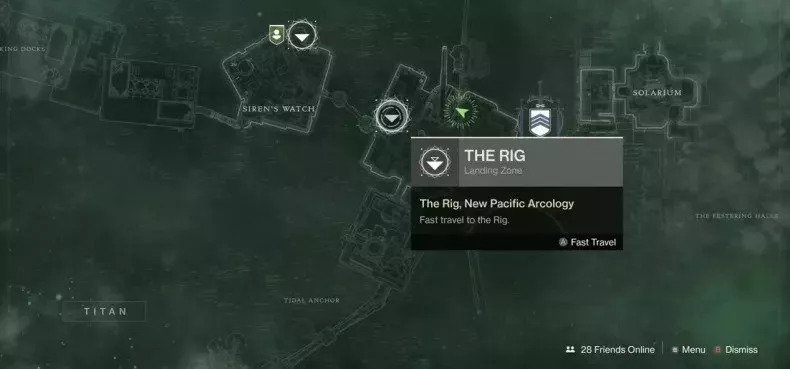 Destiny 2 Xur inventory July 24
Now that you know Xur's latest location, here's a quick recap of everything he's selling in his inventory.
Sunshot [Hand Cannon - 29 Legendary Shards]: This weapon drops during the campaign, but it's a nice addition to your collection regardless. Leveraging the Sunburn perk lets you easily vaporize targets with explosive rounds. It's a strong PvE gun with super-satisfying ammo. This weapon is also great to use in the Prophecy dungeon and the Altars of Sorrow Public Event. It's probably one of the more underrated Exotics in the game right now.
Liar's Handshake [Hunter Gauntlets - 23 Legendary Shards]: With the Cross Counter perk, using an Arc melee attack or being hit by melee offers a strong counterpunch attack that will heal you. In other words, this Exotic is most useful in PvE situations where you may be able to melee lots of adds. Since you generally aren't getting that close in PvP, Crucible fans should probably avoid this one. It's been nerfed over the years, but it's still pretty powerful and has a solid roll.

MOB 18, RES 10, REC 6, DIS 6, INT 9, STR 14

Eternal Warrior [Titan Helmet - 23 Legendary Shards]: With the Resolute perk, Titans get an overshield when using Fists of Havoc. It's this precondition that makes this Exotic somewhat weak. After all, Fists of Havoc is so powerful on its own that the idea of having an overshield to compliment it might seem pointless. That being said, this weapon does get use in Trials if you equip before you super and then keep it till you die. It's a bit divisive, but it's a decent Exotic.

MOB 16, RES 9, REC 6, DIS 9, INT, 9, STR 12

Skull of Dire Ahamkara [Warlock Helmet - 23 Legendary Shards]: This has an Actual Grinder perk that buffs resistance during Nova Bomb. Nova Bomb kills also give Super Energy. This Exotic has a really good roll this week, but it's not nearly as potent as it used to be. If you invest in this one today, you're mostly praying for a buff in the future.

MOB 7, RES 9, REC 15, DIS 11, INT 16, STR 2

Five of Swords: This is a Nightfall Challenge Card that can raise or lower the Power handicap to fit your needs. Raising the handicap increases your score multiplier.
Overall, the Xur inventory for July 24 isn't anything revolutionary, but it does have some really decent picks in the lineup like Sunshot and Liar's Handshake. The rest of the set is a little hit-and-miss depending on precisely how you like to play your Guardian, but at least there's nothing truly terrible or common this week. As an average pick for new players who haven't messed with the campaigns, Sunshot is a pretty nice score. I'd still like to see some more DLC Exotics from Xur going forward, but these are alright.
Destiny 2 is available now on PS4, Xbox One, PC and Stadia.
What do you think of the July 24 Xur inventory? Are you picking up Sunshot or Liar's Handshake? Tell us in the comments section!