'Destiny 2' Xur Inventory & Location July 31: Telesto & Lion Rampant
Destiny 2 has a new Xur inventory for July 31 that includes Telesto, Aeon Swift, Lion Rampant and Ophidian Aspect. In this guide, we outline all you need to know about each piece of gear and reveal Xur's current location. Is it time to spend those shards on an instant buy, or will you tempt fate with an Engram?
Destiny 2 Xur location July 31
For Xur's final July appearance of 2020, you'll find him at his usual spot in the EDZ's Winding Cove. Those who don't know where that is are free to use the map below.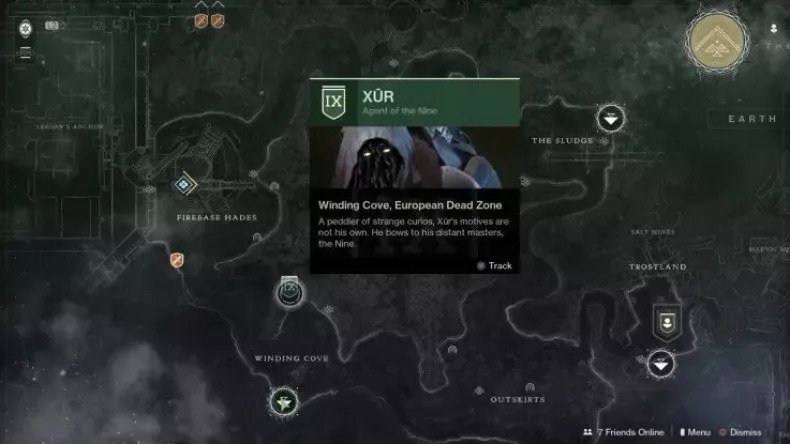 Destiny 2 Xur inventory July 31
Now that you've found Xur's location, it's time to inspect all the Exotic gear he's selling. Here's a quick recap of the items and their corresponding stat rolls.
Telesto [Heavy Fusion Rifle - 29 Legendary Shards]: Its strengths are in its Unplanned Reprieve and Harbinger's Pulse perks. With those two abilities, you can attach and detonate Fusion projectiles while also getting immediate reloads for multikills. Updates buffed weapons like this to make them produce Orbs, so this Exotic is worth keeping an eye on. The Telesto has a winning combination of range and AoE. It's called the "besto" for a reason.
Aeon Swift [Hunter Gauntlets - 23 Legendary Shards]: For Hunters, the Aeon Swift's Aeon Energy offers buff energy to nearby opponents. This isn't the most popular Exotic in the meta, but it serves its purpose in support roles. That being said, we wouldn't really recommend it for any Hunter unless you're a big fan of how it looks.

MOB 11, RES 7, REC 16, DIS 15, INT 7, STR 10

Lion Rampant [Titan Leg Armor - 23 Legendary Shards]:The Jump Jets perk allows Titans to hover indefinitely. The added maneuverability allows you to put distance between yourself and enemies during raids or in PvP. In PvE, it's essential for certain tasks like the Whisper quest too. It's the closest we might ever get to the original Destiny's Twilight Garrison armor, which makes it a popular choice for any Titan.

MOB 13, RES 11, REC 7, DIS 11, INT 18, STR 2

Ophidian Aspect [Warlock Gauntlets - 23 Legendary Shards]: The Cobra Totemic perk allows weapons to be ready and reloaded faster. With that kind of advantage, this Exotic is a pretty solid all-purpose option for any Warlock. Especially in PvP, a fast reload can give you the drop on unsuspecting foes.

MOB 9, RES 14, REC 9, DIS 8, INT 7, STR 14

Five of Swords: This is a Nightfall Challenge Card that can raise or lower the Power handicap to fit your needs. Raising the handicap increases your score multiplier.
This week's Xur inventory is either good or horrible depending on your class. If you're a Hunter, for example, you're almost always better off trying an Engram despite how good the roll for the Swift may look. Perhaps the best class-specific item is the Lion Rampant, which continues to be a strong choice for just about every platforming puzzle Bungie decides to throw at unsuspecting Guardians. The Telesto is well worth a look if you don't have one already too, of course. Xur's inventory could certainly be worse if July's final weapon was terrible, but there will still be lots of players out there disappointed by the latest offering.
Destiny 2 is available now on PS4, Xbox One, PC and Stadia.
What do you think of the Xur inventory for July 31? Will you be buying a Telresto or Lion Rampant? Tell us in the comments section!