'Destiny 2' Xur Inventory & Location June 26: Colony & Phoenix Protocol
Destiny 2 has a new Xur inventory for June 26, and it includes the Colony, Phoenix Protocol, Synthoceps and more. Below, we reveal the vendor's latest location, list the updated stat rolls for gear and unpack all the reasons for spending or saving those precious Legendary Shards. Want to make the most of your chosen Guardian? You've come to the right place.
Where is Xur Destiny 2 June 26
This week you'll find Xur at his usual spot at the Winding Cove on the EDZ. Those who want a more precise marking of where that is are free to consult the map below.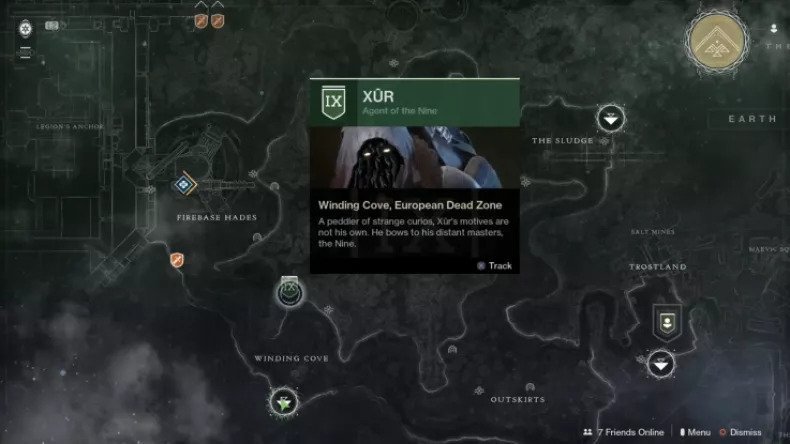 Destiny 2 Xur Inventory June 26
Now that you know where Xur is located, here's a recap of his inventory and the latest stat rolls for his changing collection of gear.
The Colony [Heavy Grenade Launcher - 29 Legendary Shards]: The Colony features the Insectoid Grenades perk, which allows grenades to chase targets and explode close to them. Like most weapons of this type, it's most useful for clearing out enemies in tight spaces. This thing wrecks in PvP, especially Gambit, and its tracking rockets can help you get more kills than you may even realize. If PvP isn't your thing, though, maybe skip it.
Young Ahamkara's Spine [Hunter Gauntlets - 23 Legendary Shards]: This item typically has the Wish-Dragon Teeth perk that increases Tripmine Grenade duration and blast radius. Ability damage also regens grenade energy. Especially when paired with Impact Induction and precision knives, you can essentially have an endless loop of projectiles. It's well worth considering for any grenade-melee build.

MOB 7, RES 11, REC 14, DIS 6, INT 11, STR 14

Synthoceps [Titan Gauntlets - 23 Legendary Shards]: Its Biotic Enhancements Perk offers increased melee lunge range and increased melee and Super damage when surrounded. Especially if you're a Juggernaut Striker, there's no way this Exotic should be missed. If you're ever beset by lots of enemies, you can smash your way out of danger. If you like melee, Synthoceps is a blast to use.

MOB 9, RES 8, REC 14, DIS 9, INT 13, STR 9

Phoenix Protocol [Warlock Chest Armor - 23 Legendary Shards]: With the Battle Hearth perk, kills and assists inside Well of Radiance return Super energy. While Bungie recently tried to nerf it, very little has changed with regard to this armor, It's still essential for all forms of PvE from Reckoning to Raids. It's a solid replacement for traditional Nova Bomb strategies and has a really solid roll this week.

MOB 10, RES 8, REC 15, DIS 8, INT 14, STR 6

Five of Swords: This is a Nightfall Challenge Card that can raise or lower the Power handicap to fit your needs. Raising the handicap increases your score multiplier.
The Tower [Invitation of the Nine - Nine Legendary Shards]

Hallowed Lair Strike
Nine Hive Samples
Nine Scorn Samples
Nine Vex Samples
Thanks to the Season of Arrivals return of random rolls, the June 26 Xur inventory is somewhat interesting for Guardians of all classes. Even the Synthoceps, which just graced Titans a couple weeks back, are better this time than they were before. That's a bit of a bummer for those who invested the Shards earlier this month, but it's also a sign that Xur has become exciting again even for longtime players.
Especially if you're a Gambit player, the Colony is very formidable in the meta right now, making it the current king of unexplainable kills for those who confront it. As for the Phoenix Protocol, the numbers pretty much speak for themselves. A spread of 61 obviously isn't the best roll you could possibly get, but it may be awhile before Warlocks see anything better. Compared to past weeks, Xur offers a compelling reason to spend some Shards during the last week in June.
Destiny 2 is available on PS4, Xbox One, PC and Sadia.
What do you think of the Xur inventory for June 26? Will you be buying the Colony or Phoenix Protocol? Tell us in the comments section.