'Destiny 2' Xur Inventory & Location May 1: Monte Carlo & Severance Enclosure
Destiny 2 has a new Xur inventory for May 1 that includes Monte Carlo, Khepri's Sting and Severance Enclosure. In this guide, we'll reveal Xur's latest location and describe which Exotics players of all classes should watch closely. Want to put in the best possible effort for your team's Guardian Games glory? Maybe some of these items can help.
Where is Xur Destiny 2 May 1
This week you'll find Xur at the Rig on Titan. Those who don't know where that location is are free to use the map below.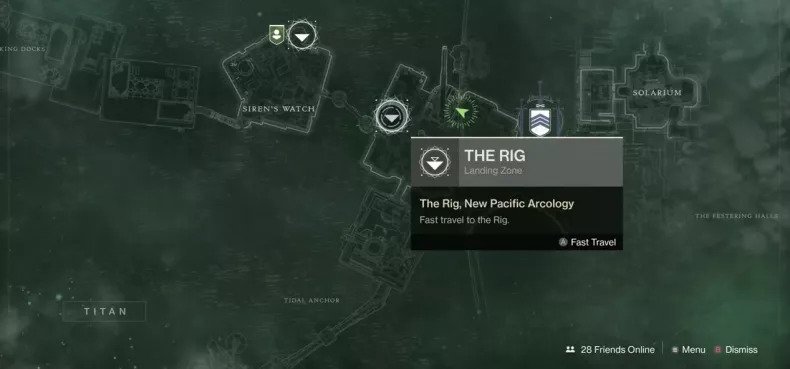 Destiny 2 Xur Inventory May 1
Now that you've found Xur, here's a quick recap of everything he's carrying.
Monte Carlo [Exotic Auto Rifle - 29 Legendary Shards]: This gun has an intrinsic Perk called the Monte Carlo Method, where weapon damage decreases your melee cooldown. It goes without saying that if you pair this with other melee-focused Exotics like the Karnstein Armlets then you've got some serious up-close damage at your disposal. This Exotic isn't for everyone, but, if you love to melee in PvP, the Monte Carlo may be hard to ignore given recent Hard Light nerfs.
Khepri's Sting [Hunter Gauntlets - 23 Legendary Shards]: The Touch of Venom Perk Offers Instant Smoke Bomb with Truesight and improved damage. These are not the best gloves to recommend for your Hunter unless you're a serious melee player. It wastes your melee energy, and the Truesight Perk doesn't last as long as it should. There's a select group of Guardians who like what Khepri's Sting has to offer, but we'd mostly advise passing on this one.
Severance Enclosure [Titan Chest Armor - 23 Legendary Shards]: With the Spheromatik Trigger Perk, powered melee kills and Finishers unleash explosions. This is another melee-focused PvP option that isn't very good. It's similar to the Dunemarchers, except these have less of a radius and require a full kill to be effective. For Titans, this Exotic isn't worth your time.
Skull of Dire Ahamkara [Warlock Helmet - 23 Legendary Shards]: This has an Actual Grinder perk that buffs resistance during Nova Bomb. Nova Bomb kills also give Super Energy. If you're a Voidwalker, this is a must-have Exotic after recent buffs. With Nova Bombs in hand, you'll have an endless stream of Super Energy. This Exotic may be older, but it's one of the most effective options in this week's inventory.
Five of Swords: This is a Nightfall Challenge Card that can raise or lower the Power handicap to fit your needs. Raising the handicap increases your score multiplier.
The Tower [Invitation of the Nine - Nine Legendary Shards]

Complete the Hallowed Lair Strike.
Nine Hive Samples
Nine Scorn Samples
Nine Vex Samples
As far as this week is concerned, this is a pretty bland Xur inventory. While certain items like the Monte Carlo and Skull of Dire Ahamkara are pretty good, the other two Dawn items in the set aren't good enough to warrant spending the Shards. Given the obvious melee focus of the selection, we imagine this week's Guardian Games bounties will focus quite a bit on PvE and melee objectives. There are certainly worse Exotics that could be up for sale than these, but your Shards could be better spent elsewhere aside from the featured weapon.
Destiny 2 is available now on PS4, Xbox One, PC and Stadia. Xur will stay at his location through the next Weekly Reset on Tuesday.
What do you think of Xur's inventory for May 1? Will you be picking up the Monte Carlo or Skull of Dire Ahamkara? Tell us in the comments section!