'Destiny 2' Xur Inventory & Location May 15: Claws of Ahamkara & Sixth Coyote
Destiny 2 has a new Xur inventory for the week of May 15, featuring DARCI, Claws of Ahamkara, Sixth Coyote and more. In this quick guide, we'll reveal Xur's updated location and discuss the advantages of the gear he's carrying. Especially for new Guardians, we've got all the hot tips you want to know.
Where is Xur Destiny 2 May 15
This week you'll find Xur at Giant's Scar on Io. Use the map below to find him. He's tucked in a cave towards the back left of the location.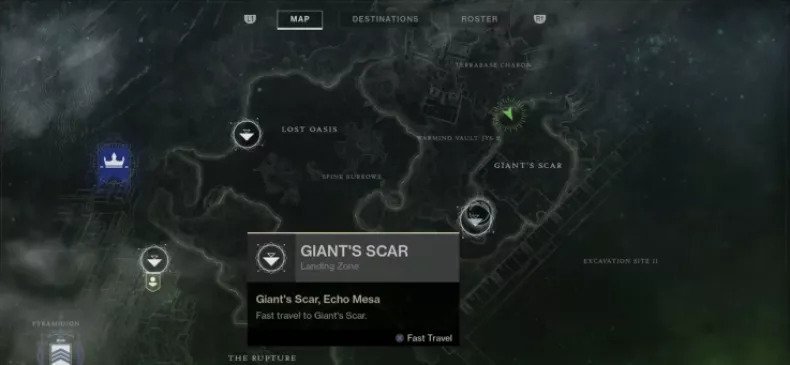 Destiny 2 Xur inventory May 15
Once you know where Xur is located, here's a quick recap of the wares he's selling over the weekend.
DARCI [Heavy Sniper Rifle - 29 Legendary Shards]: The DARCI has the Personal Assistant perk, which allows you to view an enemy's health and other critical information while aiming down sights. In situations where you need a high-damage weapon this is just as good, if not better than, Whisper of the Worm. This gun can melt some serious bosses in PvE. It's well suited for Crucible in the right hands too. If you don't want to go through the trouble of getting Whisper, give DARCI a shot.
The Sixth Coyote [Hunter Chest Armor - 23 Legendary Shards]: With its Double Dodge perk, Guardians get a second Dodge Charge. It's not the flashiest advantage in the world, but it does help when considering the benefits of the Marksman Dodge or Gambler's Dodge. Not only will this perk make you harder to hit on console, but it can also recharge your melee or refill your ammo clip too. This is another situation where there are probably better options, but top-tier players can squeeze a lot out of it.
Dunemarchers [Titan Leg Armor - 23 Legendary Shards]: With Linear Actuators, sprint speed increases and builds up a static charge that releases when meleeing enemies. This isn't the most popular Exotic of the bunch, but it's good at everything it advertises. If you want to move faster and deal melee damage, this option is for you. It meshes well with pretty much every Titan subclass, and might be a must-have in the current meta.
Claws of Ahamkara [Warlock Gauntlets - 23 Shards]: The Claws of Ahamkara exist for the Warlock who lives in close range. Its Whispers perk allows you to gain additional melee charge and when paired with the Monte Carlo, pushing out melee has never been so fun. It's not necessarily the best Exotic in general, but it has advantages outside of Crucible.
Five of Swords: This is a Nightfall Challenge Card that can raise or lower the Power handicap to fit your needs. Raising the handicap increases your score multiplier.
The Tower: [Invitation of the Nine - Nine Legendary Shards]

Complete the Hallowed Lair Strike
Nine Hive Samples
Nine Scorn Samples
Nine Vex Samples
While the May 15 Xur inventory doesn't include much in terms of surprises Guardians haven't seen before, pretty much all the items on offer this week are well worth adding to your collection. In the current state of the game the Dunemarchers may be the best pick of the litter for Titan mains, but just about everything here should offer some mileage through the Guardian Games and finishing up the Lie quest over the weekend. As Season of the Worthy slowly comes to a close, it's clear we've reached the point in development where things get a little boring in preparation for the next big drop. At the very least the latest selection is an effective one.
Destiny 2 is available now on PS4, Xbox One, PC and Stadia.
What will you be buying from Xur this week? Are the Claws of Ahamkara or Dunemarchers worth a look? Tell us in the comments section!