'Destiny 2' Xur Inventory & Location May 29: Prospector & Bombardiers
Destiny 2 has a new Xur inventory for the week of May 29 that includes the Prospector, Bombardiers, Doom Fang Pauldron and more. As Season of the Worthy reaches its highly anticipated end, we've got all the big gear tips you're looking for this weekend.
Where is Xur Destiny 2 May 29
You'll find Xur in the Hangar area of the Tower near Dead Orbit. If you need a map to show you the way, check out the image below.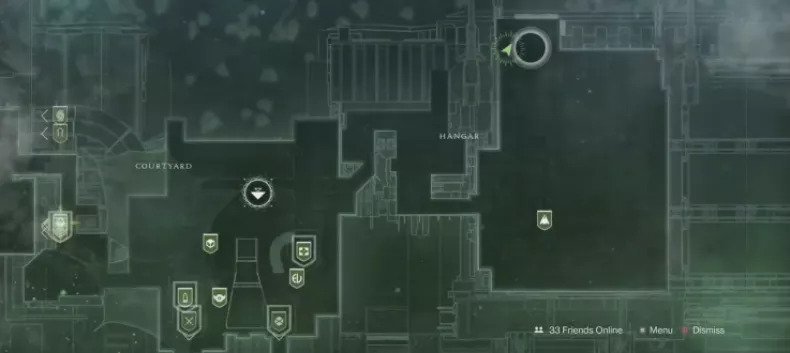 Destiny 2 Xur Inventory May 29
Now that you've located Xur, it's time to take a look at everything he's selling. Depending on your chosen class, this might be a strong week.
The Prospector [Heavy Grenade Launcher - 29 Legendary Shards]: This is definitely a more situational Exotic as opposed to an all-around shredder, but it still has its uses. Especially if you want to do lots of damage to a Raid boss in a short amount of time, this isn't the worst way to go. Its Excavation perk fires off tons of grenades and detonates them when the trigger is released. It's great for crowd control.
The Bombardiers [Hunter Leg Armor - 23 Legendary Shards]: With the Parting Gift Perk, dodging leaves behind an explosive that detonates after a short delay, damaging enemies around it. While most players have caught on to the savage nature of these boots by now, they're still pretty lethal. As long as you can get an add or opponent in the center of the blast, there's potential for massive damage. The impact falls off quickly outside the center, but it's still a lot of fun to use.
Doom Fang Pauldron [Titan Gauntlets - 23 Legendary Shards]: With the Horns Of Doom Perk, Shield Bash kills recharge shield throw and melee ability kills recharge the Sentinel Shield super. This perk is great for middle-tree and bottom-tree Sentinels who don't mind getting up close. Shield Bash the right enemies for an instant Super recharge. For clearing out lots of adds, most Titans can't go wrong with Doom Fangs.
Crown of Tempests [Warlock Helmet - 23 Shards]: Its Conduction Tines perk increases the recharge rate of your Arc abilities with each Arc-ability kill. Stormtrance duration is also extended. In terms of Crown of Tempests' use in the current meta, it's best leveraged during PvE scenarios where Warlocks can just spam Arc for days. Especially with a Hands-On roll that charges Super even more, this option is hard to ignore.Some would call this a must-have item, and it's a nice piece of complimentary gear.
Five of Swords: This is a Nightfall Challenge Card that can raise or lower the Power handicap to fit your needs. Raising the handicap increases your score multiplier.
With regard to the May 29 Xur inventory, it's a pretty strong one as fans close out their Season of the Worthy festivities. The Prospector is a curious ware, though because, while it's not often offered, it's currently being given away as Twitch Prime loot. So, anyone who's already redeemed their Twitch Prime goodies might be out of luck. Outside that bizarre shortcoming, just about everything else on the menu looks good. The Doom Fang Pauldrons in particular are hugely popular right now, and the Bombardiers are a bit of a surprise as they are a fairly recent Season of Dawn drop. There's nothing here that totally destroys the meta, but there's some really great gear for all New Light players who might not have it.
Destiny 2 is available now on PS4, Xbox One, PC and Stadia.
What do you think of the Destiny 2 Xur inventory for May 29? Will you be picking up Prospector or Bombardiers? Tell us in the comments section!