'Destiny 2' Xur Inventory & Location September 25: Telesto & Citan's Ramparts
Destiny 2 players can buy some new Exotics from Xur today, and his inventory includes Telesto, Orpheus Rig and Citan's Ramparts. Below, we recap Xur's latest location, rolls and explain which pieces of gear best complement your Guardian. Want to know if you should buy direct or take a chance at a Fated Engram? You've come to the right place.
Destiny 2 Xur location September 25
This week you'll find Xur in his usual spot at the EDZ's Winding Cove. Those who don't yet know the exact location are free to use the map below.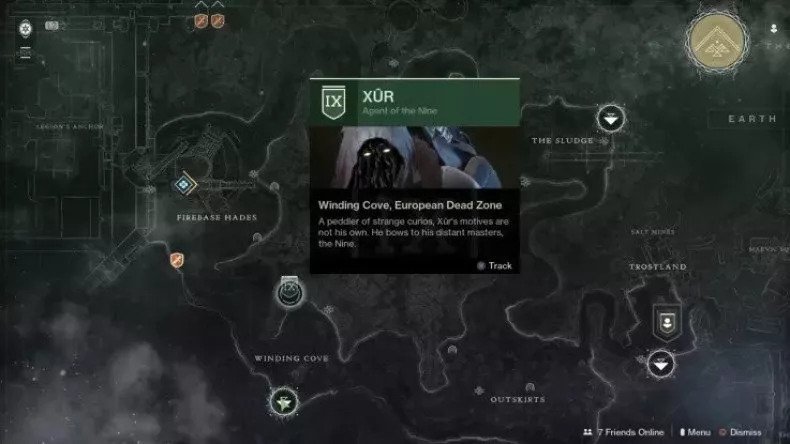 Destiny 2 Xur inventory September 25
Once you've found the mysterious Exotic vendor, here's a quick recap of the wares he's carrying for the week of September 25:
Telesto [Heavy Fusion Rifle - 29 Legendary Shards]: Its strengths are in its Unplanned Reprieve and Harbinger's Pulse perks. With those two abilities, you can attach and detonate Fusion projectiles while also getting immediate reloads for multikills. Updates buffed weapons like this to make them produce Orbs, so this Exotic is worth keeping an eye on. The Telesto has a winning combination of range and AoE. It's called the "besto" for a reason.
Orpheus Rig [Hunter Leg Armor - 23 Legendary Shards]: Orpheus Rig features the Uncanny Arrows perk, which offers Ability Energy for each enemy tethered by Shadowshot anchors. This might be the best tether-based Exotic in all of Destiny 2. It sets up a practically endless string of Supers.

MOB 14, RES 6, REC 11, DIS 8, INT 7, STR 14

Lunafaction Boots [Warlock Leg Armor - 23 Legendary Shards]: With the Alchemical Etchings Perk, Rifts can increase weapon reload speeds. Empowering Rift increases weapon range as well. With that in mind, these boots are great for team play. Duck into an ally's Rift and start firing an endless spray of bullets. As long as it's timed right, no PvE foe will be able to take you down.

MOB 15, RES 3, REC 14, DIS 23, INT 7, STR 2

Citan's Ramparts [Titan Gauntlets - 23 Legendary Shards: With its Assault Barricade perk, you and your allies have the ability to shoot through your Towering Barricade. While this advantage isn't quite strong enough to be used as an effective sniper's nest, it can be leveraged to gain a combat advantage in PvP and PvE alike. For Guardians who like run-and-gun gameplay, this Exotic very much complements that style. It's not completely OP, but it can certainly serve its purpose in the right hands.

MOB 6, RES 12, REC 13, DIS 2, INT 18, STR 11

Five of Swords: This is a Nightfall Challenge Card that can raise or lower the Power handicap to fit your needs. Raising the handicap increases your score multiplier.
As far as Xur inventories are concerned, this is a very strong setup for those who don't have this gear or just want a better version of it. Considering all the available rolls are north of a 60 total, just about everything here is worth adding to your collection. The Lunafaction roll in particular could be considered god tier at a 64 total.
And if the stats weren't high enough, all the gear is quite useful as well. The Telesto is still a very strong Fusion Rifle, and the Orpheus Rig remains favored as a tether Exotic for many Guardians, despite a couple nerfs. Both new and veteran Destiny 2 players will likely find something to pine for when stopping by Xur during the weekend of September 25.
Destiny 2 is available now on PS4, Xbox One, PC and Stadia.
Which of Xur's Exotics are you most excited to buy this week? Are you getting Orpheus Rig, Lunafaction Boots or Citan's Ramparts? Tell us in the comments section!