'Destiny 2' Xur Inventory & Location January 10: Black Talon & Eternal Warrior
Destiny 2 has a new Xur inventory for January 10 featuring the Black Talon, Eternal Warrior, Transversive Steps and more. In this guide, we'll reveal Xur's latest location and explain the key perks of the gear in his inventory. If you want to know how to spend those precious Legendary Shards, you've come to the right place.
Where is Xur Destiny 2 January 10
This week you'll find Xur in his usual spot at the Rig on Titan. Those who don't know where that location is are free to use the map below.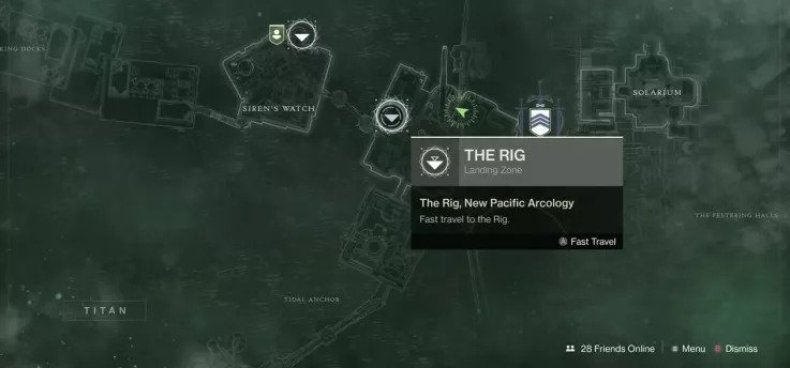 Destiny 2 Xur Inventory January 10
Once you've located Xur in all his glory, here's a quick recap of the benefits and drawbacks of what he's carrying.
Black Talon [Heavy Sword - 29 Legendary Shards]: This unique sword has the Crow's Wings Perk which fires a projectile at the push of a button. As long as you don't mind getting up close, it wrecks in PvE and Crucible alike. It's found a real home, though, with invaders in Gambit. Especially if you like Destiny 2's hybrid mode, this is a can't-miss opportunity.
Lucky Pants [Hunter Leg Armor - 23 Legendary Shards]: With the Illegally Modified Holster perk, precision hits load a single round to the chamber of a stowed Hand Cannon. Hand Cannons also load faster and are more accurate once you swap to them. If you like using Ace of Spades or Last Word, you can't go wrong with these. That being said, if you don't use Hand Cannons, they're pretty much useless.
Transversive Steps [Warlock Leg Armor - 23 Legendary Shards]: Its Strange Protractor perk increases sprint speed and automatically reloads your equipped weapon. Especially if you're a solo Warlock, this armor is for you. It eliminates the disadvantages of slow-loading weapons and helps you sprint to cover quickly. That's an awesome benefit in PvE and PvP alike.
Eternal Warrior [Titan Helmet - 23 Legendary Shards]: With the Resolute perk, Titans get an overshield when using Fists of Havoc. It's this precondition that makes this Exotic somewhat weak. After all, Fists of Havoc is so powerful on its own that the idea of having an overshield to compliment it seems pointless. Unless you want a helmet that feels like it does nothing, steer clear of this one.
Five of Swords [Challenge Card]: This is a Nightfall Challenge Card that can raise or lower the Power handicap to fit your needs. Raising the handicap increases your score multiplier.
The World [Invitation of the Nine - Nine Legendary Shards]

Complete the Lake of Shadows Strike.
Collect Nine Fallen Samples.
Collect Nine Cabal Samples.
Collect Nine Taken Samples.
As far as Xur inventories are concerned, this is a pretty bland setup for all parties involved. Just about everything here has made frequent appearances over the past few weeks, including the featured weapon. While Exotics like the Black Talon and Transversive Steps are a lot of fun and plenty useful, longtime Guardians have had ample opportunities to get them over the past few months. In a lot of ways, despite the growth of Destiny 2, Xur remains a stagnant part of the experience more so designed to level the playfield for newcomers. That's not necessarily a bad thing, but it means dedicated Guardians will be banking on Fated Engrams more than they should be. There's good stuff here, but it's not anything we haven't seen before.
Destiny 2 is available now on PS4, Xbox One, PC and Stadia.
What are your thoughts on the Xur inventory for January 10? Will you be picking up Black Talon or Transversive Steps? Tell us in the comments section!