'Destiny 2' Xur Inventory & Location May 10: Colony & Young Ahamkara's Spine
Destiny 2 has a new Xur inventory for May 10, and its highlights include the Colony, Eye of Another World and Mask of the Quiet One. Below, we'll reveal the vendor's location and explain the full benefits and rolls of the gear he's carrying.
Where is Xur in Destiny 2 today?
This week you'll find Xur in the Hangar area of the Tower behind Dead Orbit. Those who don't know where that is can feel free to use the map below.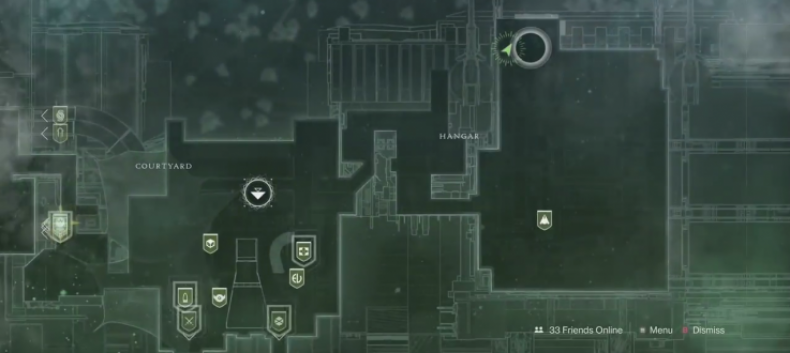 Destiny 2 Xur Inventory May 10
Once you've found Xur, here's a quick recap of everything he's carrying.
The Colony [Heavy Grenade Launcher - 29 Legendary Shards] : The Colony features the Insectoid Grenades perk, which allows grenades to chase targets and explode close to them. Like most weapons of this type, it's most useful for clearing out enemies in tight spaces. If used correctly, it can also be a real force in stopping Invaders and winning the Primeval fight in Gambit. With Season of the Drifter on the horizon, this is a good Exotic to have.
Young Ahamkara's Spine [Hunter Gauntlets - 23 Legendary Shards] : This item typically has the Wish-Dragon Teeth perk that increases Tripmine Grenade duration and blast radius. Ability damage also regens grenade energy. Especially when paired with the Way of a Thousand Cuts, you can essentially have an endless loop of projectiles.

Fusion Rifle Loader / Hand cannon Loader / Impact Induction
Sniper Rifle Scavenger / Machine gun Scavenger

Mask Of The Quiet One [Titan Helmet - 23 Legendary Shards] : With the Dreaded Visage perk, Titans gain melee, grenade and class ability energy when hurt. We wouldn't recommend this Exotic unless you're trying to collect a complete set. It may be fun to see if you can game the system by having your strike team shoot you on purpose, though.

Fusion Rifle Targeting - Hand Cannon Targeting - Hands-On
Sniper Rifle Reserves - Machine Gun Reserves

Eye of Another World [Warlock Chest - 23 Legendary Shards] : This Exotic can be earned during the campaign, and it has the Cerebral Uplink perk. It highlights targets and increases the regen speed of your abilities

Fusion Rifle Targeting - Hand Cannon Targeting - Hands-On
Sniper Rifle Reserves - Machine Gun Reserves

Five of Swords : This is a Nightfall Challenge Card that can raise or lower the Power handicap to fit your needs. Raising the handicap increases your score multiplier.
The Hanged Man [Invitation of the Nine - Nine Legendary Shards]

Complete "The Corrupted" Nightfall
Nine Hive Samples
Nine Scorn Samples
Nine Taken Samples
Overall, this is a pretty weak lineup for Xur fanatics. While the Colony might be worthwhile for those pushing through the Zero Hour mission over the weekend, it's got a pretty specific use case otherwise. Beyond that, even though Exotics like Eye of Another World aren't available through Xur very often, they're always available to the vast majority of Guardians who've made their way through the campaign. The most obvious standout in this case is Young Ahamkara's Spine for Hunters, but everyone else should either move along or try their luck at a Fated Engram.
Destiny 2 is available now on PS4, Xbox One and PC. Xur will be available through the next Weekly Reset.
What are your thoughts on the Xur inventory for May 10? Will you be buying the Colony or Young Ahamkara's Spine? Tell us in the comments section!