'Destiny 2' Xur Inventory & Location January 25 - Crimson & Transversive Steps
Destiny 2 players can check out a new inventory from Xur this weekend, and it's got some pretty interesting Exotics. Below, we'll reveal Xur's location and explain why you should be stoked about trying Crimson, Fr0st-EE5 or Transversive Steps.
Where is Xur in Destiny 2 today?
Through the weekend of January 25, you'll find Xur at The Rig Cave on Titan. Those who don't know where that is can use the map below.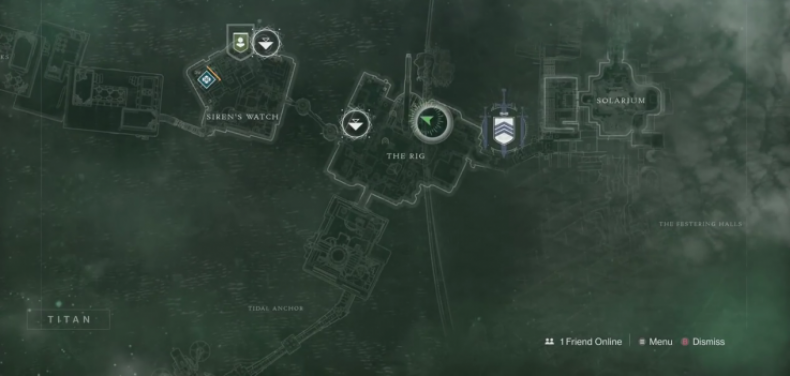 Destiny 2 Xur Inventory January 25
Once you've located Xur, here's a brief recap of the pros, cons and rolls of what he's carrying.
Crimson [Primary Hand Cannon - 29 Legendary Shards]: The Banned Weapon perk offers a three-round burst, and it's got a really attainable Catalyst that helps the weapon shred in Crucible and Gambit. Once you start racking up kills, you'll also have the chance to heal up. No matter your class, this is a must-have Exotic for your collection.
Transversive Steps [Warlock Leg Armor - 23 Legendary Shards]: Its strange Protractor perk increases sprint speed and automatically reloads your equipped weapon. Especially if you're a solo Warlock, this armor is for you. It eliminates the disadvantages of slow-loading weapons and helps you sprint to cover quickly. That's an awesome benefit in PvE and PvP alike.

Fusion Rifle Dexterity / Hand Cannon Dexterity / Bomber
Scout Rifle Reserves / Special Ammo Finder

Fr0st-EE5 [Hunter Leg Armor - 23 Legendary Shards]: This Hunter armor has the Rapid Cooldown perk, which increases grenade, melee and dodge regeneration while sprinting. Dodging also increases sprint speed. Many players tend to run these for a neutral game, but the advantage isn't that great compared to other Hunter options. On the bright side, it is possible to get an ability recharge by running in circles.

Fusion Rifle Dexterity / Hand Cannon Dexterity / Bomber
Scout Rifle Reserves / Special Ammo Finder

Ashen Wake [Titan Gauntlets - 23 Legendary Shards]: This one has its standard perk called Bring the Heat. It causes Fusion Grenades to explode on impact and increases throw speed. This Exotic benefits heavily from the recent changes to the Sandbox meta. If you've been slacking on your use of projectiles, now's the time to change up your strategy.

Fusion Loader / Hand Cannon Loader / Impact Induction
Shotgun Scavenger / Heavy Ammo Finder

Five of Swords: This is a Nightfall Challenge Card that can raise or lower the Power handicap to fit your needs. Raising the handicap increases your score multiplier.
In terms of rating this week's Xur inventory, it's pretty much on par with his latest offerings. The Crimson is certainly a strong exotic worth having if you don't own it already. However, the real standout is for Warlocks with the Transversive Steps. Most Exotic gear in Destiny 2 is very powerful, but there are few options more versatile than this in terms of its relevance to both PvE and PvP play. The other members of this collection are just fine, but they'll probably be back in the rotation in a few weeks time if you don't feel like spending the Shards today. This week is probably a loss for most Guardians, but those who win are winning big.
Destiny 2 is available now on PS4, Xbox One and PC.
What are your thoughts on Xur's inventory for January 25? Will you be picking up Crimson ot Transversive Steps? Tell us in the comments section!