'Destiny 2' Xur Inventory & Location July 26: DARCI, Armamentarium & Wormhusk Crown
Destiny 2 players can visit Xur for the weekend of July 26, and he's got an inventory featuring DARCI, Armamentarium and Wormhusk Crown. Below we'll detail each piece of gear alongside its possible rolls.
Where is Xur in Destiny 2 today?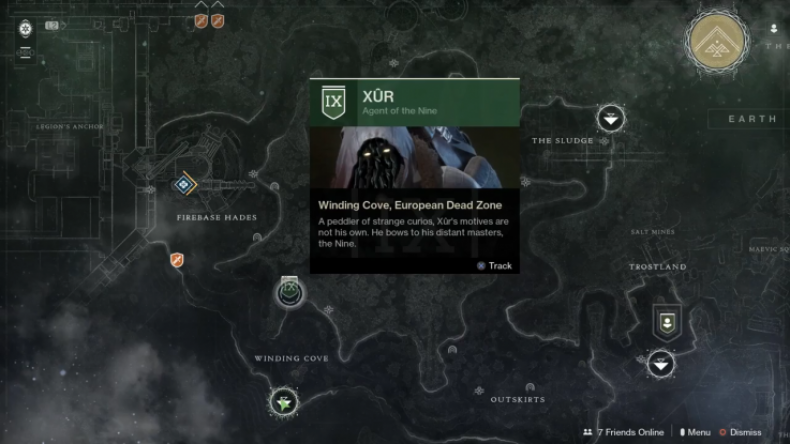 For the week of July 26 you'll find Xur in his usual spot at Winding Cove. Those who don't know where that is can feel free to use the map below.
Destiny 2 Xur Inventory July 26
Once you've found Xur, here's a quick recap of everything he's carrying.
DARCI [Heavy Sniper Rifle - 29 Legendary Shards]: The DARCI has the Personal Assistant perk, which allows you to view an enemy's health and other critical information while aiming down sights. In situations where you need a high-damage weapon this is just as good, if not better than, Whisper of the Worm. This gun can melt some serious bosses in PvE. It's well suited for Crucible in the right hands too. If you don't want to go through the trouble of getting Whisper, give DARCI a shot.
Vesper of Radius [Warlock Chest Armor - 23 Legendary Shards]: If you're in need of Exotic Chest Armor, Xur has you covered. The primary perk for this one is Planetary Torrent, which adds an extra Arc Shockwave to your Rifts. Especially if you're using a Rift-based character, this one's well worth picking up.

Unflinching Scout Rifle Aim - Unflinching Sniper Aim - Unflinching Power Aim
Auto Rifle Reserves - Sidearm Reserves

Wormhusk Crown [Hunter Helmet - 23 Legendary Shards]: With the Burning Souls perk, dodging offers a small health and shield buff. It's hard to argue against that advantage when everyone can use a little bit of health in everything from PvP to Escalation Protocol. With the right mods, it's possible to get a drip feed of health every few seconds. In general, this Crown is a good all-purpose Exotic.

Heavy Lifting - Enhanced Ashes to Assets - Machine Gun Targeting
Sword Reserves - Machine Gun Reserves

Armamentarium [Titan Chest Armor - 23 Legendary Shards]: This Chest armor offers an additional grenade charge with the And Another Thing perk. Because it allows you to essentially double your output of Suppressor Grenades, it becomes very difficult for enemies to level you with a Roaming Super. Pair it with the advantages of the updated Sentinel class and you'll never want to go back.

Unflinching Rifle Aim - Unflinching Large Arms - Enhanced Unflinching Bow Aim
Bow Reserves - Hand Cannon Reserves

Five of Swords [Challenge Card]: This is a Nightfall Challenge Card that can raise or lower the Power handicap to fit your needs. Raising the handicap increases your score multiplier.
The World [Invitation of the Nine - Nine Legendary Shards]

Complete the Lake of Shadows Strike.
Collect Nine Fallen Samples.
Collect Nine Cabal Samples.
Collect Nine Taken Samples.
As far as Xur setups go, today's Destiny 2 offering is better than some weeks but certainly not the best lineup we've ever seen. Especially with new PvE activities in Solstice of Heroes on the horizon, it makes sense to grab a DARCI now if you don't have one. The Wormhusk Crown is this week's new addition, and it's nice to see that it's something almost every Hunter can make use of. There's always room for something better with a Fated Engram, but this week's official offering isn't all that bad.
Destiny 2 is available now on PS4, Xbox One and PC.
What are your thoughts on Xur's latest Destiny 2 inventory? Are you buying the DARCI or Wormhusk Crown? Tell us in the comments section!