'Destiny 2' Xur Inventory & Location May 17: DARCI & Geomag Stabilizers
Destiny 2 has a new Xur inventory for May 17 that features the DARCI, Ursa Furiosa, Geomag Stabilizers and Celestial Nighthawk. Below, we'll tell you where Xur is located and describe each piece of gear he's carrying.
Where is Xur in Destiny 2 today?
This week you'll find Xur at the Rig on Titan. Those who don't know where that is can feel free to use the map below.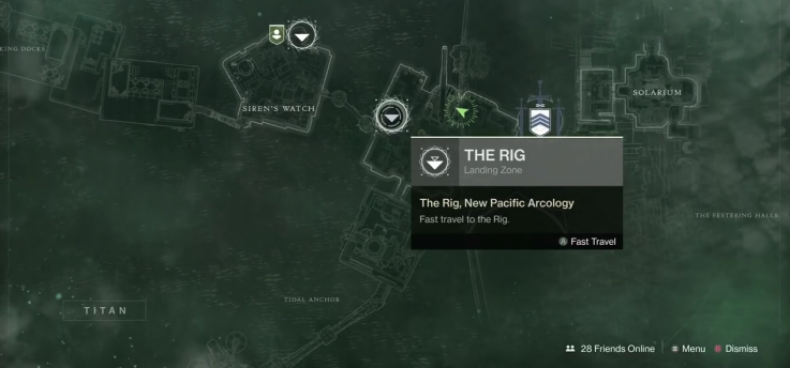 Destiny 2 Xur Inventory May 17
DARCI [Heavy Sniper Rifle - 29 Legendary Shards]: The DARCI has the Personal Assistant perk, which allows you to view an enemy's health and other critical information while aiming down sights. In situations where you need a high-damage weapon this is just as good, if not better than, Whisper of the Worm. This gun can melt some serious bosses in PvE. It's well suited for Crucible in the right hands too. If you don't want to go through the trouble of getting Whisper, give DARCI a shot.
Celestial Nighthawk [Hunter Helmet - 23 Legendary Shards]: Its Hawkeye Hack perk modifies the Golden Gun to fire one high-damage shot. Those harmed by the shot offer an explosion of Super energy. In the current meta, its best use is for boss damage. If you plan on completing Last Wish or Scourge of the Past, this is a must-have in-slot Exotic for Hunters.

Fusion Rifle Targeting - Hand Cannon Targeting - Hands-On
Sniper Rifle Reserves - Machine Gun Reserves

Ursa Furiosa [Titan Gauntlets - 23 Legendary Shards] : The Ursine Guard perk lets you move faster while Sentinel Shield is active. Additionally, guarded energy converts to Super energy once your Super finishes. This is a really strong Exotic for Void class Titans in PvE, but be forewarned that it requires a ton of absorbed damage to get your Super back. In other words, human foes in PvP mostly won't be dumb enough to let it be worthwhile.

Fusion Rifle Loader - Hand Cannon Loader - Impact Induction
Sniper Rifle Scavenger - Machine Gun Scavenger

Geomag Stabilizers [Warlock Leg Armor - 23 Legendary Shards]: With its Close Enough perk, this armor tops off your Chaos Reach Super energy by sprinting. To make it even better, doing damage with Chaos Reach extends its effects even further. With this kind of advantage, the Stabilizers are probably best suited for PvE activities and Gambit bosses. Any Warlock that runs Chaos Reach shouldn't be without these. They aren't worthwhile all the time, but their use case is undeniable.

Fusion Rifle Dexterity - Hand Cannon Dexterity - Outreach
Scout Rifle Scavenger - Special Ammo Finder

Death [Invitation of the Nine - Nine Shards]

Three Quickplay completions
Three Competitive Completions
Three Rumble Completions

Five of Swords: This is a Nightfall Challenge Card that can raise or lower the Power handicap to fit your needs. Raising the handicap increases your score multiplier.
After causing some community controversy with upcoming Exotic nerfs for the Whisper and Sleeper, this bland Xur inventory is probably the very last thing fans wanted to see. There are some decent PvE options here for Guardians to make use of, but there's nothing in this week's selection that most players would consider a must-have. More often than not Xur's Destiny 2 setups tend to be slightly above average. This is one of those rare cases where even the lowest of expectations leads to disappointment. Unless you're a collector, your best option is to try your luck at a Fated Engram or wait for a better week.
Destiny 2 is available now on PS4, Xbox One and PC. Xur will remain active in Destiny 2 through the next Weekly Reset.
What are your thoughts on the Xur inventory for May 17? Will you be picking up the DARCI or Geomag Stabilizers? Tell us in the comments section!