'Destiny 2' Xur Inventory & Location April 5: DARCI, Gwisin Vest & Antaeus Wards
Destiny 2 has a new Xur inventory featuring the DARCI, Gwisin Vest Antaeus Wards and more. In this quick guide, we'll tell you where Xur is located and explain which pieces of gear are best for your character. Get all the details on rolls and uses below.
Where is Xur in Destiny 2 today?
You'll find Xur at the Rig on Titan. Those who've never been there before can consult the map below. That being said, Xur has appeared here quite frequently in recent weeks.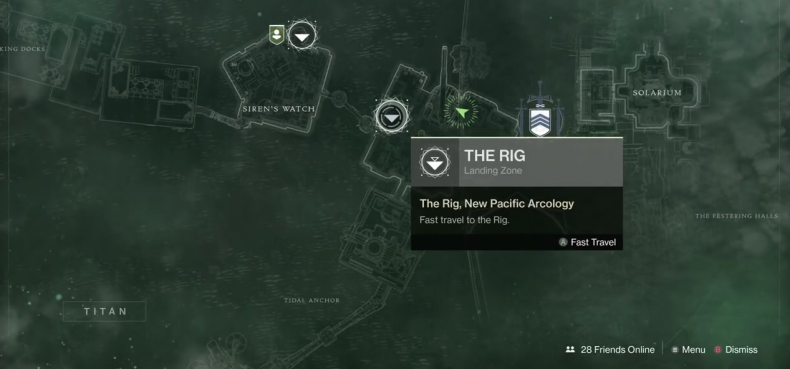 Destiny 2 Xur Inventory April 5
Once you've located Xur, here's a brief recap of all the Exotic gear he's selling over the weekend. Randomized roll combinations are also listed below.
DARCI [Heavy Sniper Rifle - 29 Legendary Shards]: The DARCI has the Personal Assistant perk, which allows you to view an enemy's health and other critical information while aiming down sights. In situations where you need a high-damage weapon this is just as good, if not better than, Whisper of the Worm. This gun can melt some serious bosses in PvE. It's well suited for Crucible in the right hands too. If you don't want to go through the trouble of getting Whisper, give DARCI a shot.
Winter's Guile [Warlock Gauntlets 23 Legendary Shards]: The main benefit of Winter's Guile is the option to stack increased damage for melee kills. In other words, if you're a melee-focused class or play lots of PvE, this is well worth considering.

Fusion Loader / Hand Cannon Loader / Impact Induction / Shotgun Scavenger / Heavy Ammo Finder

Gwisin Vest [Hunter Chest Armor - 23 Legendary Shards]: Its Roving Assassin perk restores Super energy for every Spectral Blades kill you get before going into stealth mode. In short, this advantage lets your Supers last forever as long as you keep killing. Especially in PvP, this piece of gear is one of the most overpowered items you can get right now.

Unflinching Bow Aim - Unflinching Fusion Rifle Aim - Unflinching Kinetic Aim
Scout Rifle Reserves - Special Ammo Finder

Antaeus Wards [Titan Leg Armor - 23 Legendary Shards]: With the Reflective Vents perk, sliding reflects projectiles. Any reflection also grants Super energy. In general, this is a high-skill Exotic with some serious benefits in PvP. Especially if you're able to reflect a Nova Bomb or Blade Barrage, the advantage of this armor pays off quickly. Just get up close, shield up, absorb the shot and return one of your own. For Guardians in the know, the Wards are a nice buy.

Fusion Rifle Dexterity - Hand Cannon Dexterity - Outreach
Scout Rifle Scavenger - Special Ammo Finder

Five of Swords: This is a Nightfall Challenge Card that can raise or lower the Power handicap to fit your needs. Raising the handicap increases your score multiplier.
The Magician [Invitation of the Nine - Nine Legendary Shards]

Complete the Pyramidion Strike
Collect nine Cabal Samples
Collect nine Vex Samples
Collect nine Taken Samples
As far as Xur inventories go, this one is a lot more exciting than the one Guardians endured last week. This time there are two Year 2 Exotics on sale for Hunters and Titans, and both of them are pretty strong. With these two PvP-focused pieces of gear entering the fray over the next few days, the Crucible is sure to be a gigantic mess. Those who'd rather not deal with that, though, can still find a lot to love about the DARCI or Winter's Guile. In terms of both variety and effectiveness, Xur is definitely kicking off April with a bang.
Destiny 2 is available on PS4, Xbox One and PC.
What are your thoughts on Xur's inventory for the week of April 5? Will you be buying Antaeus Wards or Gwisin Vest? Tell us in the comments section!
'Destiny 2' Xur Inventory & Location April 5: DARCI, Gwisin Vest & Antaeus Wards | Gaming