'Destiny 2' Xur Inventory & Location January 31: Fighting Lion & Starfire Protocol
Destiny 2 has a new Xur inventory for the week of January 31, and it features Fighting Lion, Starfire Protocol, Lucky Pants and more. Below we recap Xur's location and explain which of his Exotics is the best fit for your Guardian's loadout.
Where is Xur Destiny 2 January 31
This week you'll find Xur at Giant's Scar on Io. Those who don't know where that is are free to consult the map below.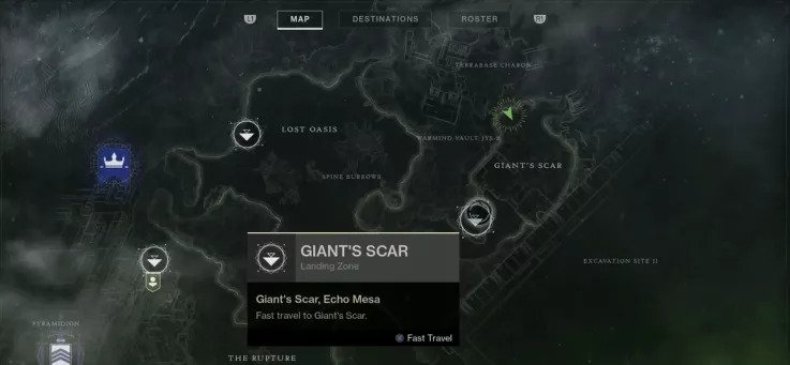 Destiny 2 Xur Inventory January 31
Once you've made your way to Xur's location, it's time to take a look at the weapons and gear he's carrying. Below is a quick recap of the advantages and disadvantages of each item.
Fighting Lion [Energy Grenade Launcher - 29 Legendary Shards]: Fighting Lion is the premier weapon this week, and it has the Delayed Gratification perk. With it, grenades bounce with delayed detonation. Especially when combined with the Dire Artillery mod, this thing dominates at clearing adds or eliminating enemies in Crucible. It's one of the most fun and best Exotics in the game right now, so we'd suggest getting one if you don't have it already. Some say Fighting Lion is even better than Galahorn.
Lucky Pants [Hunter Leg Armor - 23 Legendary Shards]: With the Illegally Modified Holster perk, precision hits load a single round to the chamber of a stowed Hand Cannon. Hand Cannons also load faster and are more accurate once you swap to them. If you like using Ace of Spades or Last Word, you can't go wrong with these. That being said, if you don't use Hand Cannons, they're pretty much useless.
Starfire Protocol [Warlock Chest Armor - 23 Legendary Shards]: Starfire Protocol features Fusion Harness, which gives Fusion Grenades additional charge and recharge from empowered weapon damage. Kills with Fusion Grenades also grant Rift Energy. If you're a support player in the Attunement of Grace subclass, this armor works well. Paired with Empowering Rift, it offers an opportunity for endless heals.
Peregrine Greaves [Titan Leg Armor - 23 Legendary Shards]: Peregrine Greaves has the Peregrine Strike perk, which offers bonus damage on an airborne shoulder charge. Lots of Guardians swear by these because they essentially make your knees a source of instant death. Its perks seem more tuned to Crucible players who don't mind jumping around and getting up close, but these are still tons of fun to use.
Five of Swords [Challenge Card]: This is a Nightfall Challenge Card that can raise or lower the Power handicap to fit your needs. Raising the handicap increases your score multiplier.
Death [Invitation of the Nine - Nine Legendary Shards]

Three Control Completions
Three Survival Completions
Three Rumble Completions
While there's nothing particularly new in the January 31 Xur inventory, the items on offer are still pretty good for New Light players or Guardians just entering the scene. The real stars of the set, in our opinion, are the Fighting Lion and Peregrine Greaves. Not only are these two Exotics great to have in your inventory, but they appear a lot less frequently than some of the others on this list. Stuff like Lucky Pants and Starfire Protocol seem likely to show up again when Bungie is looking to fill in an off week, but the others don't really show up at all. For the dedicated Guardians who've been here a while, there's always an Exotic Engram.
Destiny 2 is available now on PS4, Xbox One, PC and Stadia.
What are your thoughts on the Xur inventory for January 31? Are you buying the Fighting Lion, Peregrine Greaves or Starfire Protocol? Tell us in the comments section!
'Destiny 2' Xur Inventory & Location January 31: Fighting Lion & Starfire Protocol | Newsgeek