'Destiny 2' Xur Inventory & Location October 25: Geomag Stabilizers & SUROS Regime
Destiny 2 has a new Xur inventory, and we want you to make the most of it. This week he's selling Geomag Stabilizers, SUROS Regime, Liar's Handshake and more. Below, we recap his latest assortment of gear and reveal where this very special vendor is located.
Where is Xur in Destiny 2 October 25
This week you'll find Xur near Dead Orbit in the Tower. Those who don't know where that is can use the map below.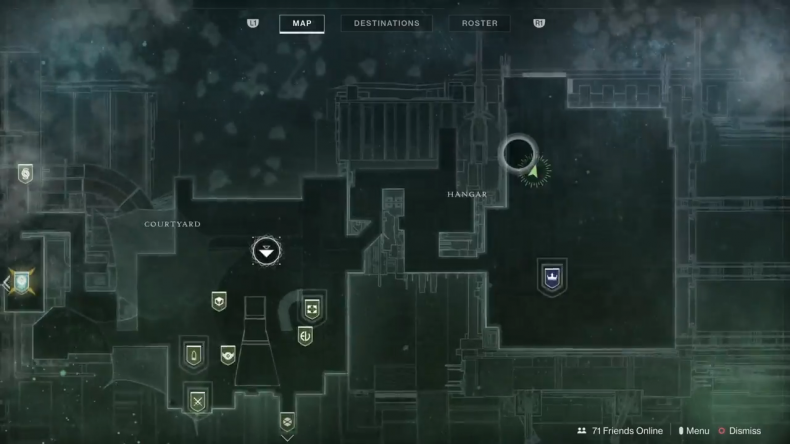 Destiny 2 Xur Inventory October 25
Once you've made it to Xur's location, here's a quick recap of the Exotic wares he's selling.
SUROS Regime [Auto Rifle - 29 Legendary Shards]: With its SUROS Legacy perk, the bottom half of a mag has increased damage and the possibility of regaining health on impact. This weapon is generally outclassed by a few other Exotics but remains worthwhile due to recent Hand Cannon nerfs. Especially when paired with the Spinning Up Perk, which increases its fire rate, this gun still manages to catch players off guard. It's an interesting addition to the latest inventory.
Synthoceps [Titan Gauntlets - 23 Legendary Shards]: Its Biotic Enhancements perk offers increased melee lunge range and increased melee and Super damage when surrounded. Especially if you're a Juggernaut Striker, there's no way this Exotic should be missed. If you're ever beset by lots of enemies, you can smash your way out of danger. If you like melee, Synthoceps is a blast to use.
Liar's Handshake [Hunter Gauntlets - 23 Legendary Shards]: With the Cross Counter perk, using an Arc melee attack or being hit by melee offers a strong counterpunch attack that will heal you. In other words, this Exotic is most useful in PvE situations where you may be able to melee lots of adds. Since you generally aren't getting that close in PvP, Crucible fans should probably avoid this one.
Geomag Stabilizers [Warlock Leg Armor - 23 Legendary Shards]: With its Close Enough perk, this armor tops off your Chaos Reach Super energy by sprinting. To make it even better, doing damage with Chaos Reach extends its effects further. With this kind of advantage, the Stabilizers are best suited for PvE activities and Gambit bosses. Any Warlock that runs Chaos Reach shouldn't be without these. This is one of the best Exotics in this week's inventory.
Death [Invitation of the Nine - Nine Legendary Shards]: Complete Crucible matches in the Control, Rumble and Survivor playlists.

Control Completions [three]
Survival Completions [three]
Rumble Completions [three]

Five of Swords:This is a Nightfall Challenge Card that can raise or lower the Power handicap to fit your needs. Raising the handicap increases your score multiplier.
As far as Xur inventories are concerned, this one is fairly average but markedly better than what we've seen from Xur over the past few weeks. SUROS Regime, Synthoceps and Geomag Stabilizers are all really strong Exotics, which means there's a little something for all Guardians this week as long as you're looking for something that enhances your melee experience. Melee isn't the most important part of Destiny 2's meta, but those who take advantage of it correctly can do some amazing things. If that's not your playstyle, though, maybe you're best off trying your luck at a Fated Engram or waiting to see what's on offer next week.
Destiny 2 is available now on PS4, Xbox One and PC.
What are your thoughts on the Destiny 2 Xur inventory for October 25? Are you picking up SUROS Regime or Geomag Stabilizers? Tell us in the comments section!